Anyone out there looking for villas in Sitges, this post is for you! You have probably been thinking of a wedding in Spain and chosen Barcelona or its surroundings. Sitges is a privileged location due to the many wedding villas around it. Keep in mind, they are all 5 to 15 minutes away from Sitges center. You will need a car.
Here are our top five six villas in Sitges:
Below you will find images from real weddings we have been hired for. We have worked on all of them but it is up to you to decide which is the right one for you.
The villas in Sitges are called "Masias", stone houses that used to belong to farmers who used to work the land and vineyards around it. We, at Fotografia Sitges, like to do our photoshoot in the fields nearby among the almond trees and vineyards. The old wooden doors and stone doors also make for a very authentic backdrop. This is a job we like to do in advance, so we scout the place for romantic dreamy locations to take you right after the ceremony.
These wedding villas deal with foreign customers most of the time so language is not a problem. Some even offer catering services although you can hire your own among many experienced vendors in the area. We can help you pick those if need be.
If any of these wedding villas catch your eye in a special way and you'd like to see more images and details, head over to our wedding portfolio section where you will find the entire wedding reportage.
Gran Villa Rosa
This is a fairly new venue in the vicinity of Vilanova i la Geltrú. It is an amazing piece of architecture and very unusual in style for the area. It is probably one of the best looked after and cared for venues there is. Full of details and good taste all done by its owner Elisabeth.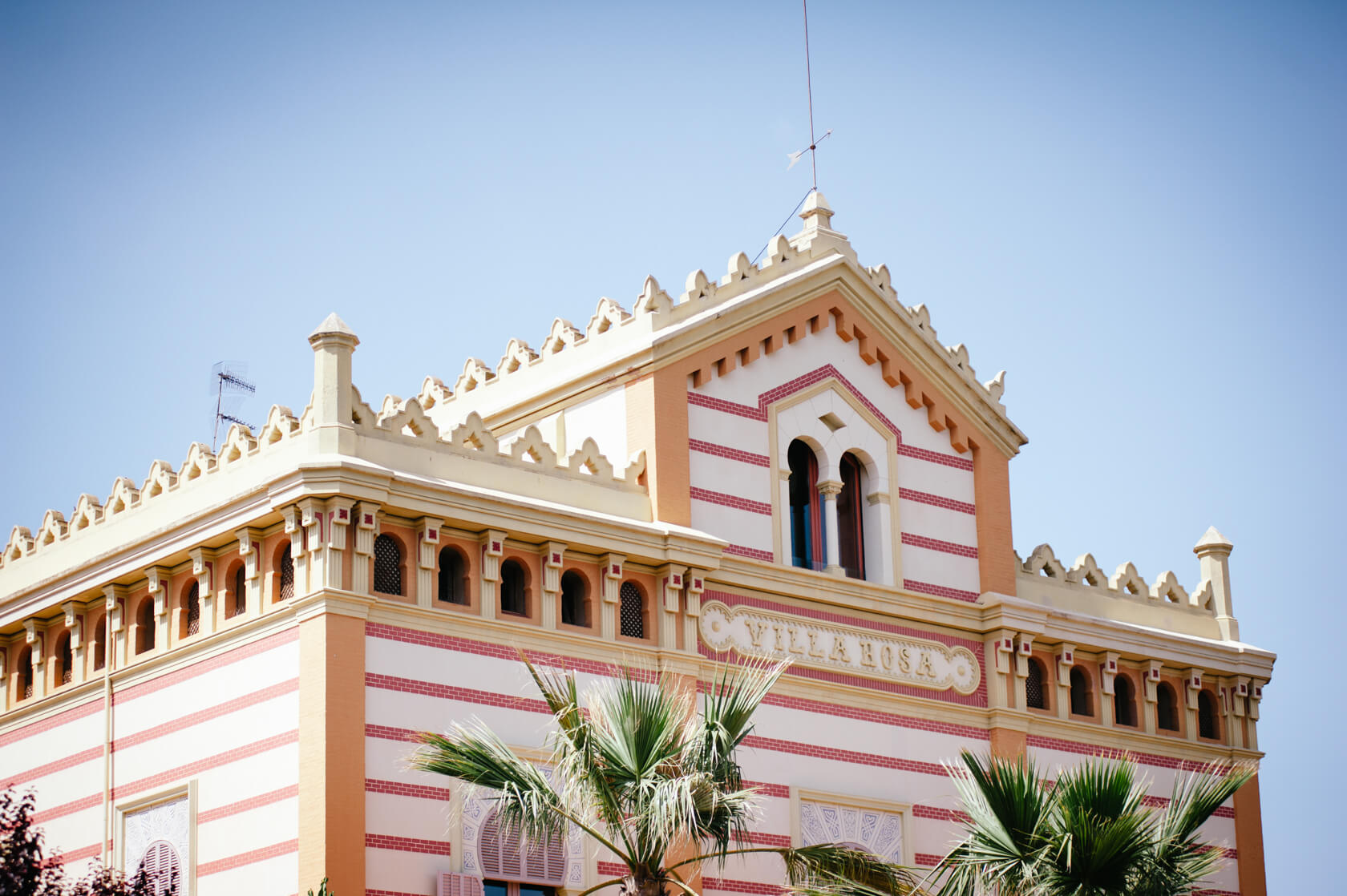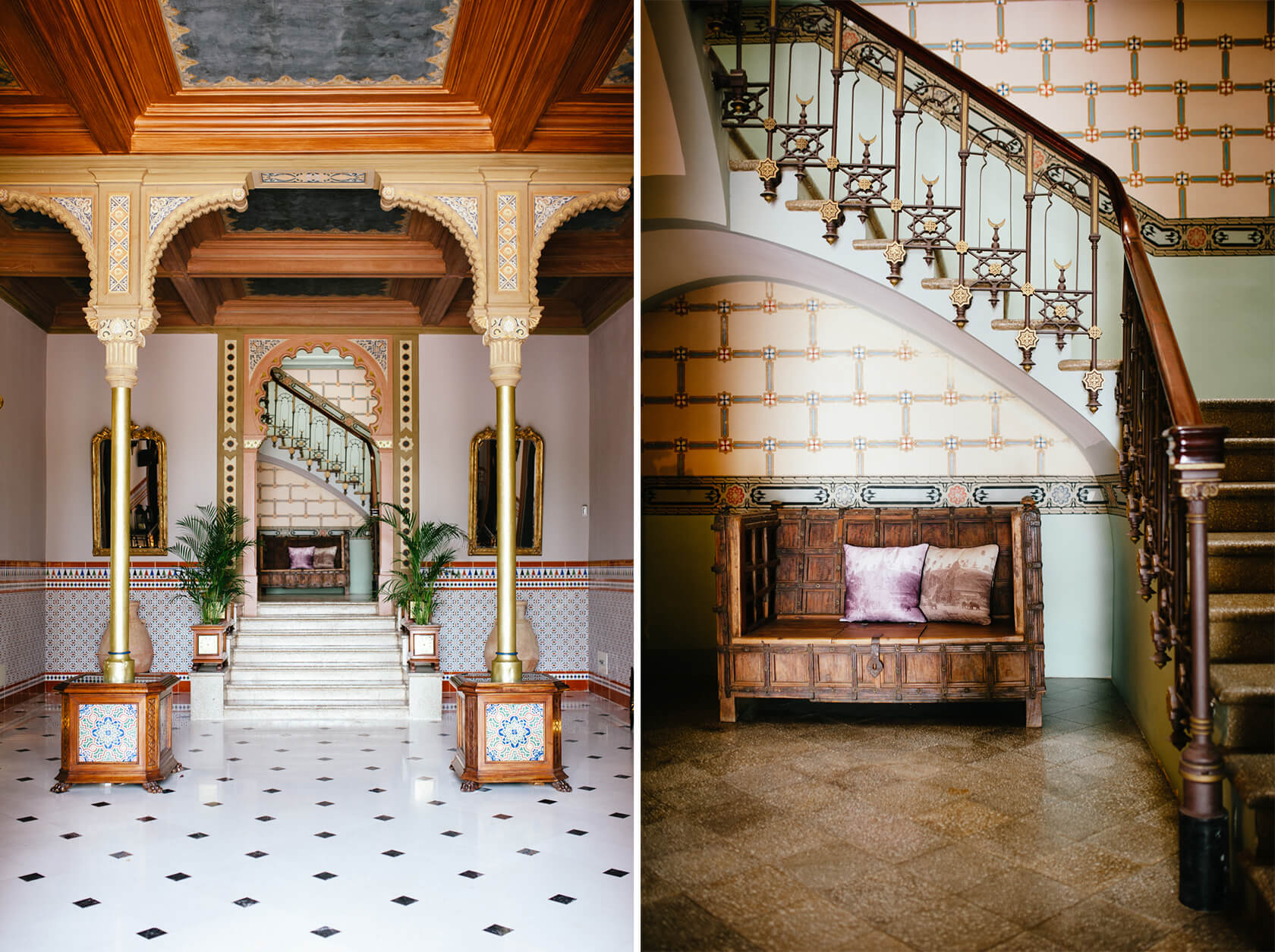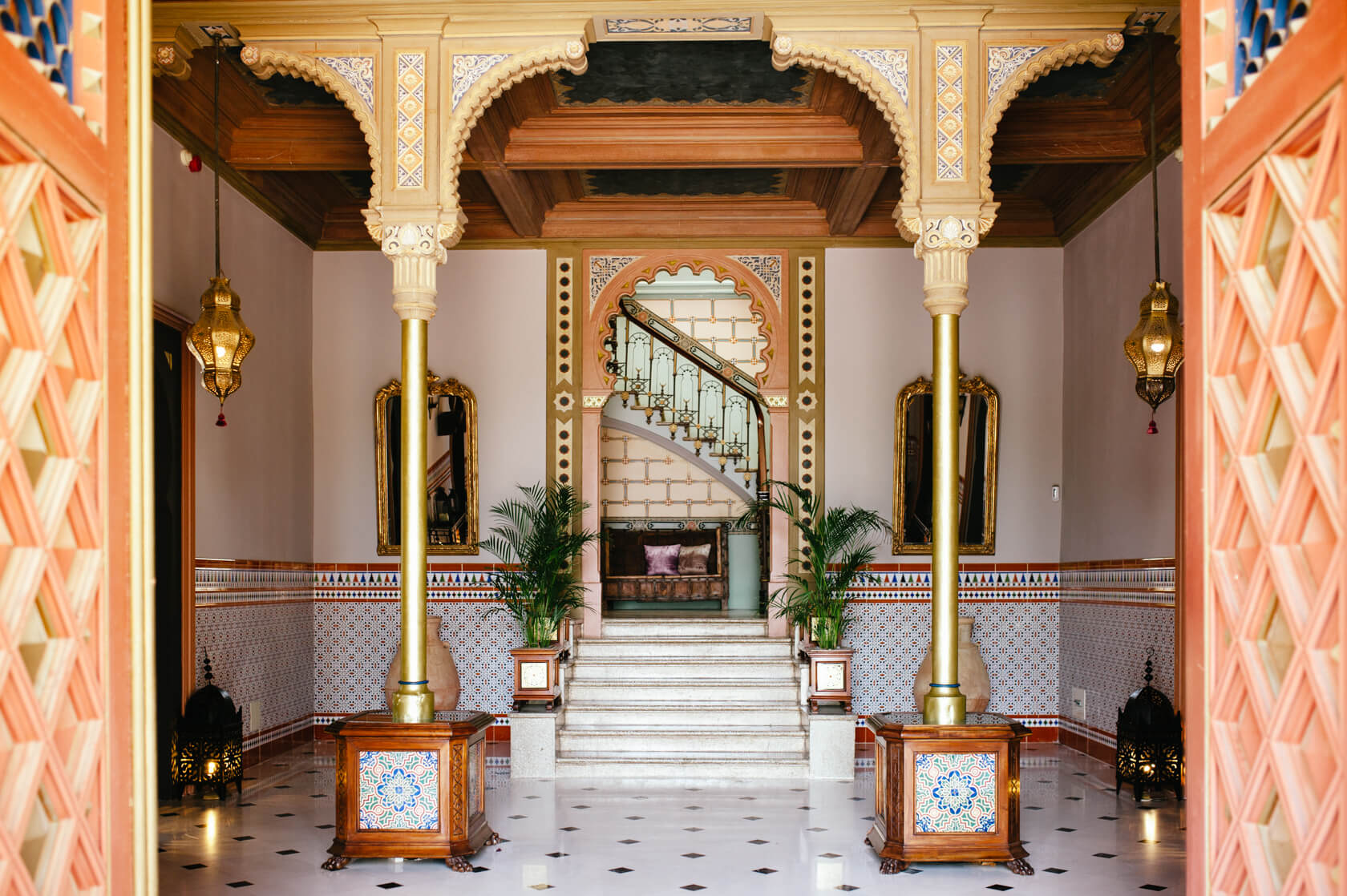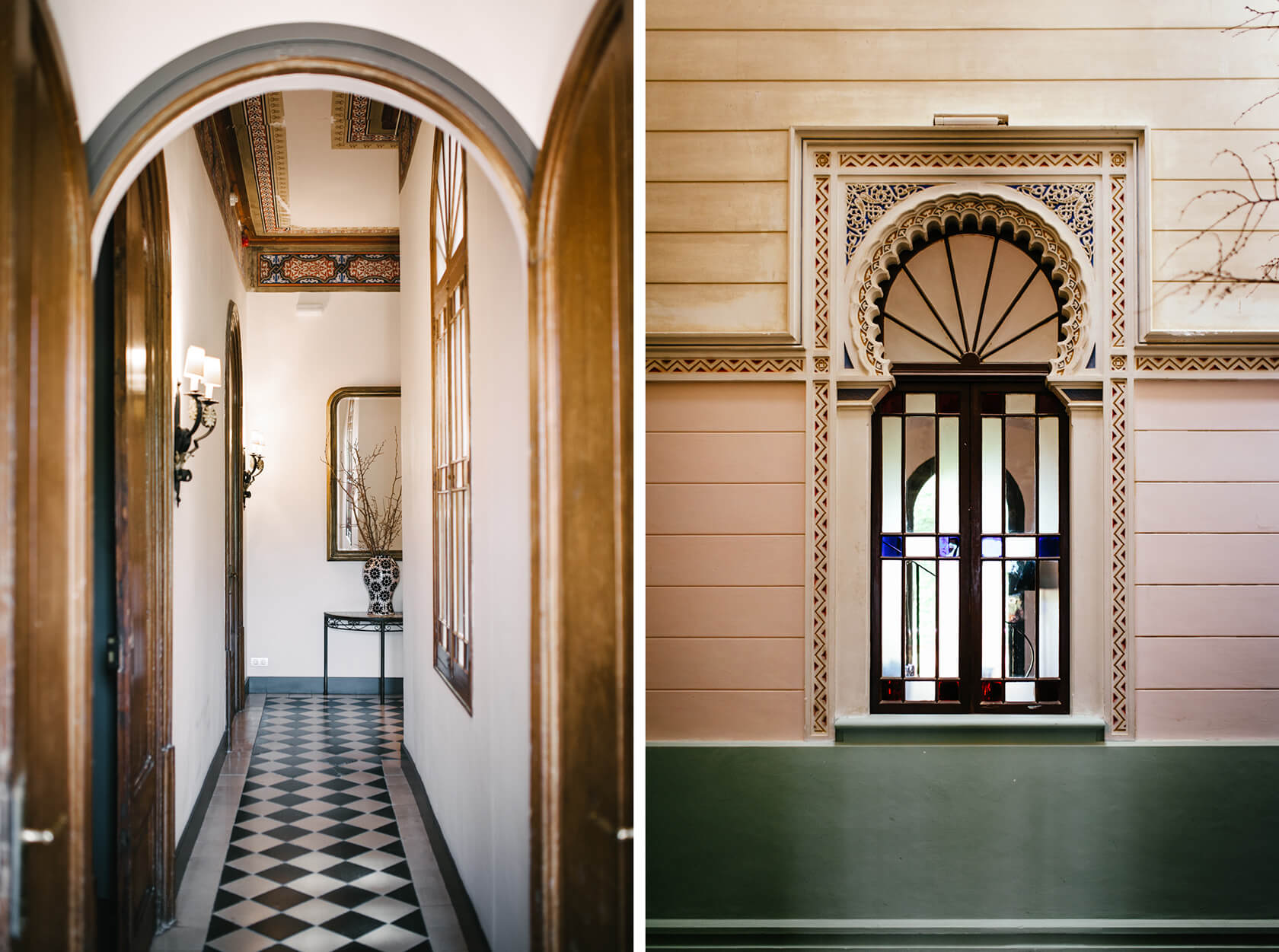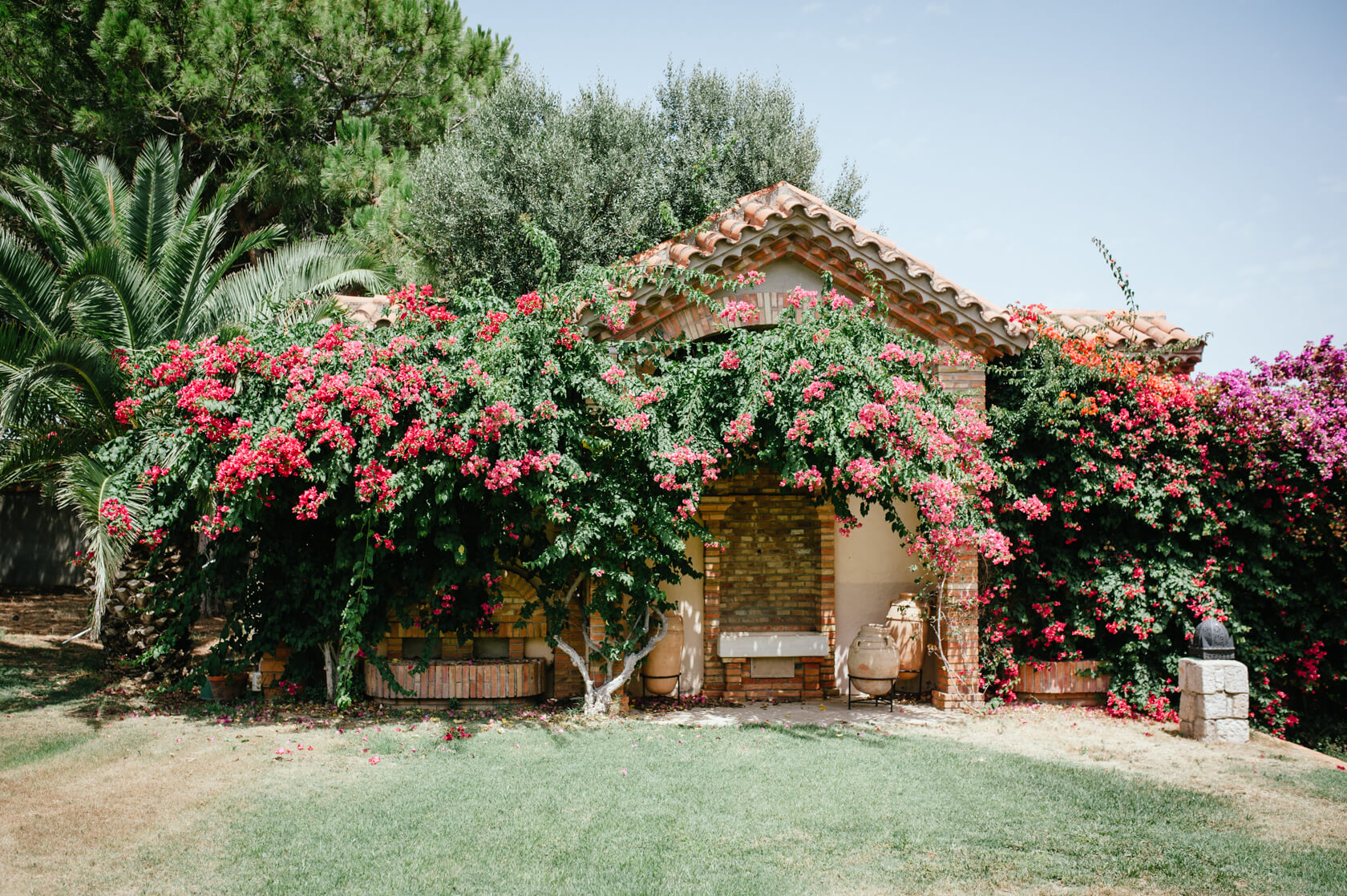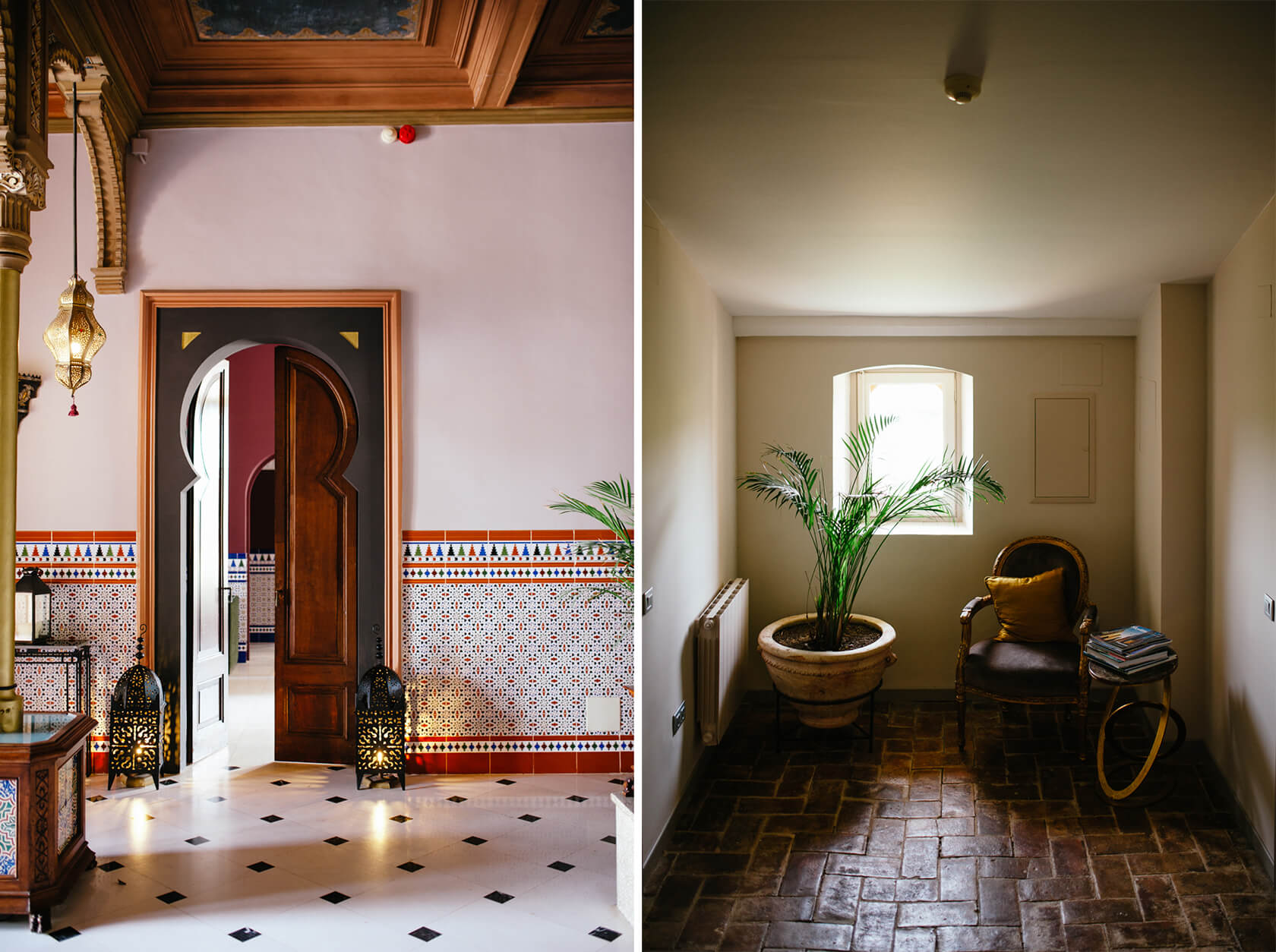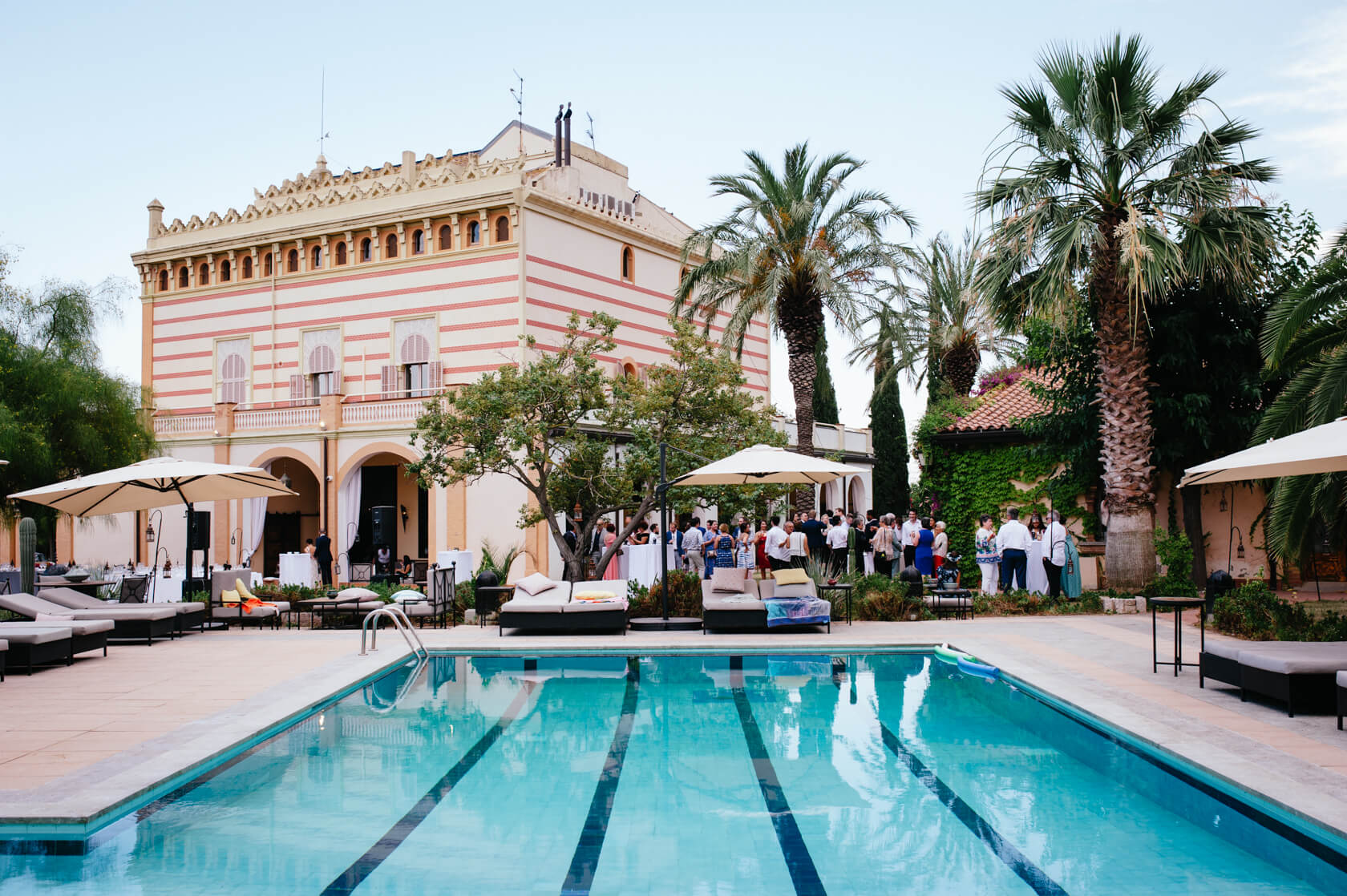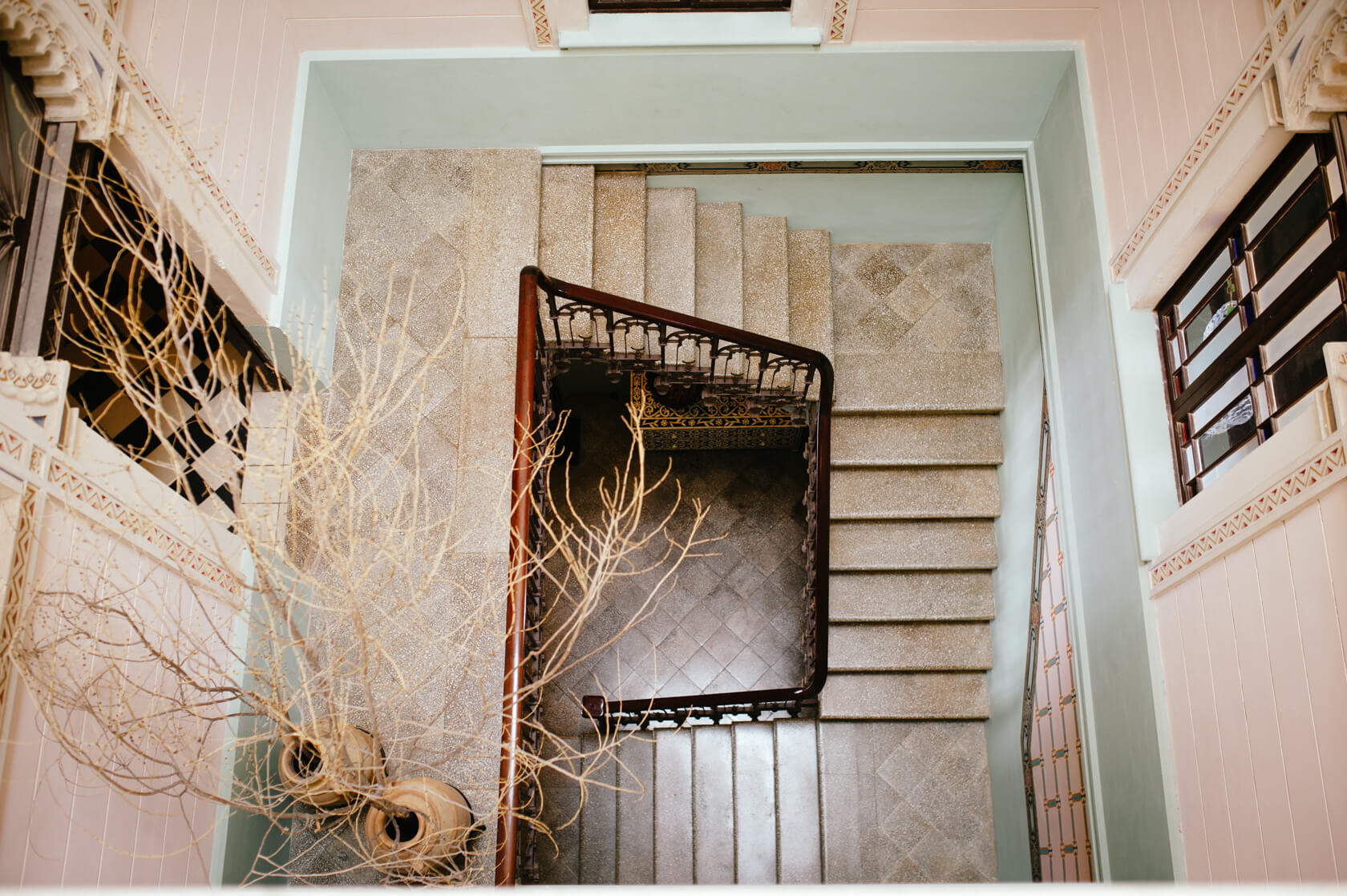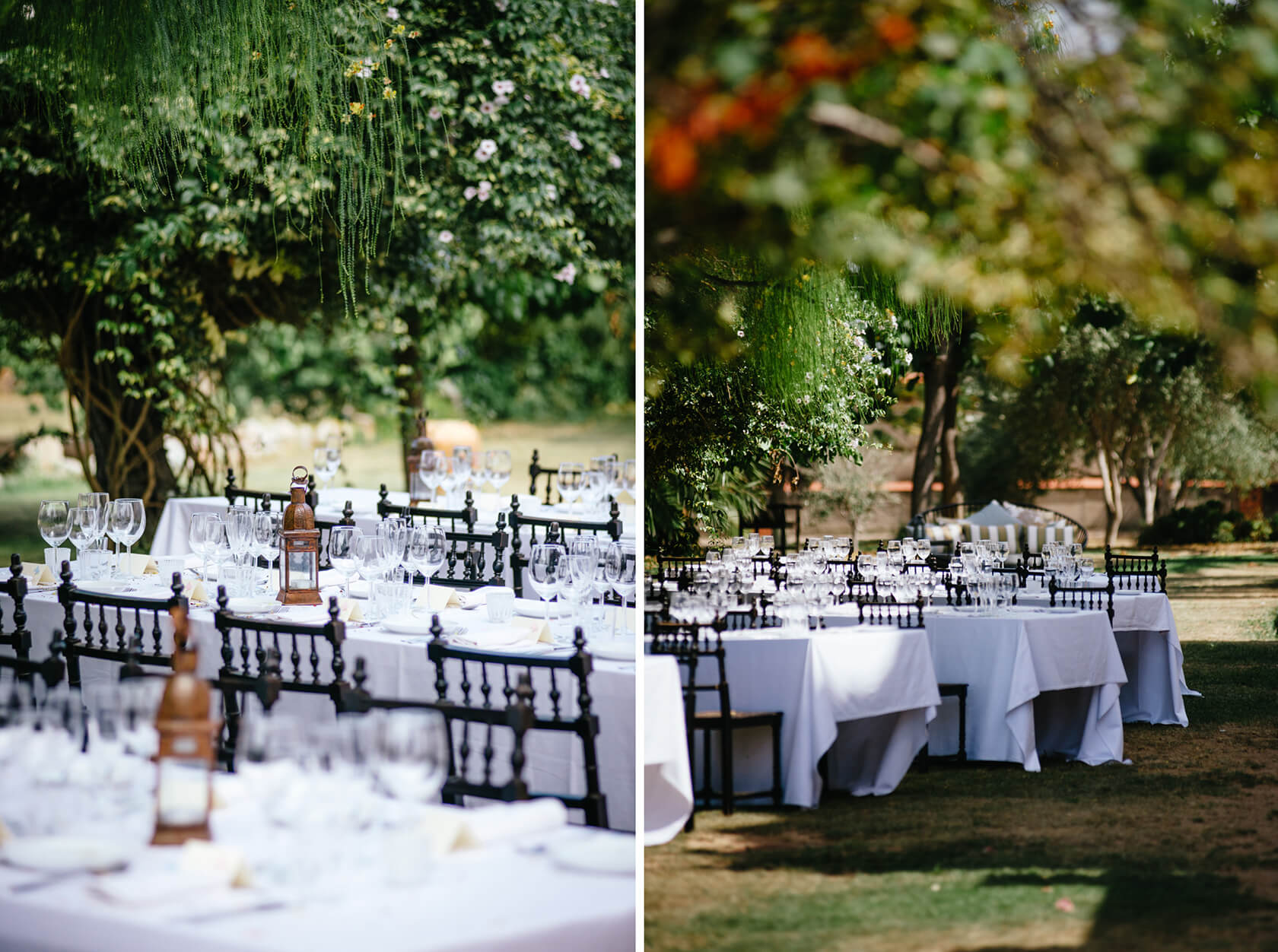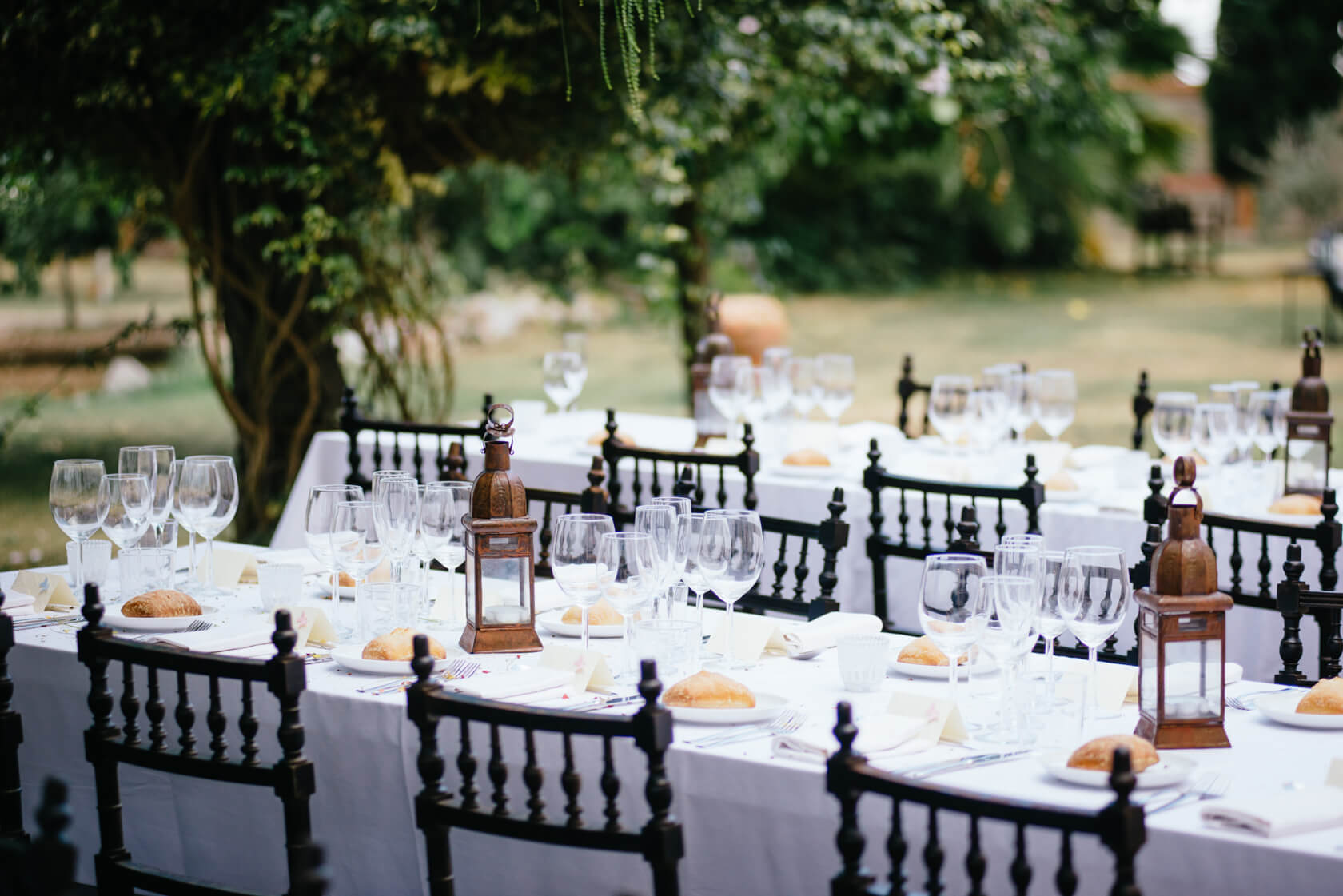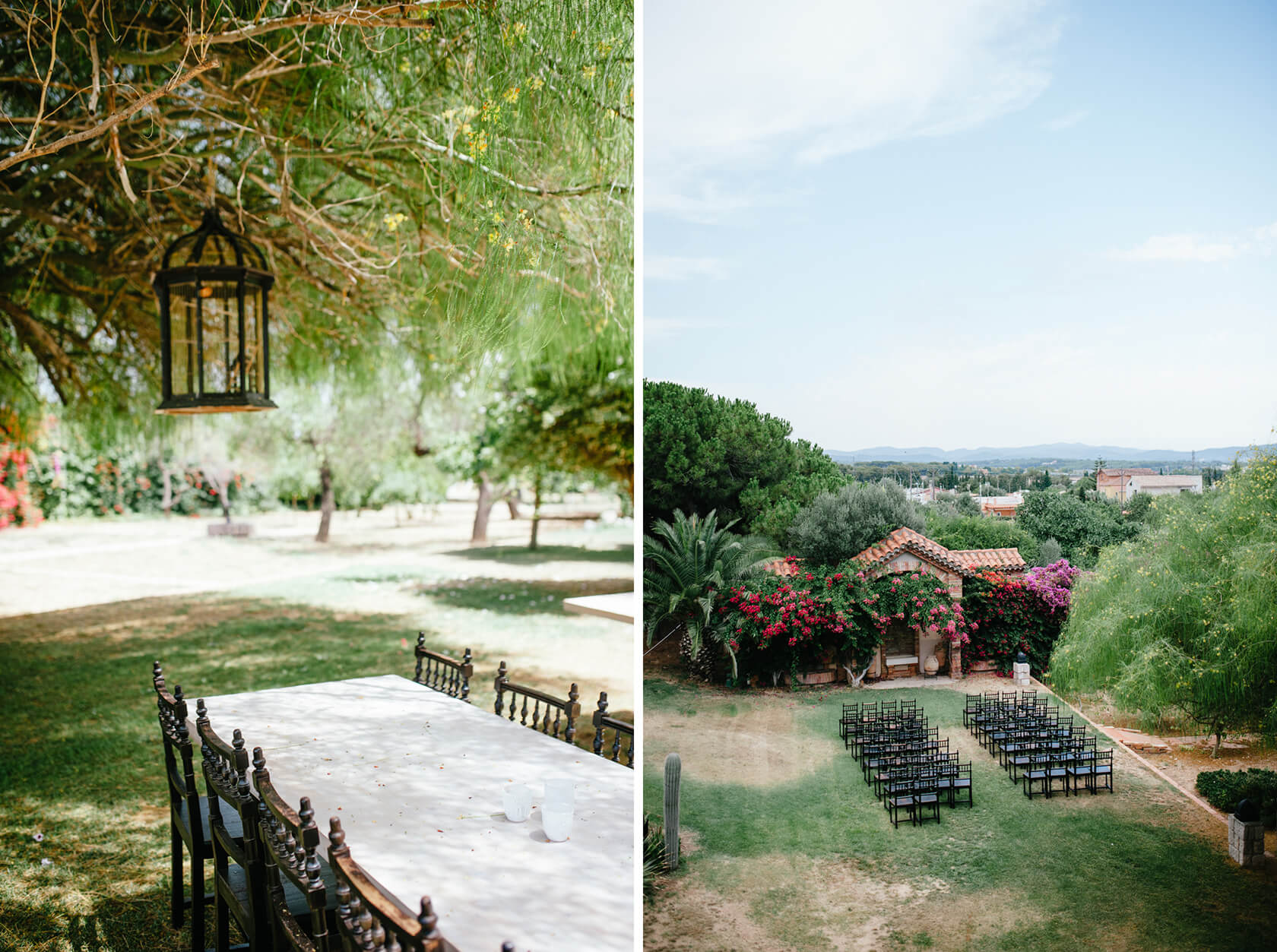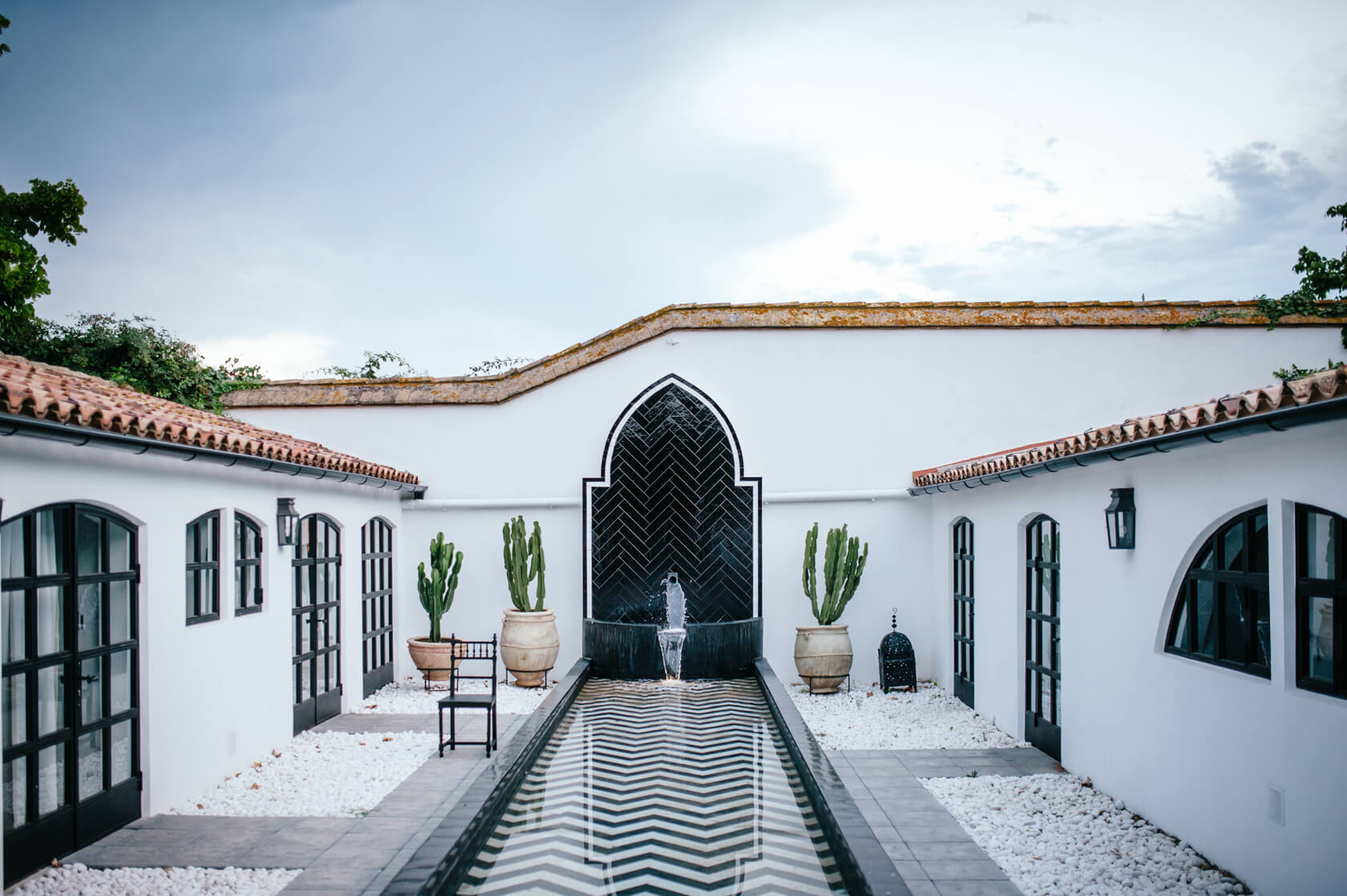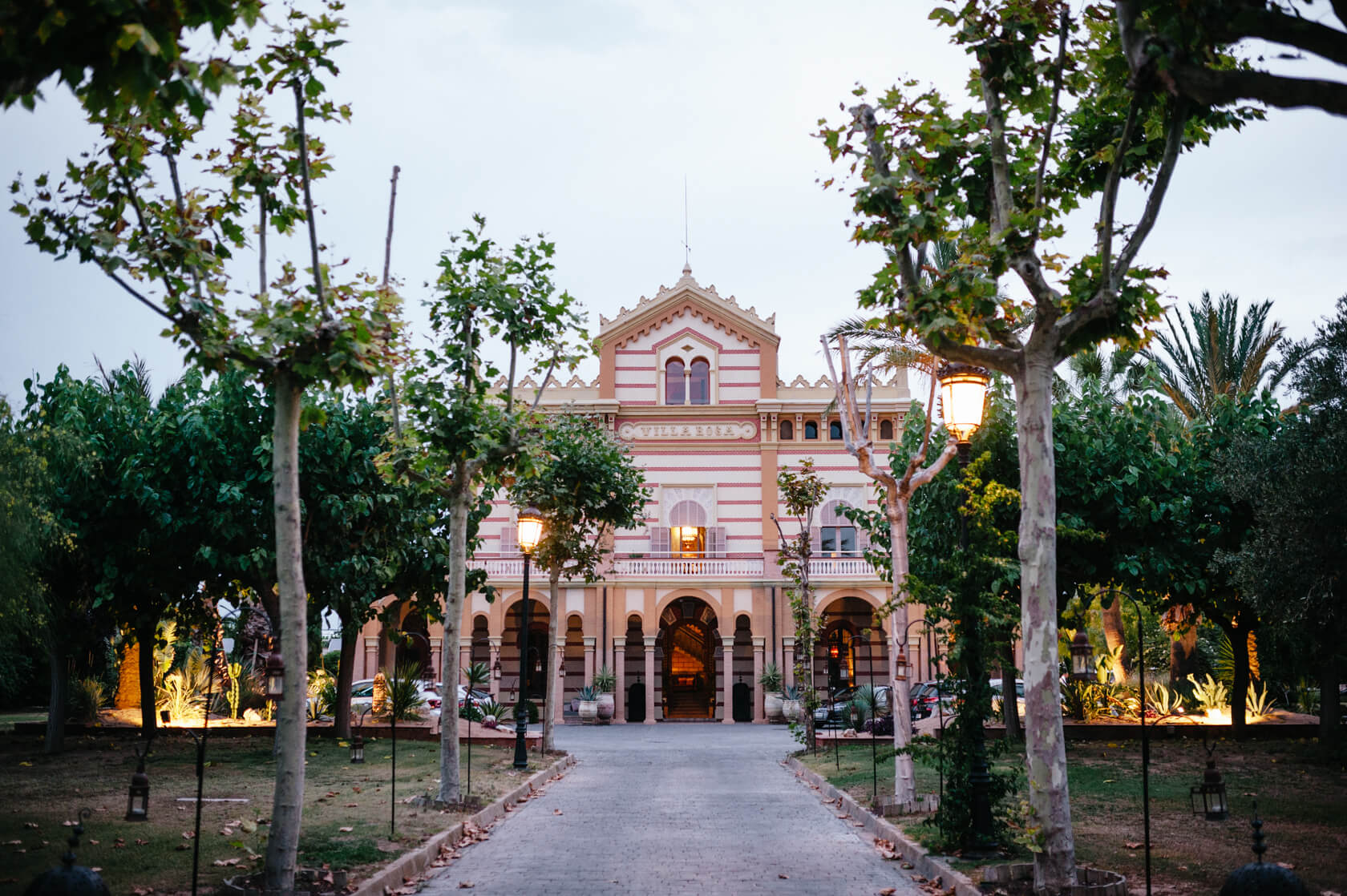 Villa Catalina
Villa Catalina has a very Mediterranean feel to it with stucco walls and lots of wild green all around. There is an old wine cellar where you can serve dinner or set the party. The interior is a labyrinth of many rooms, doors, and corridors. It takes a while to find your way around, but that is part of the fun.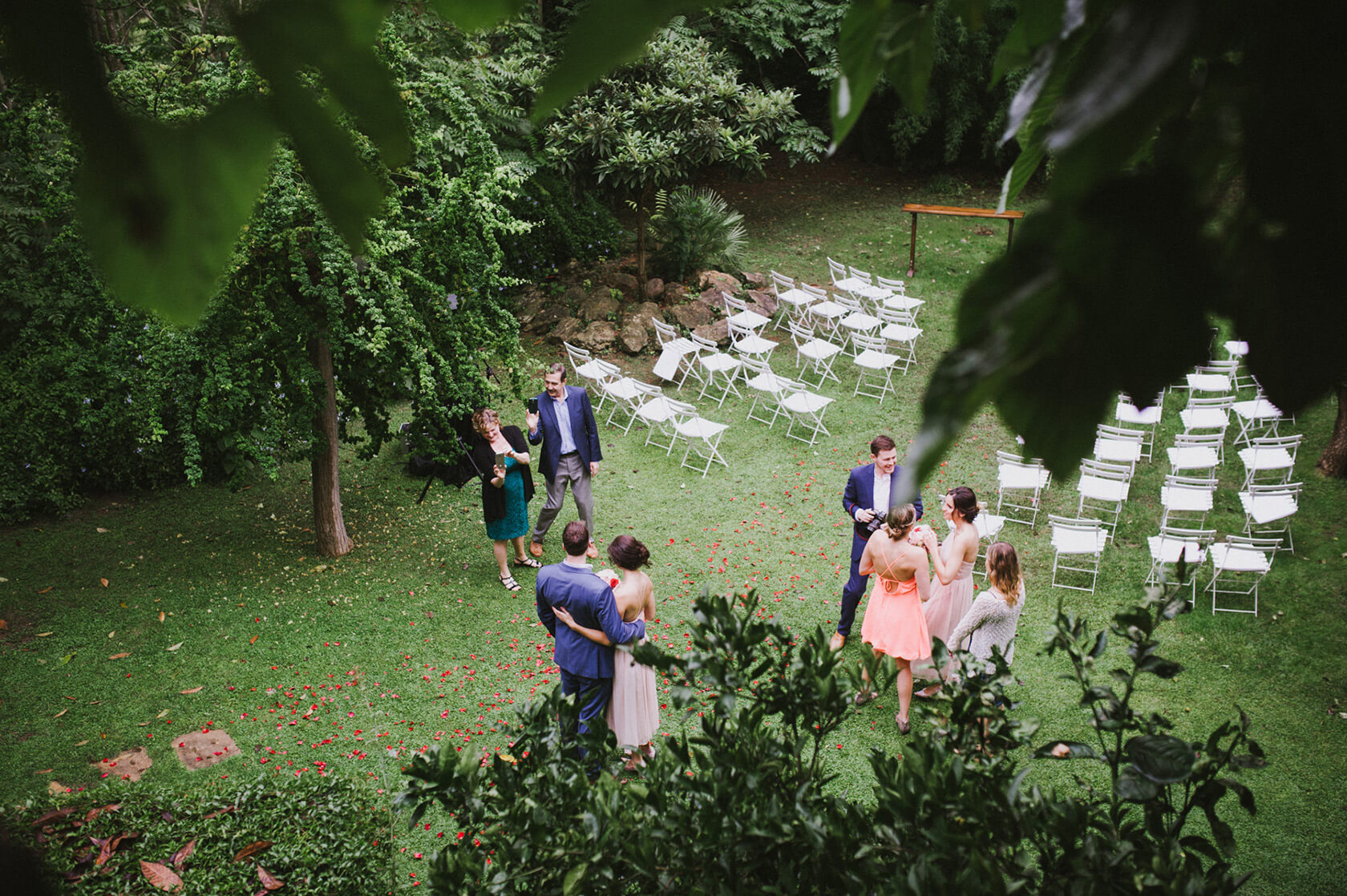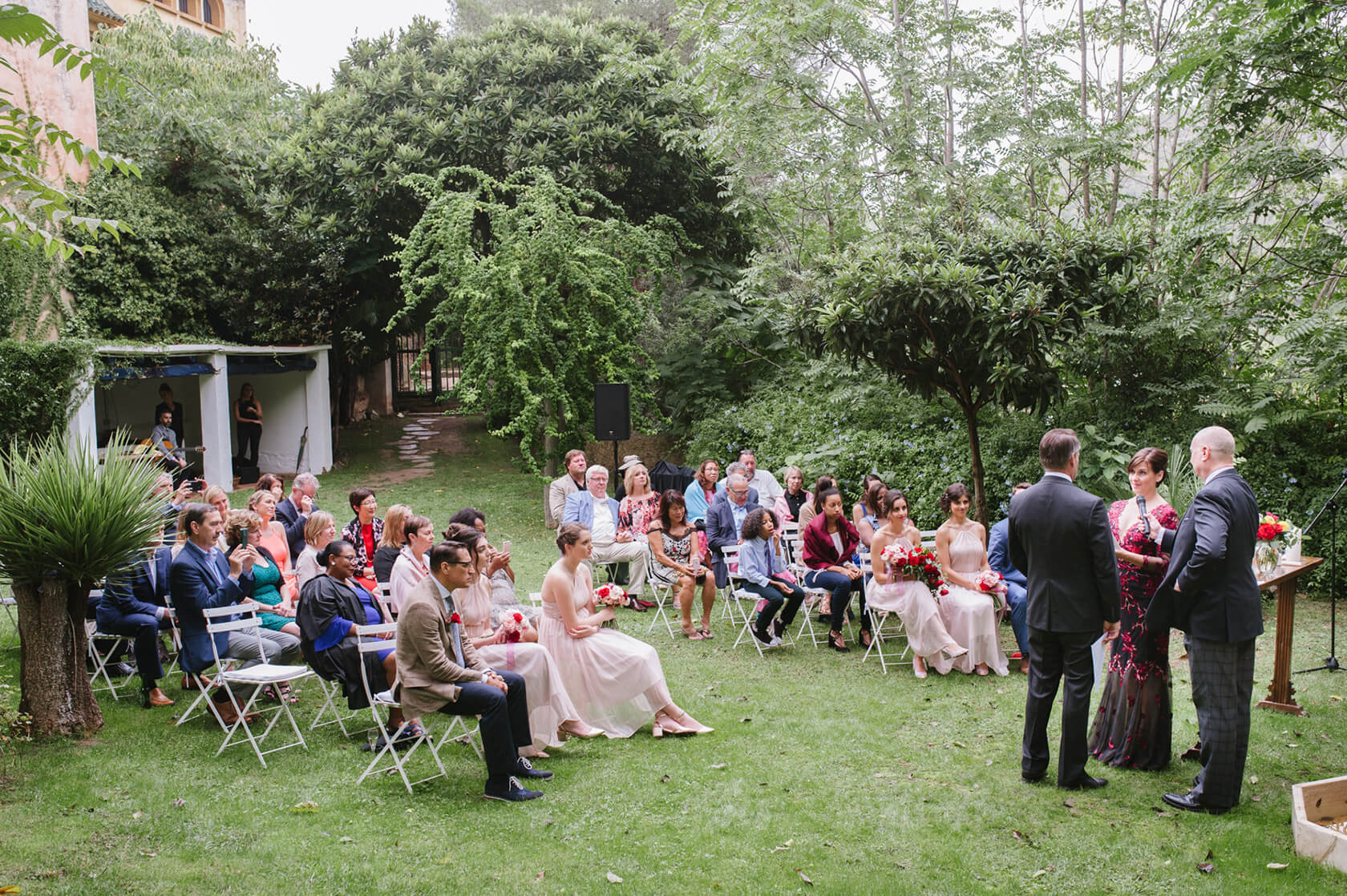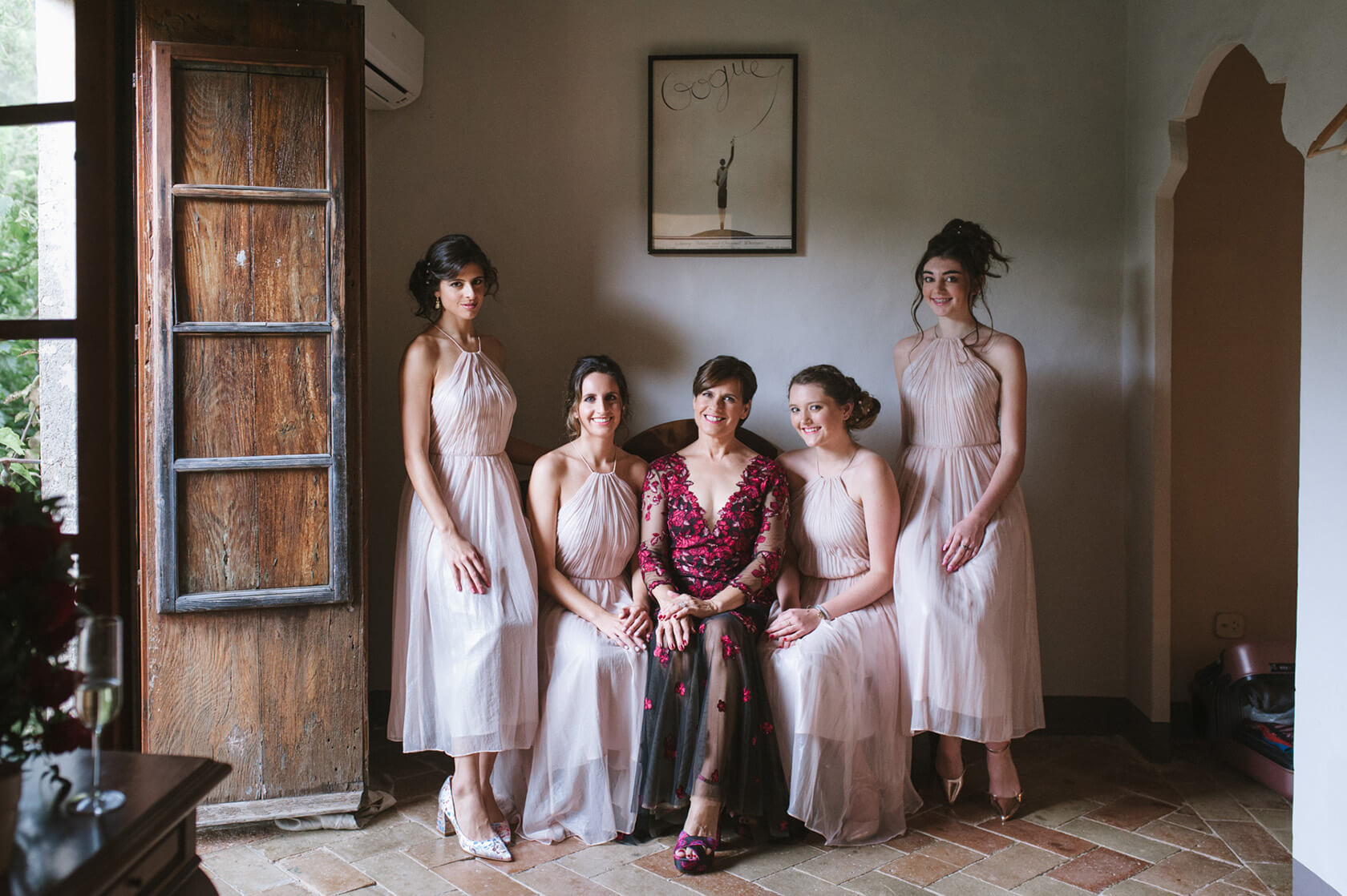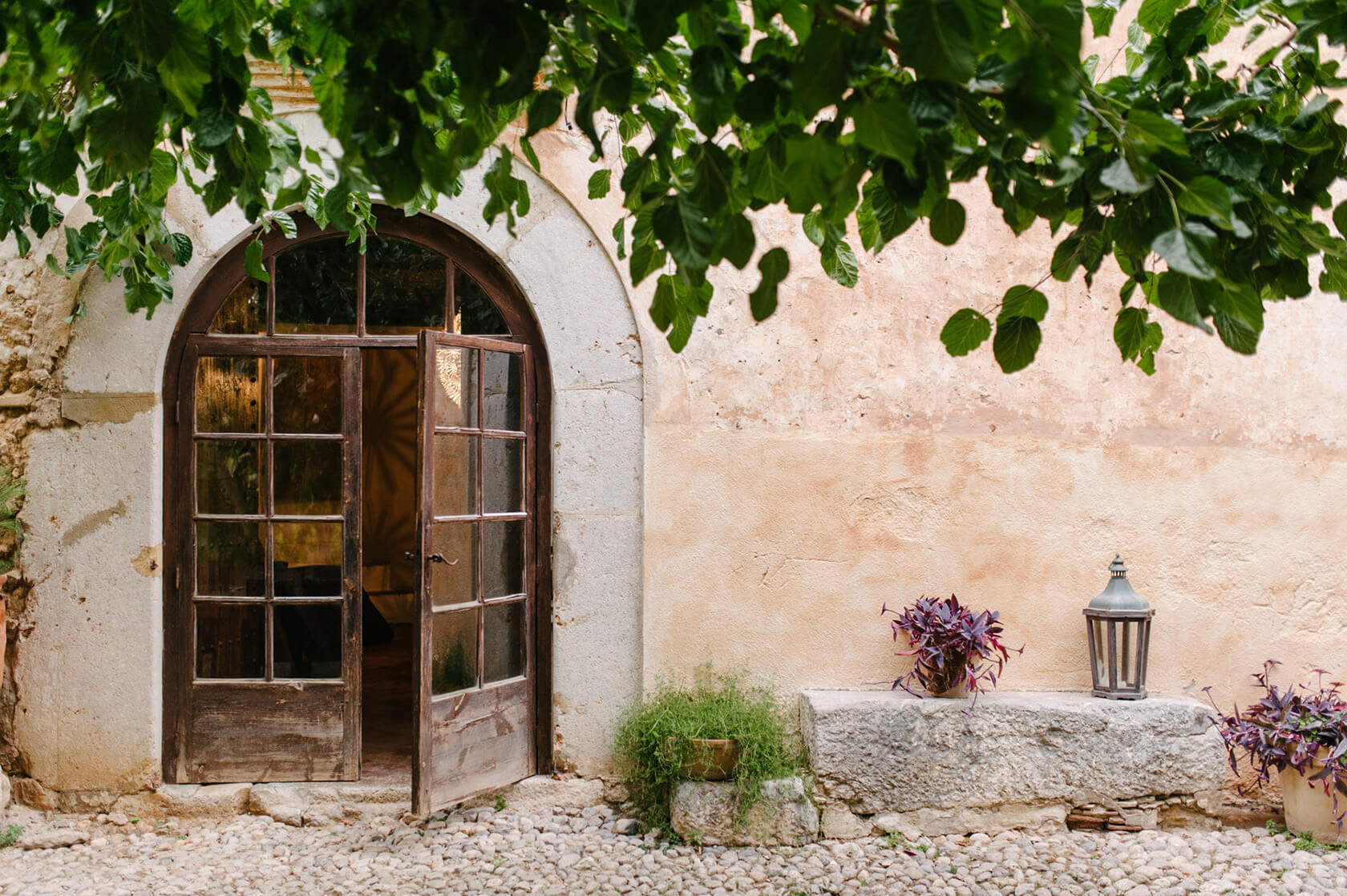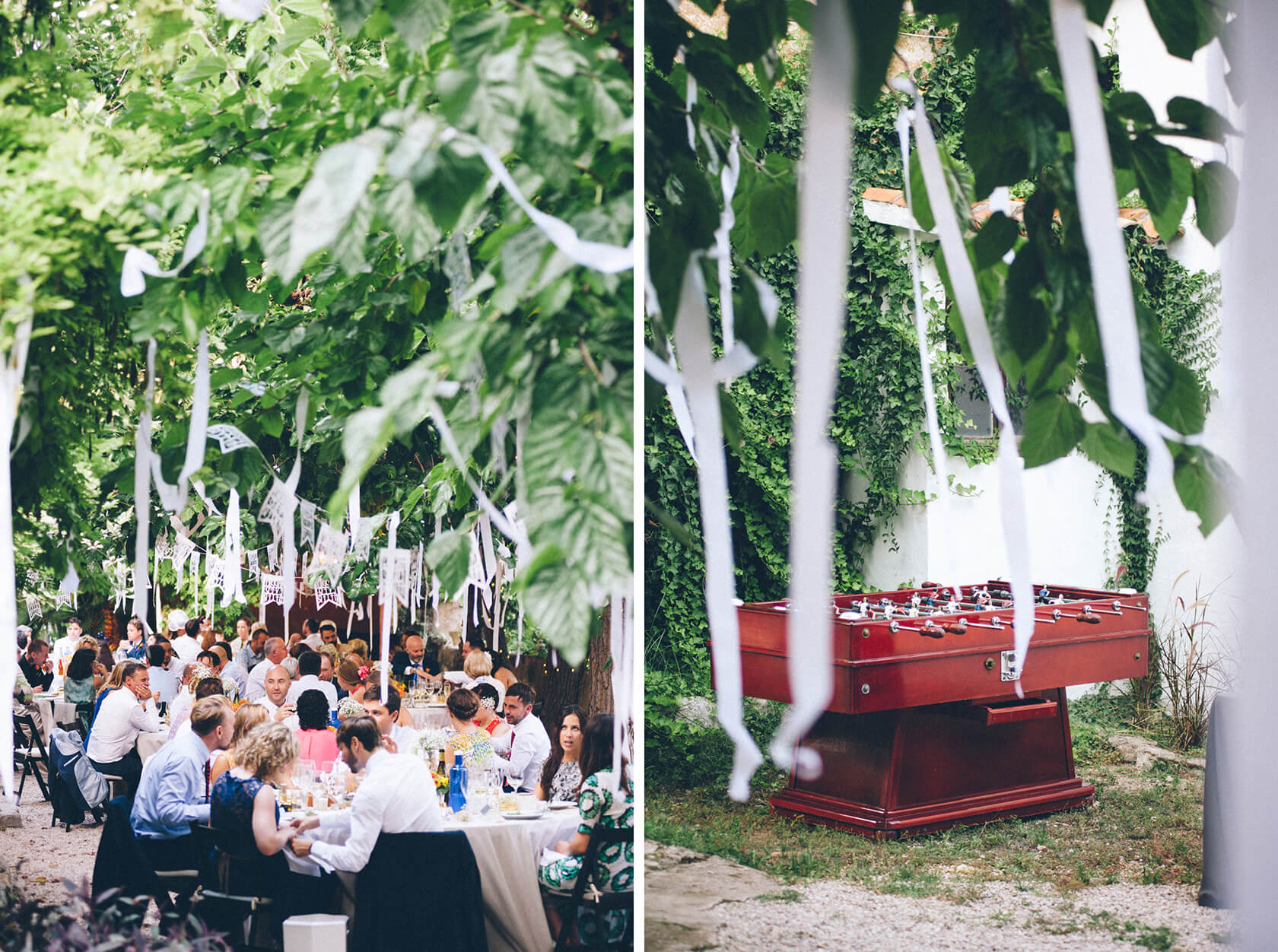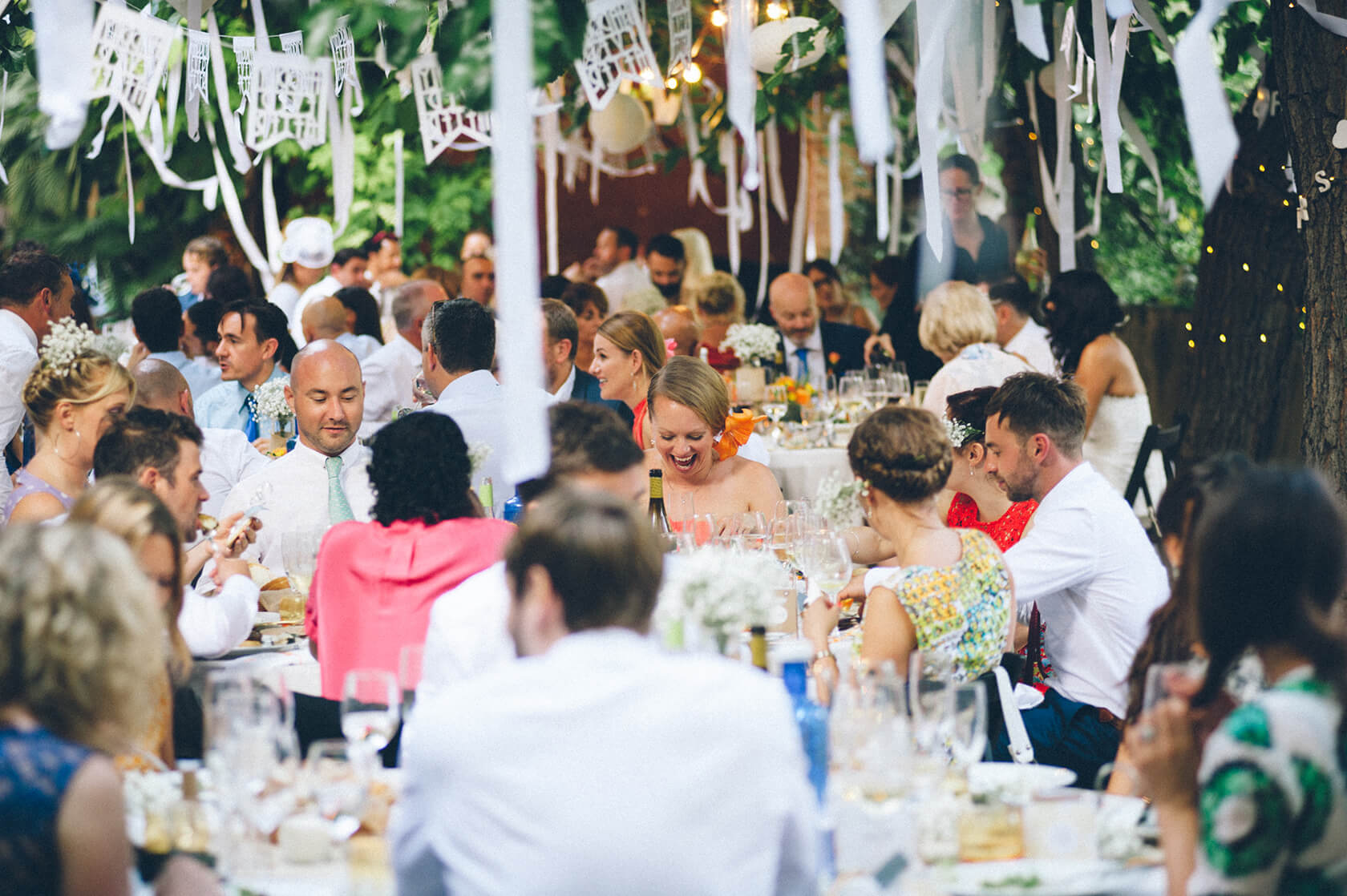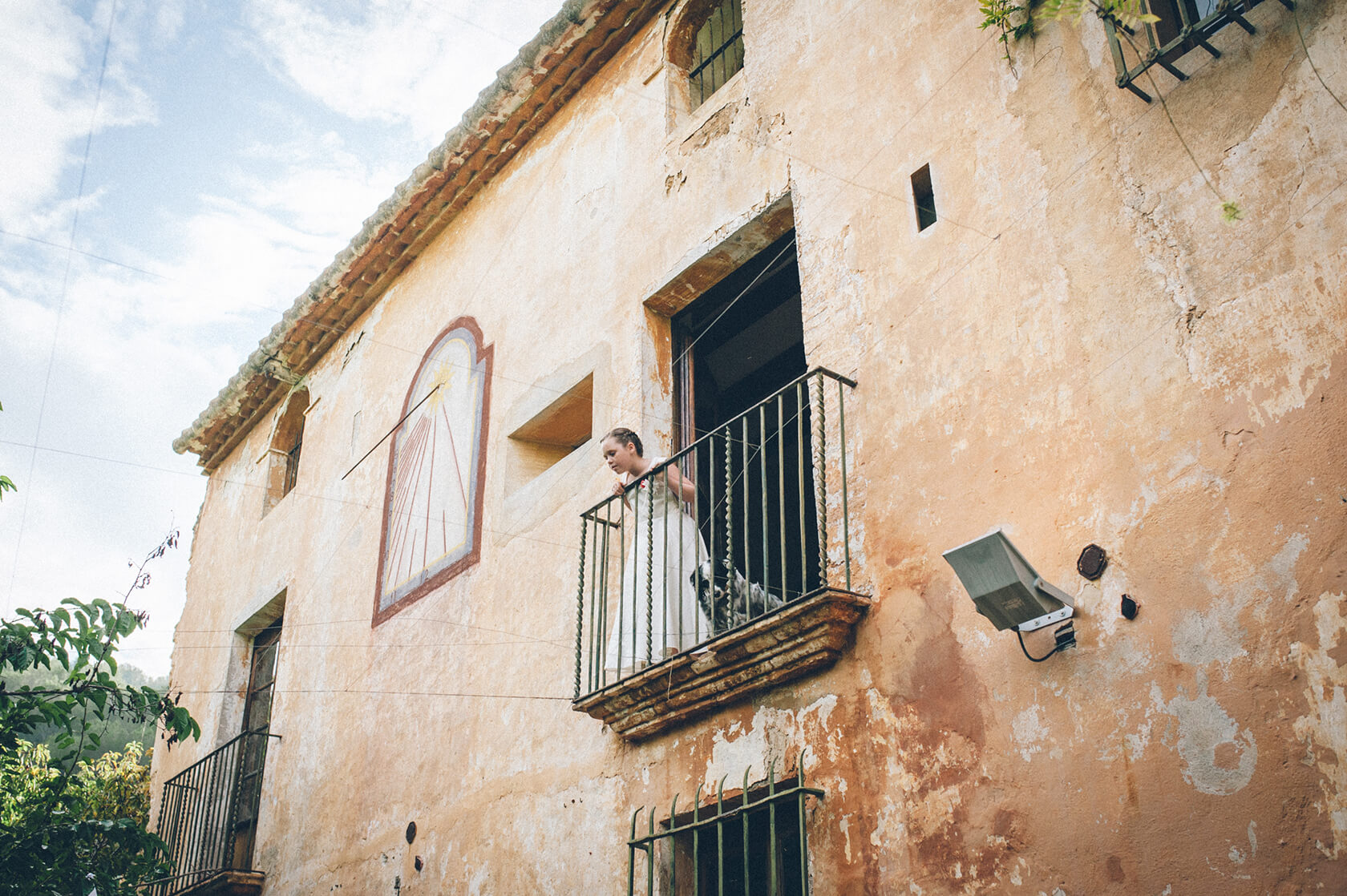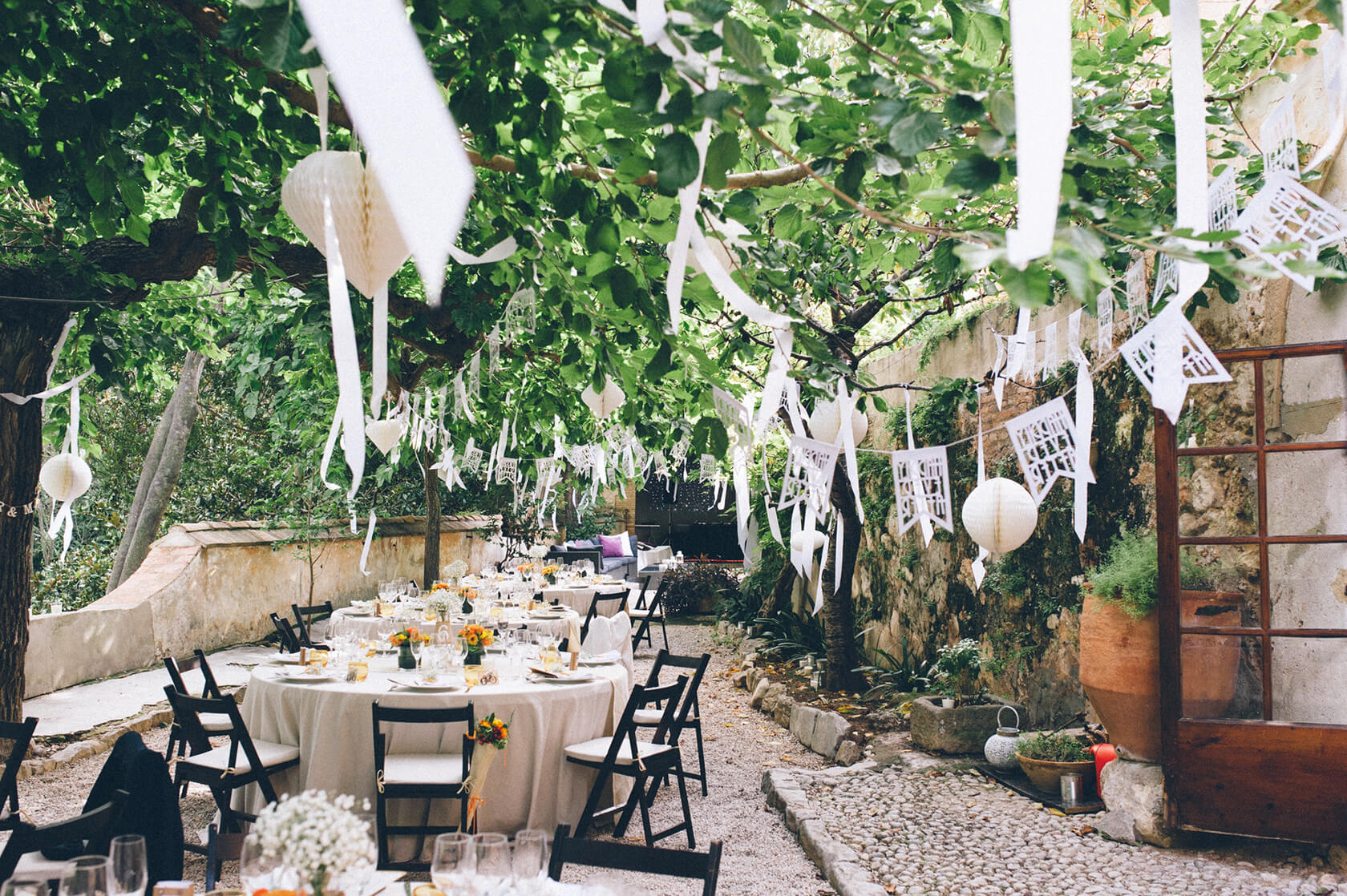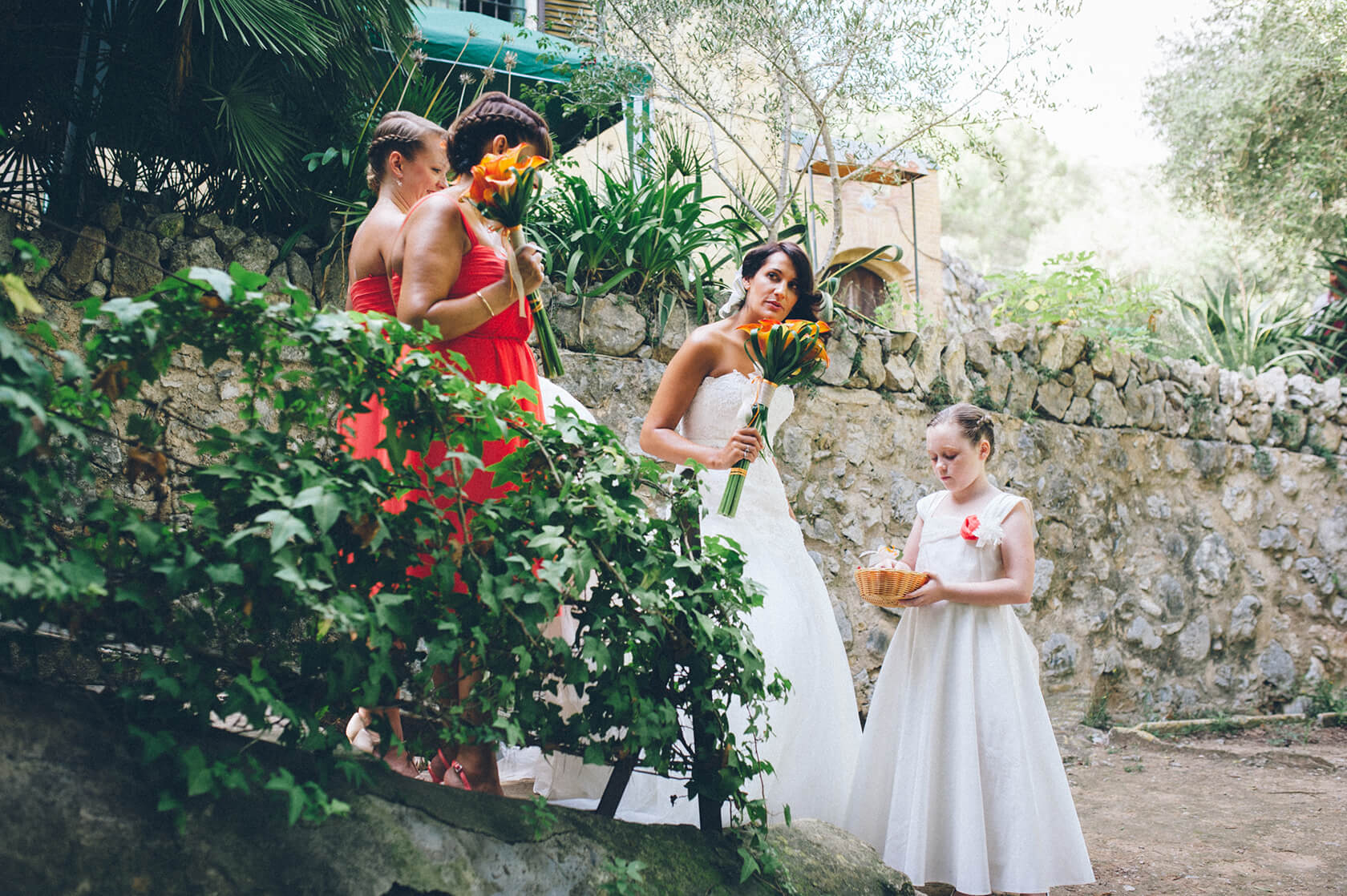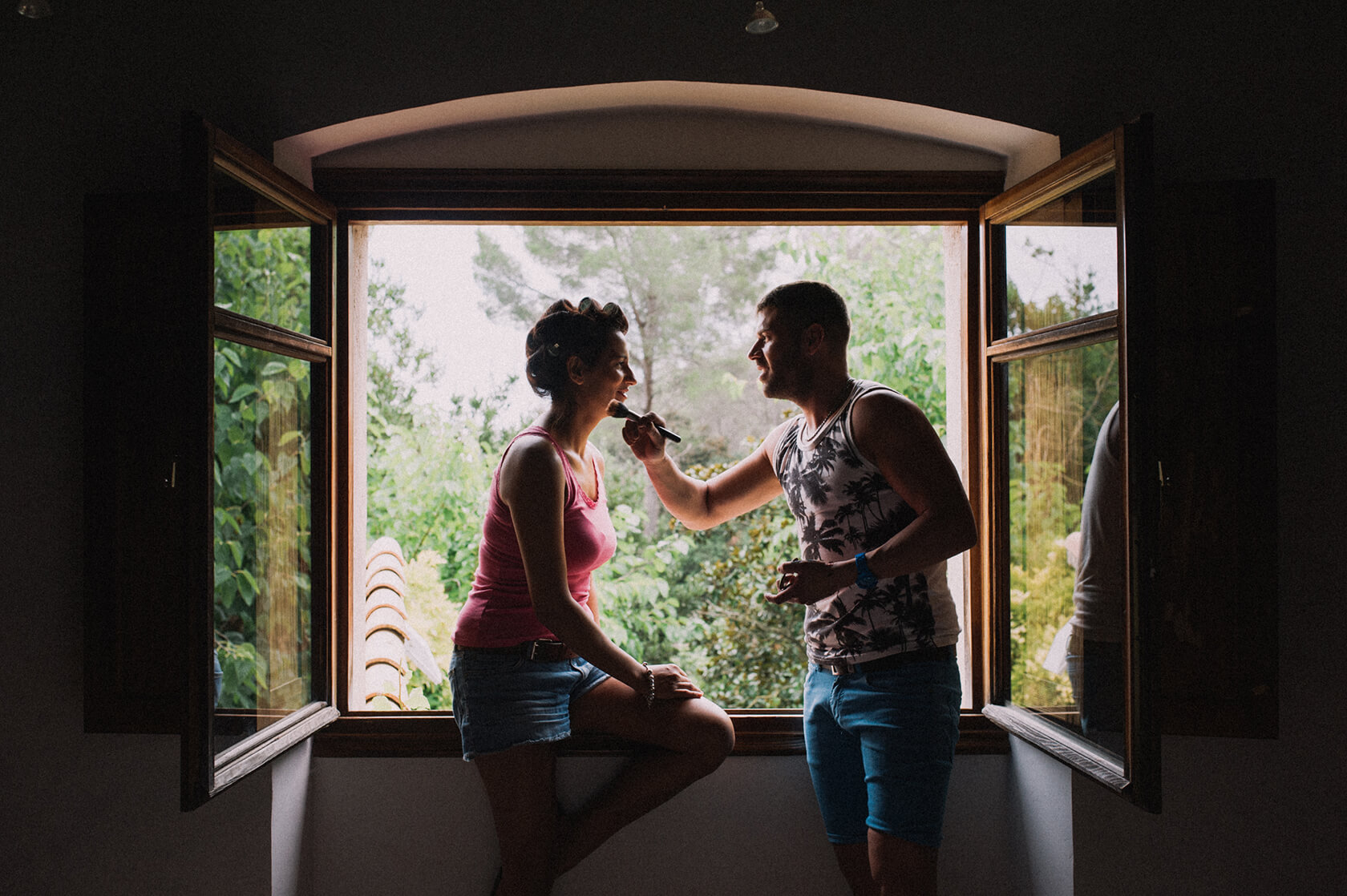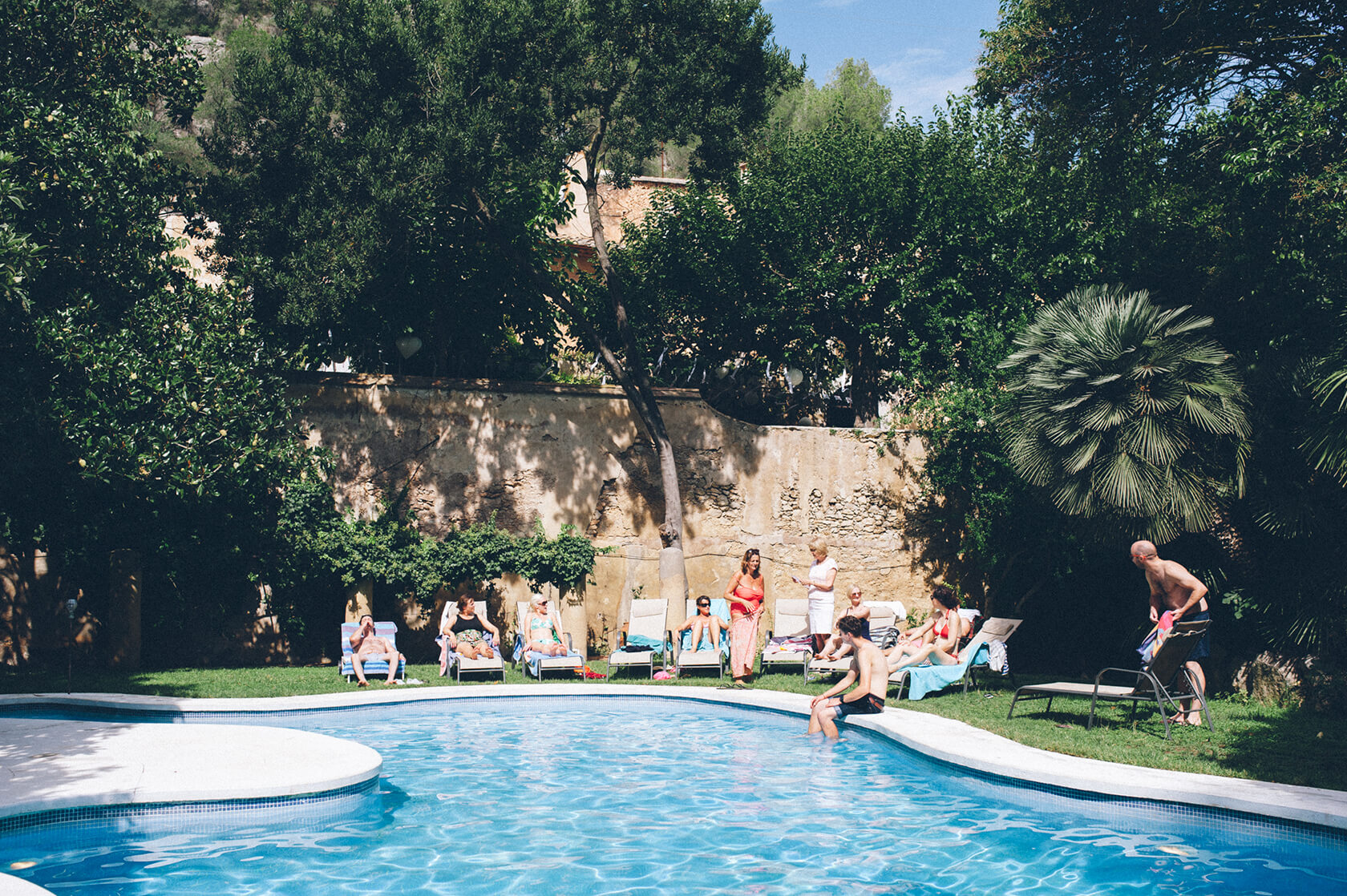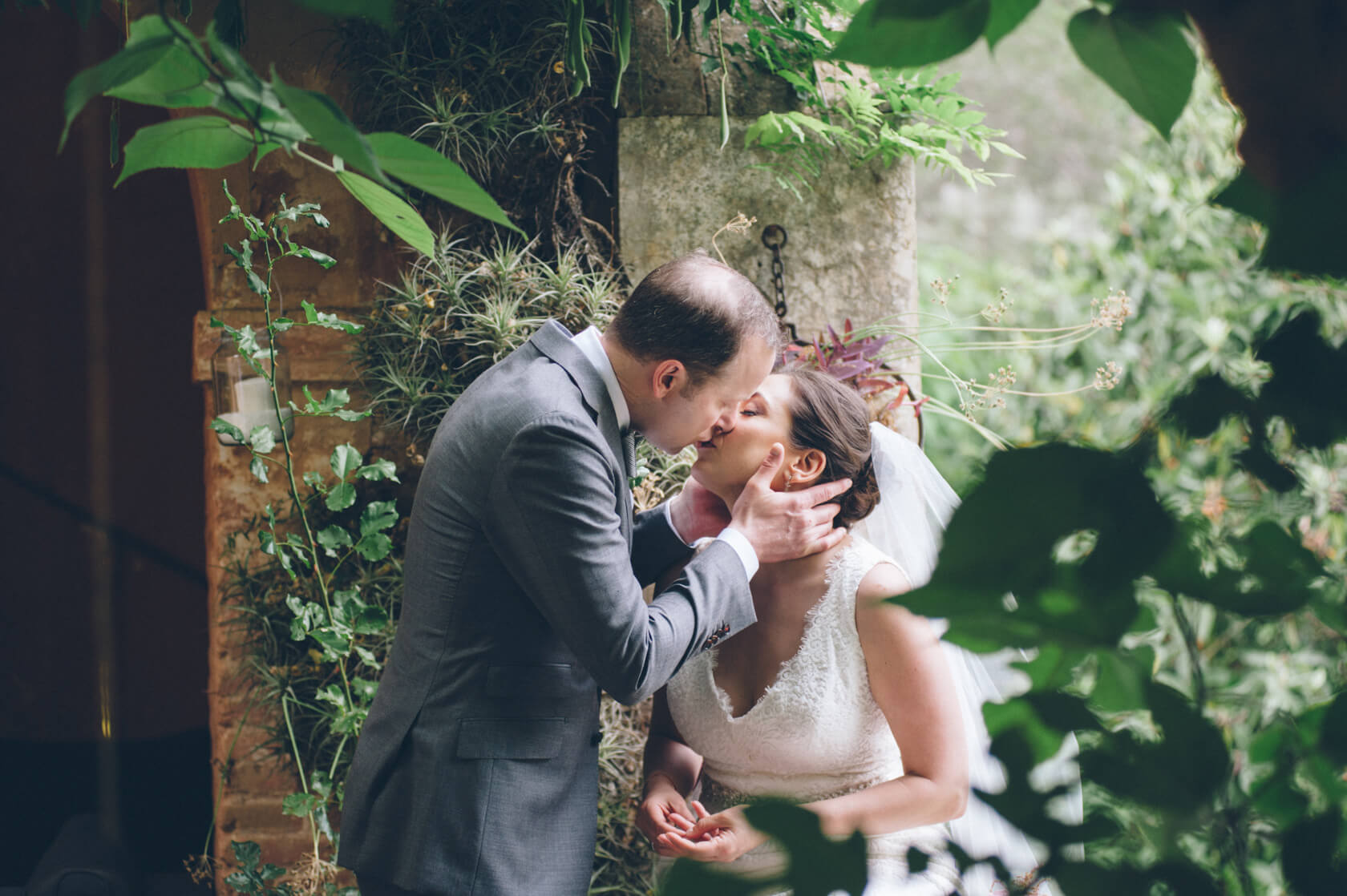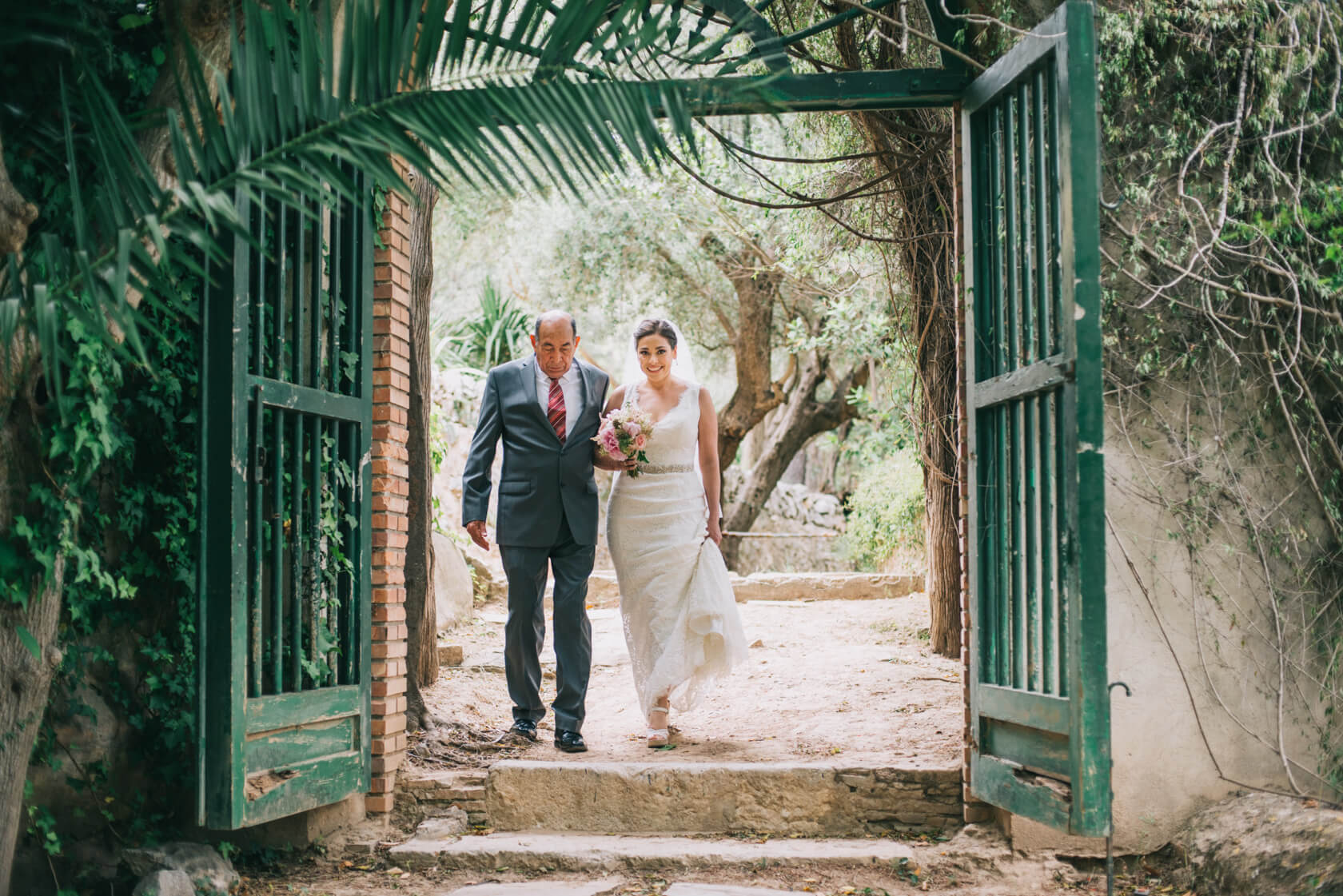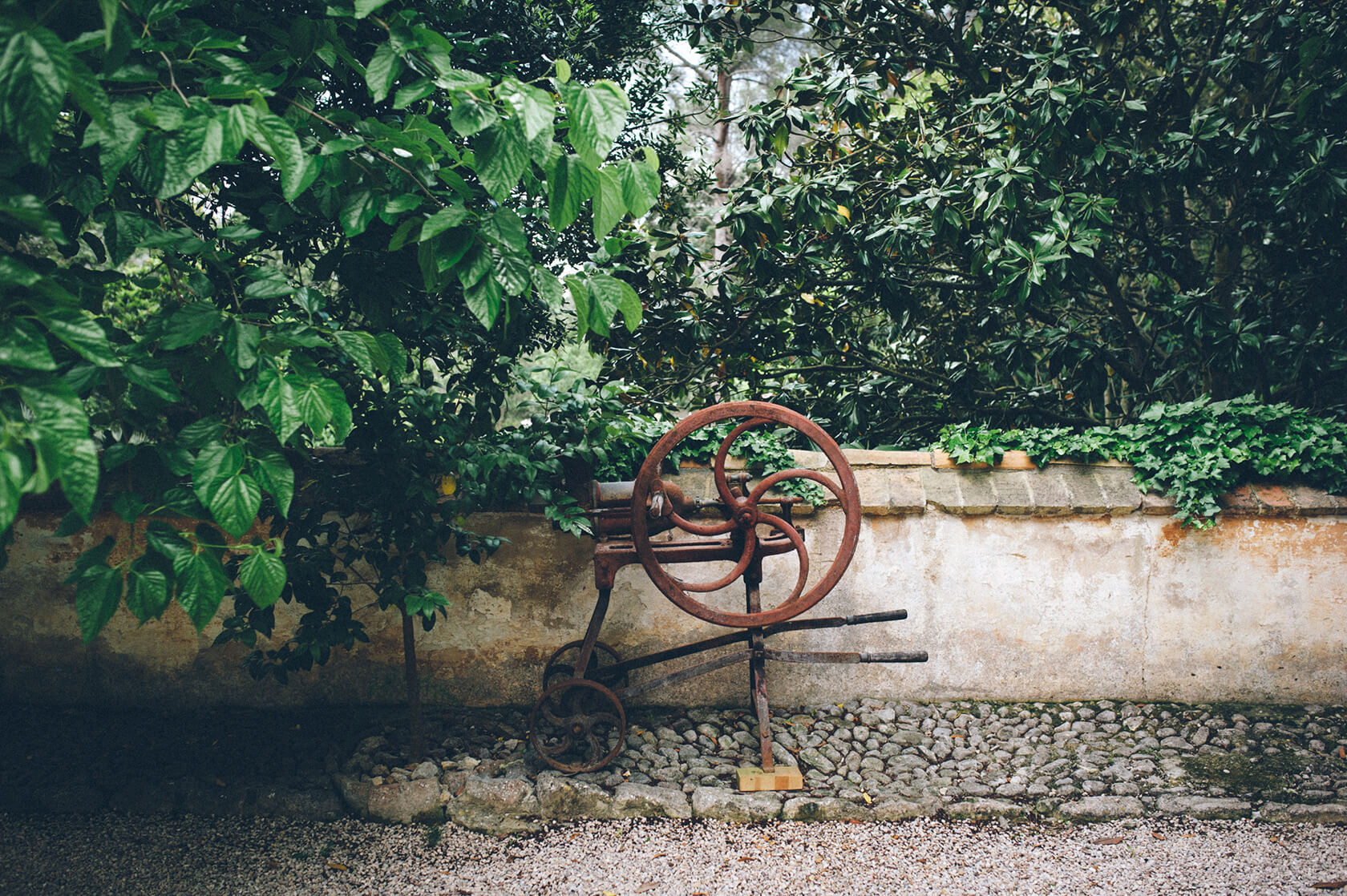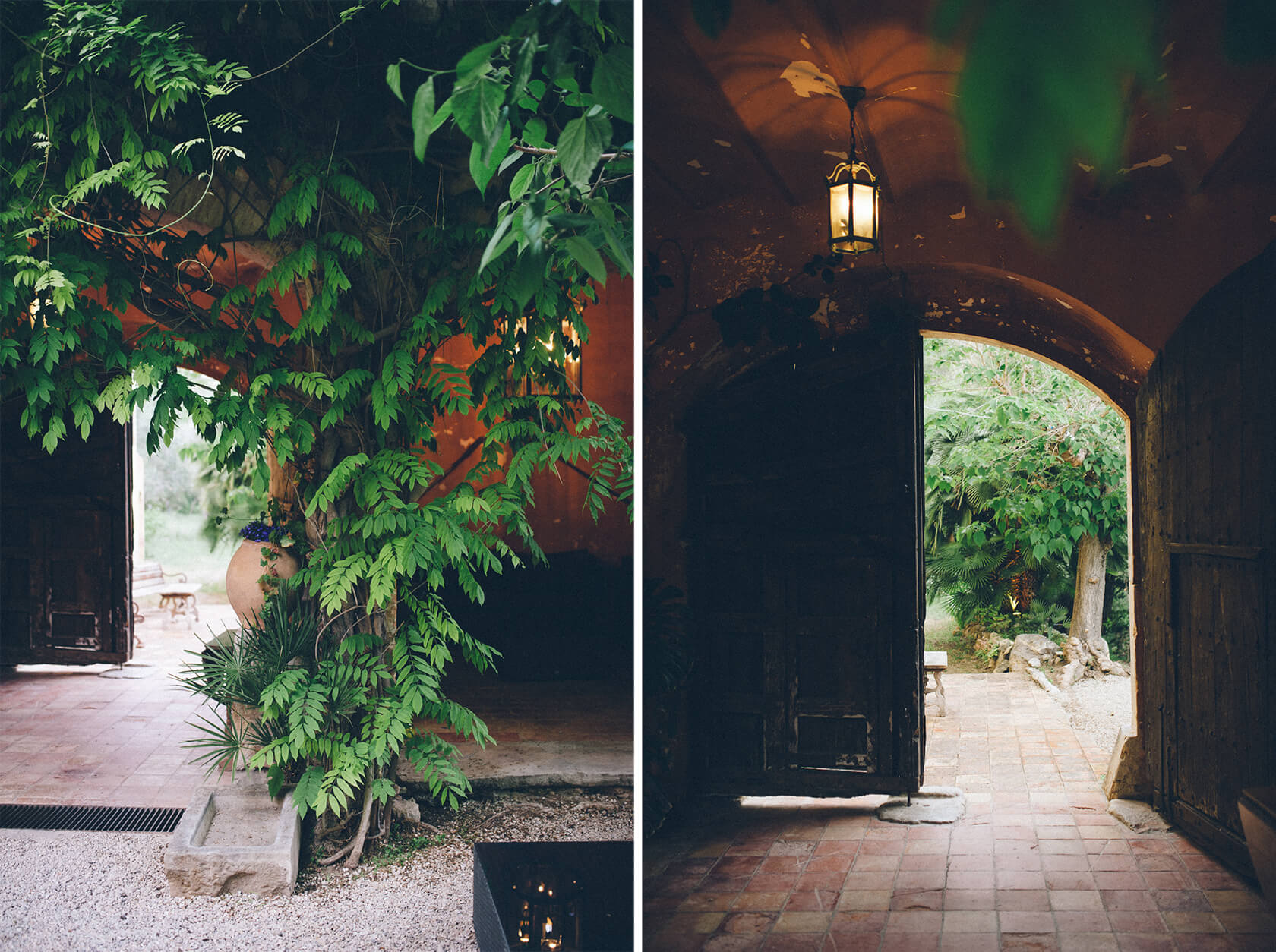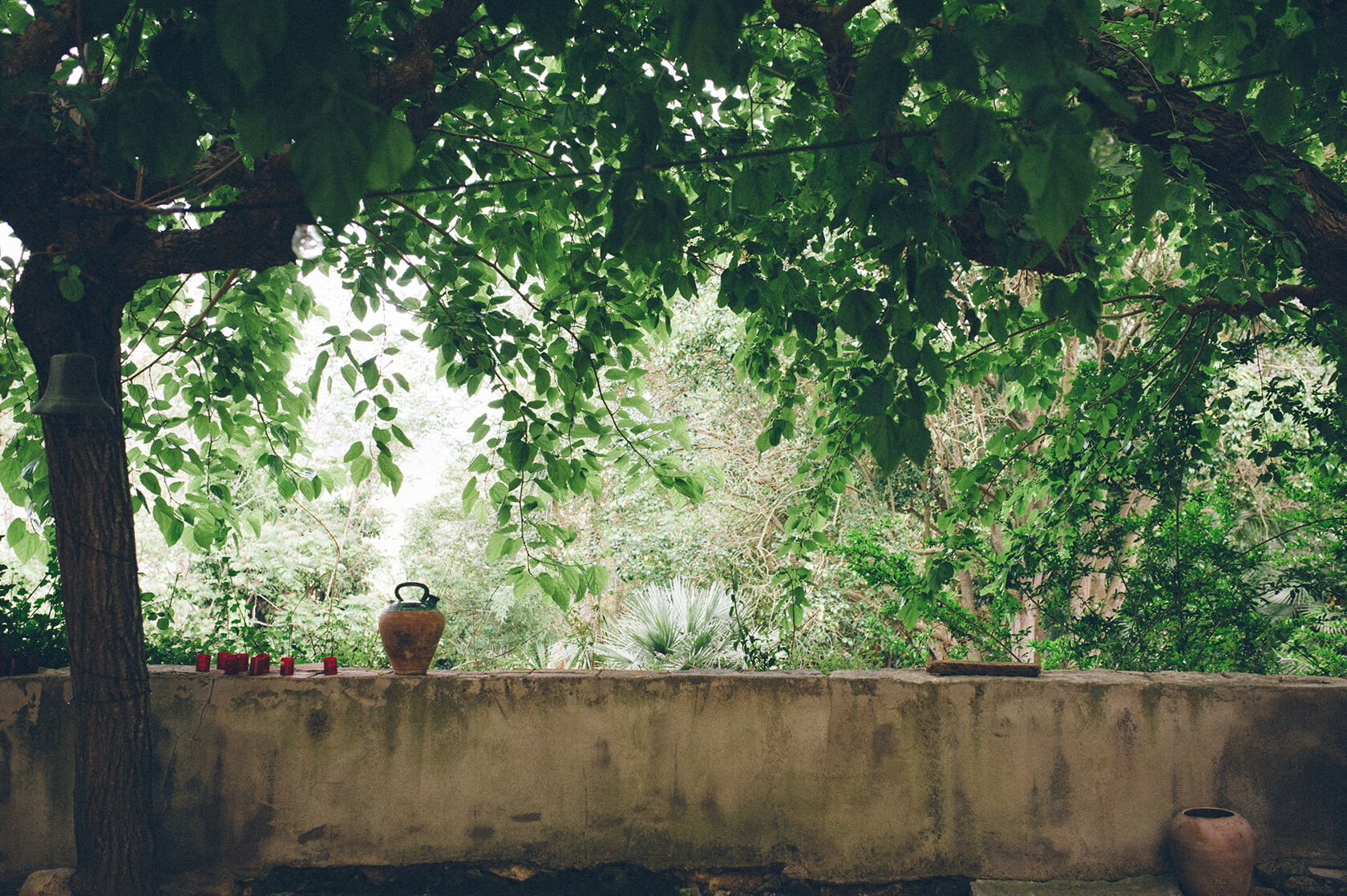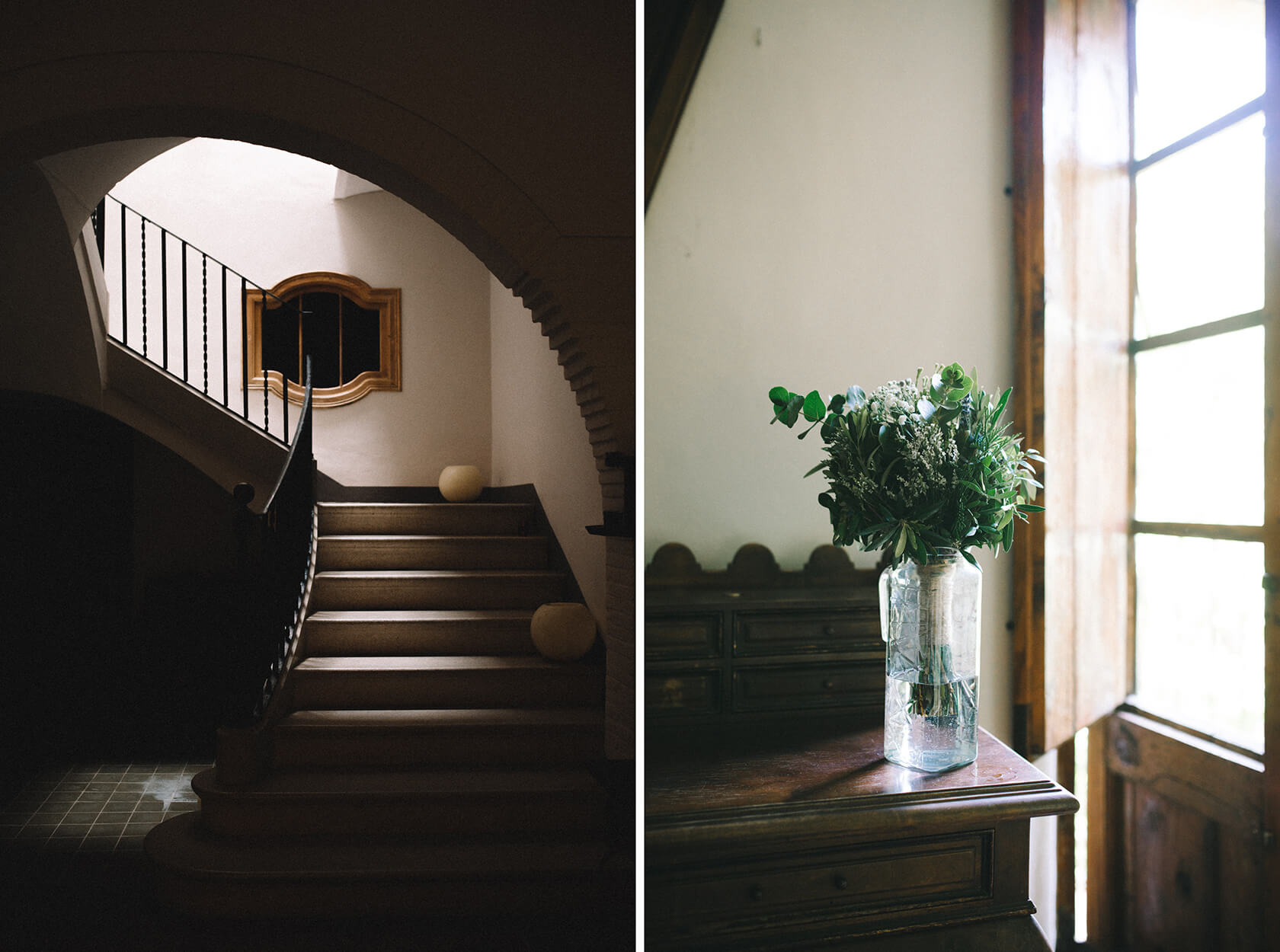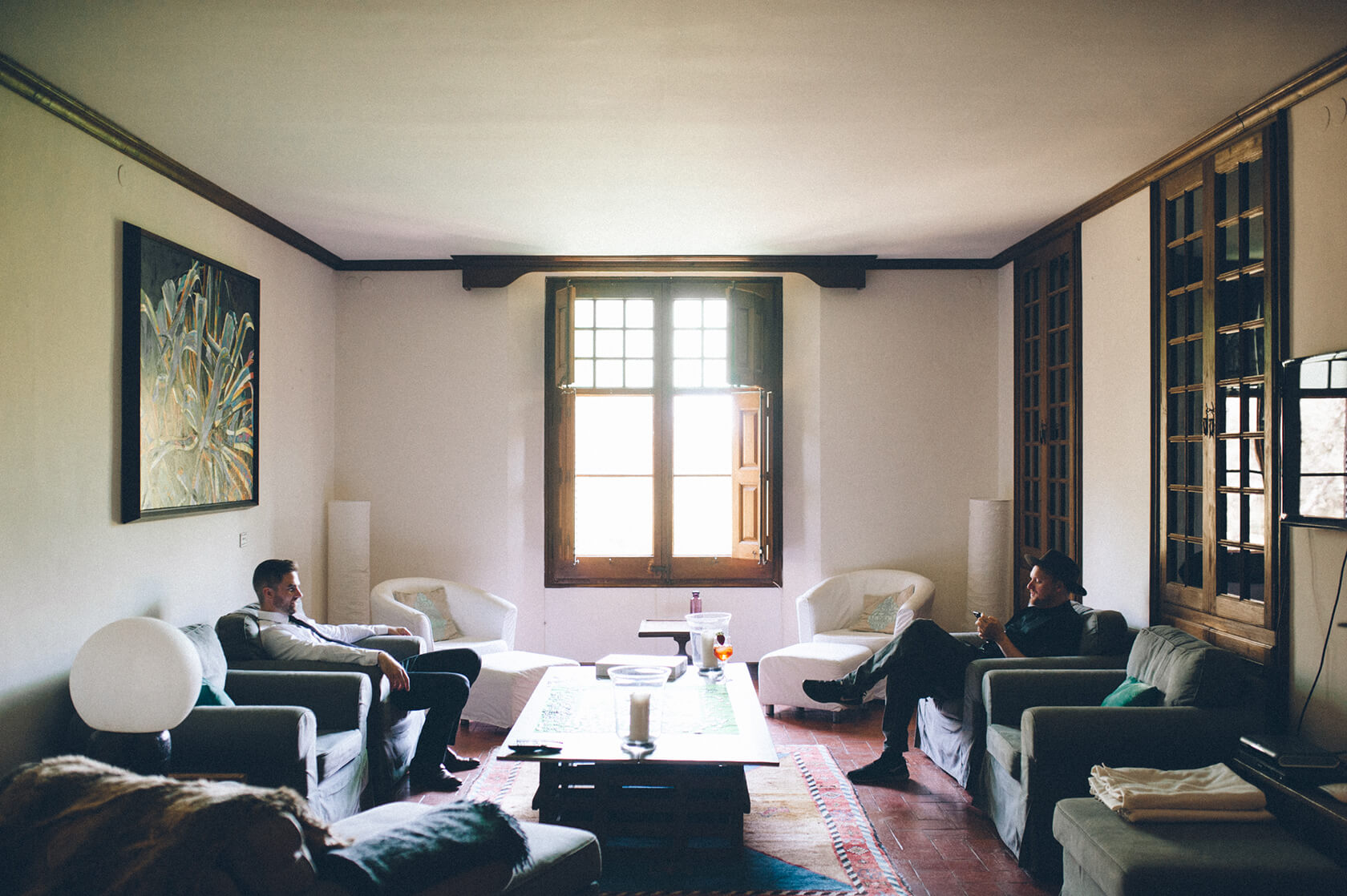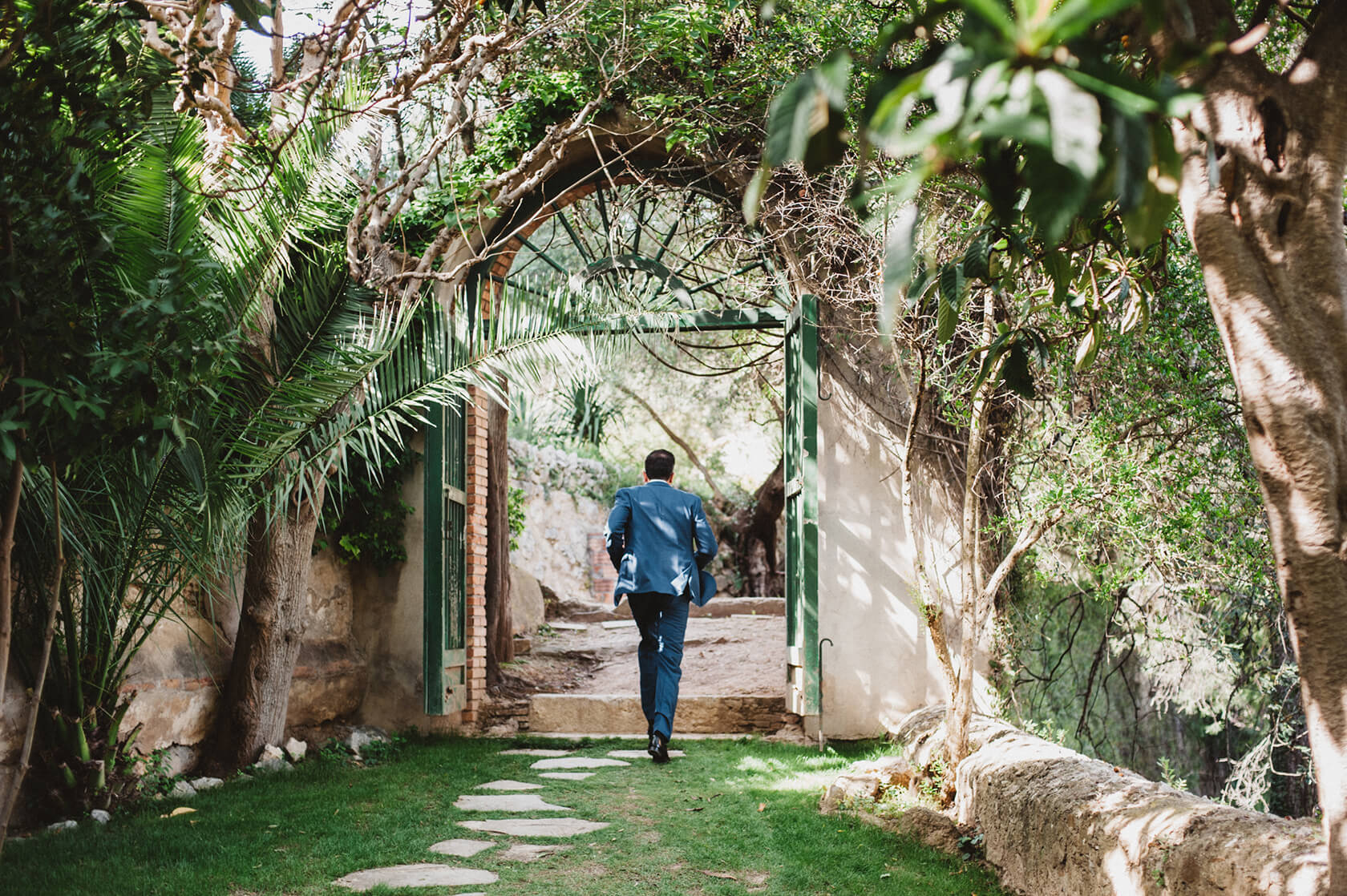 ---
Casa Felix
Casa Felix is located near the old village of Olivella which is actually 15-20 minutes away from Sitges. So strictly speaking, it is not really a Sitges villa. On the other hand, the house is very beautiful and most important, very close to the beautiful old town of Olivella. It is a perfect setting for a wedding photo session.
On many occasions, some of the guests rent an apartment or book a hotel room in Sitges town.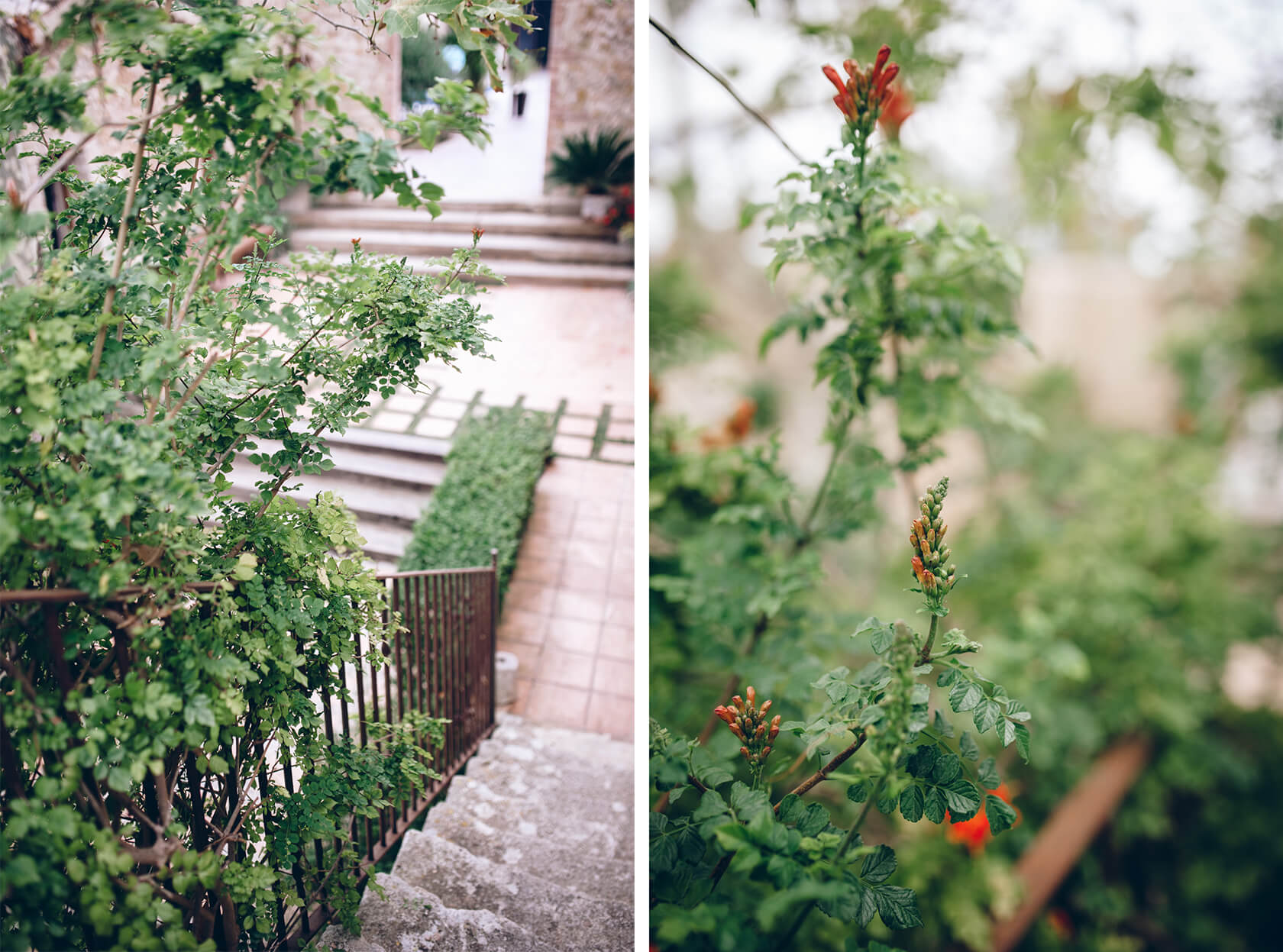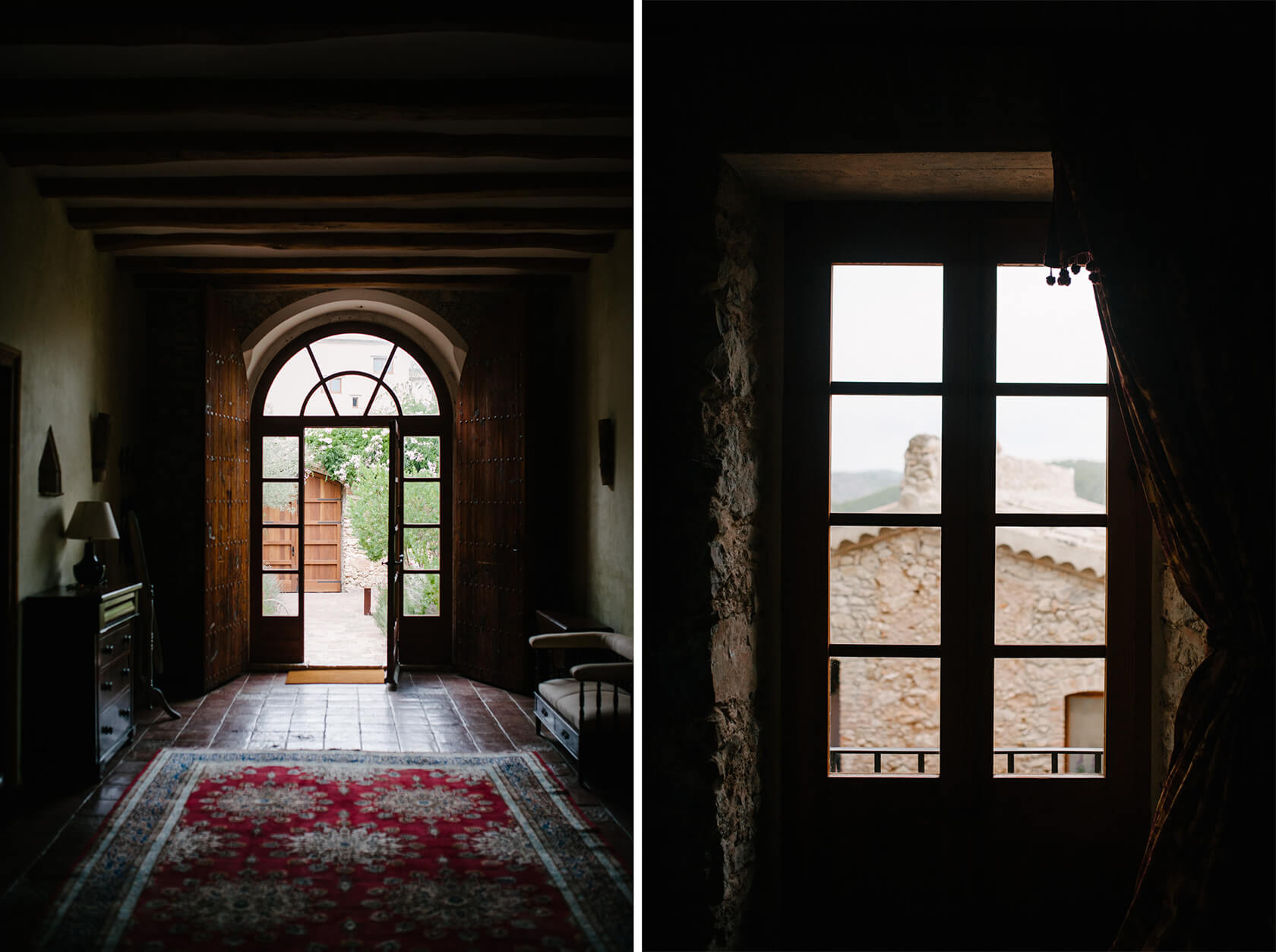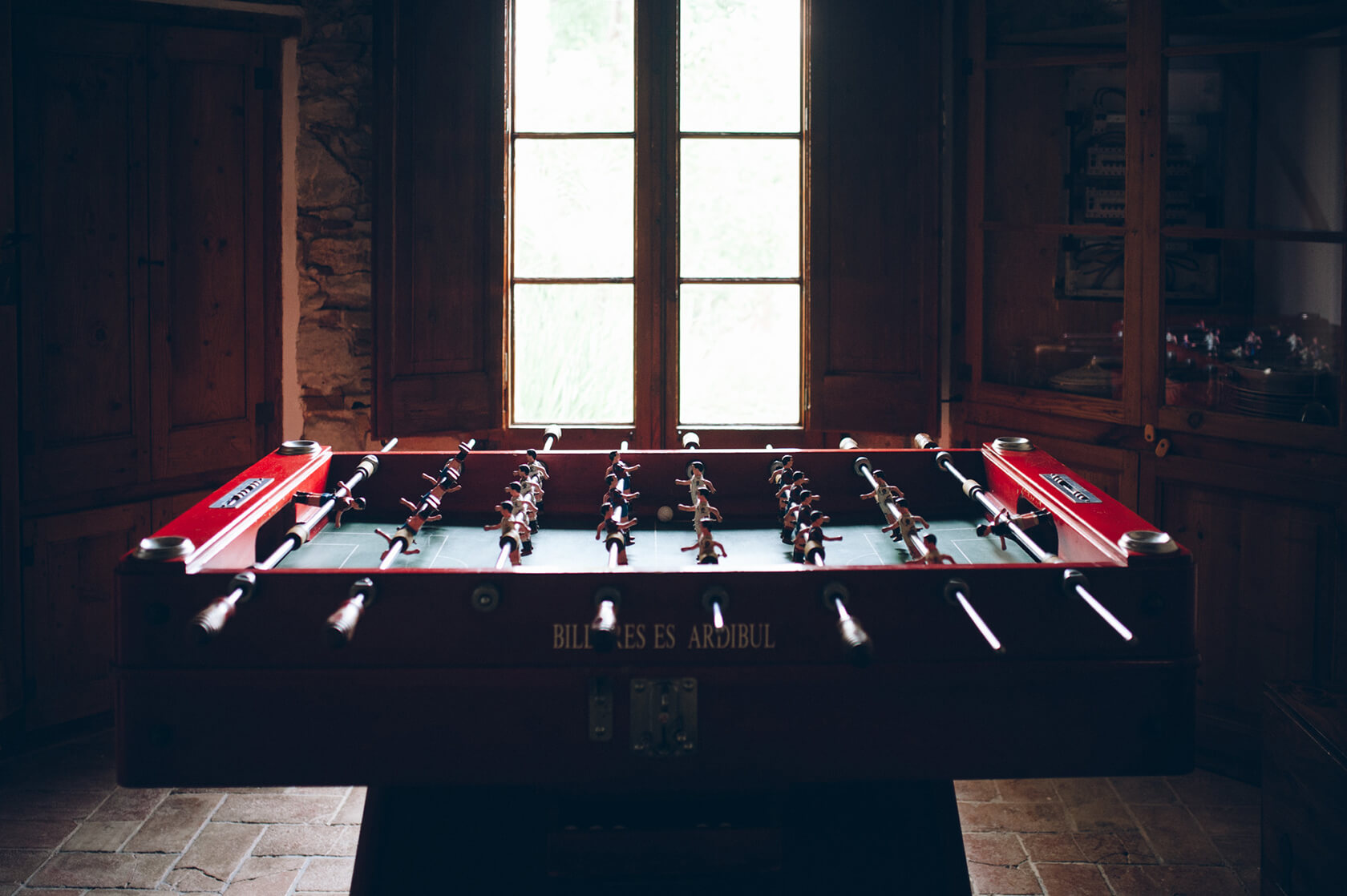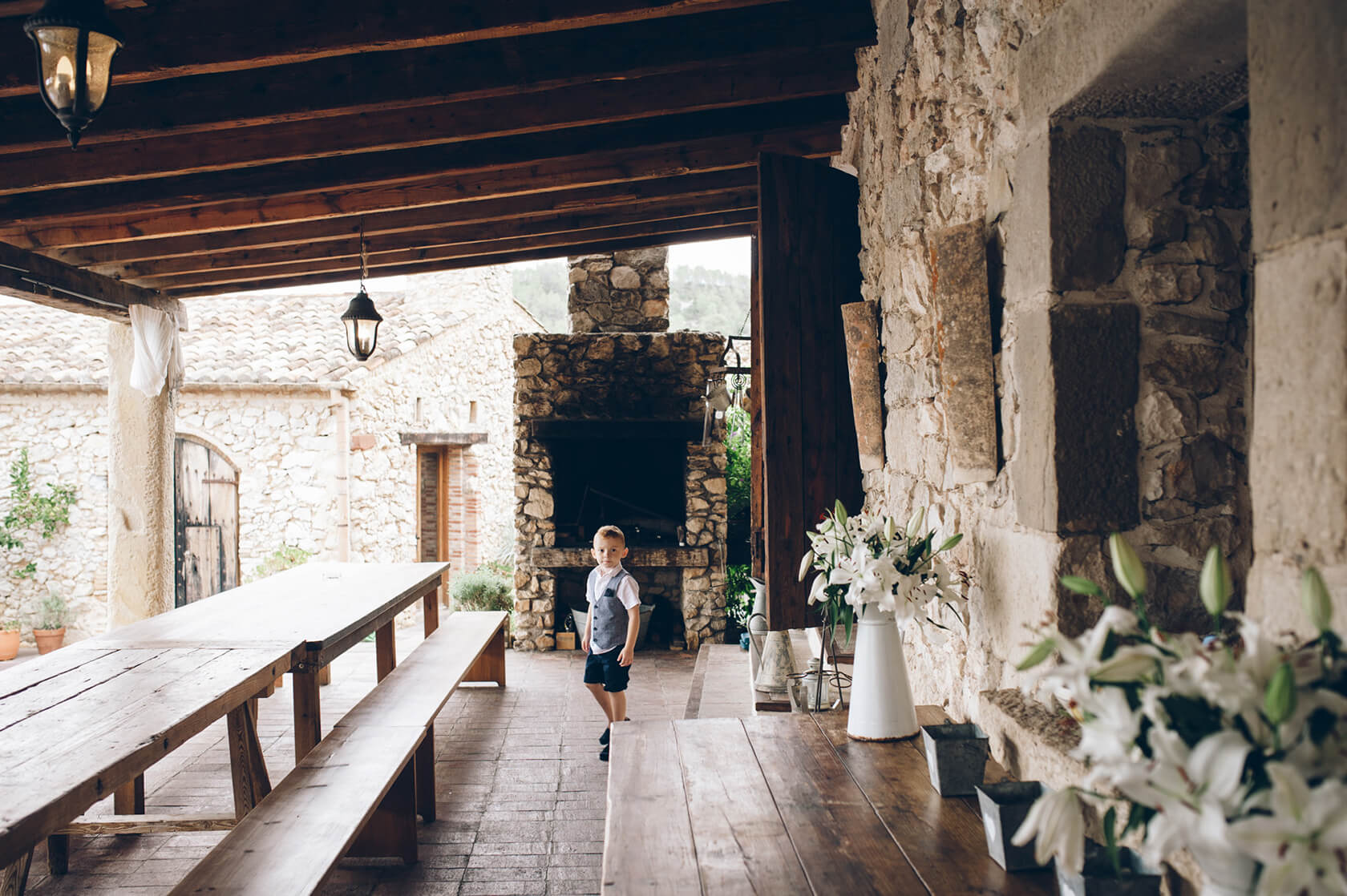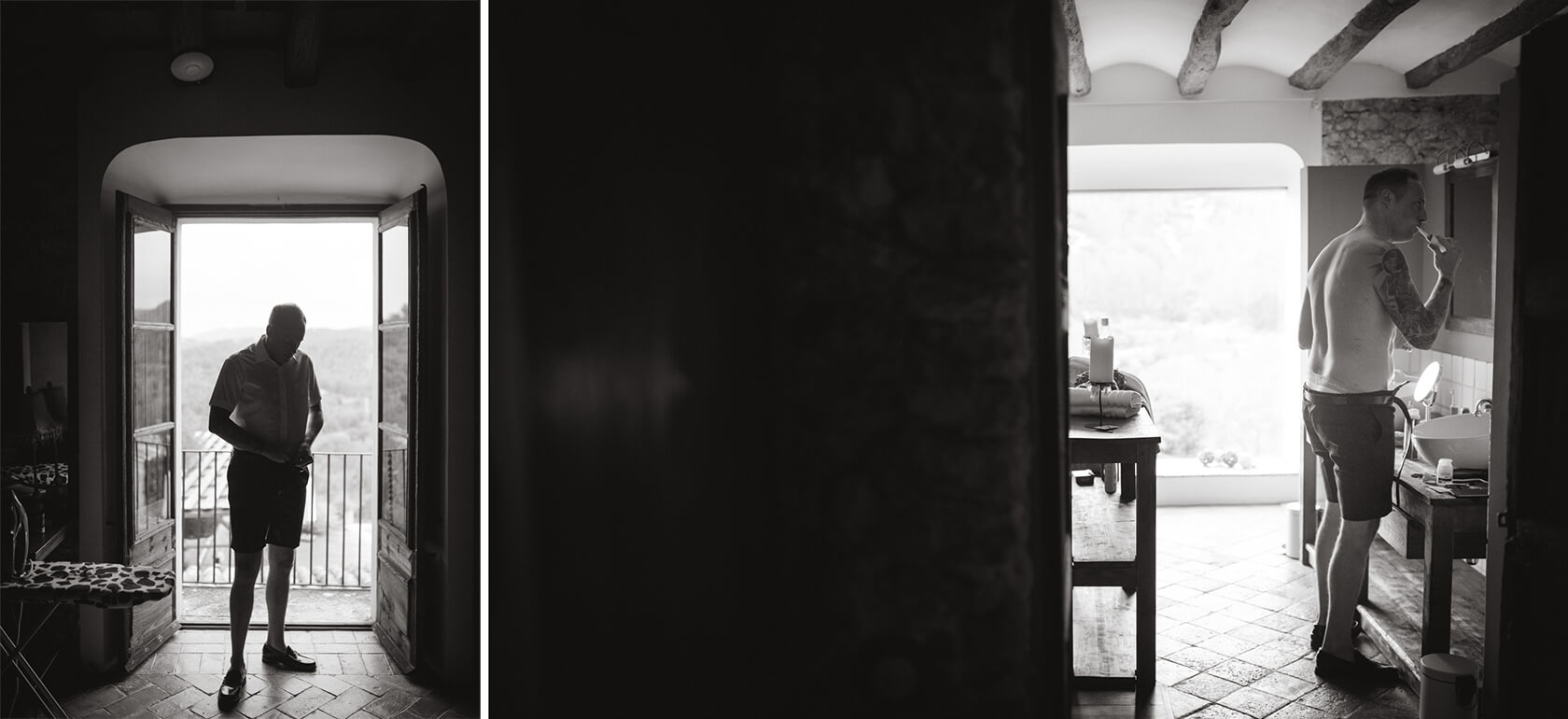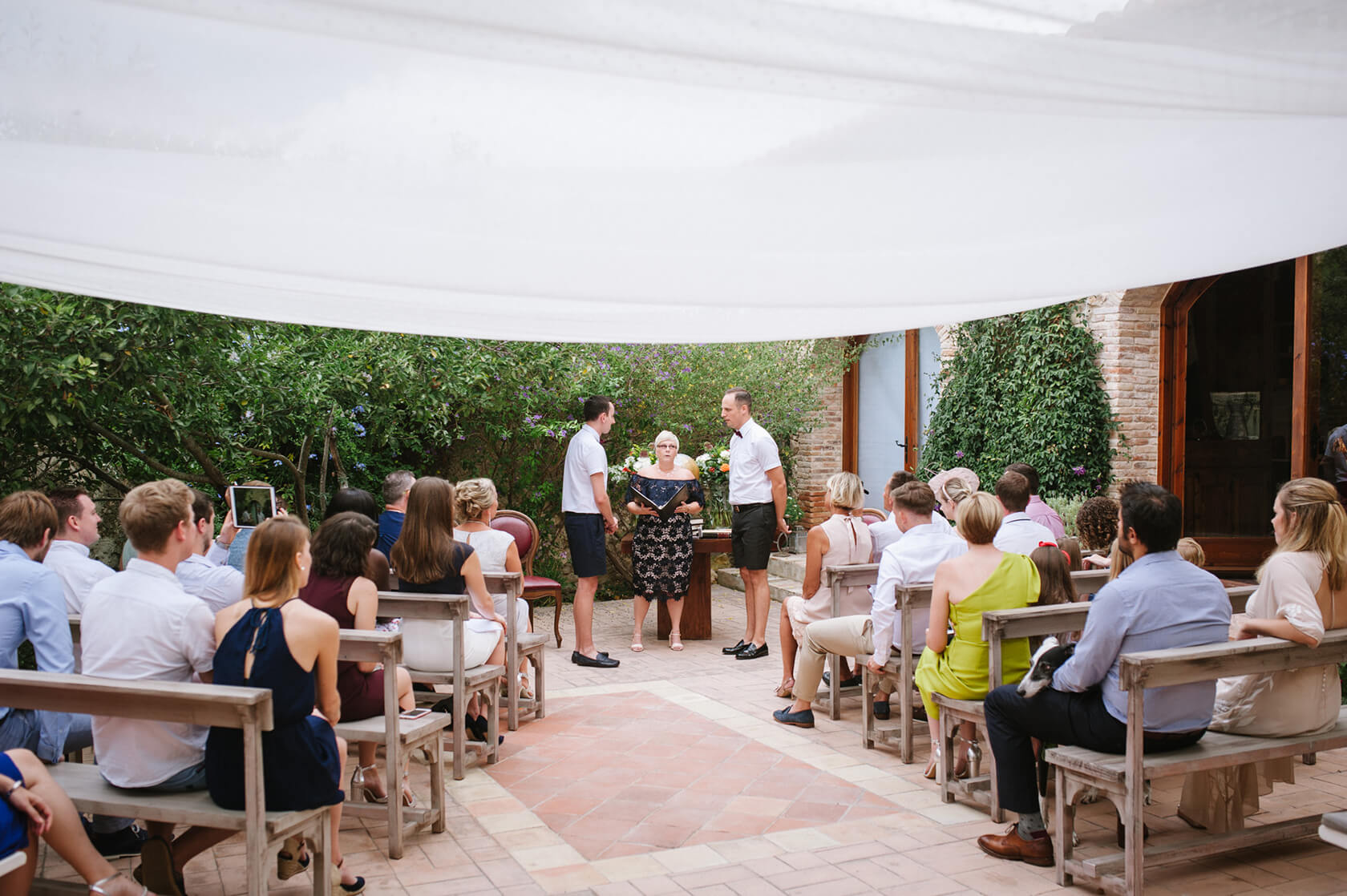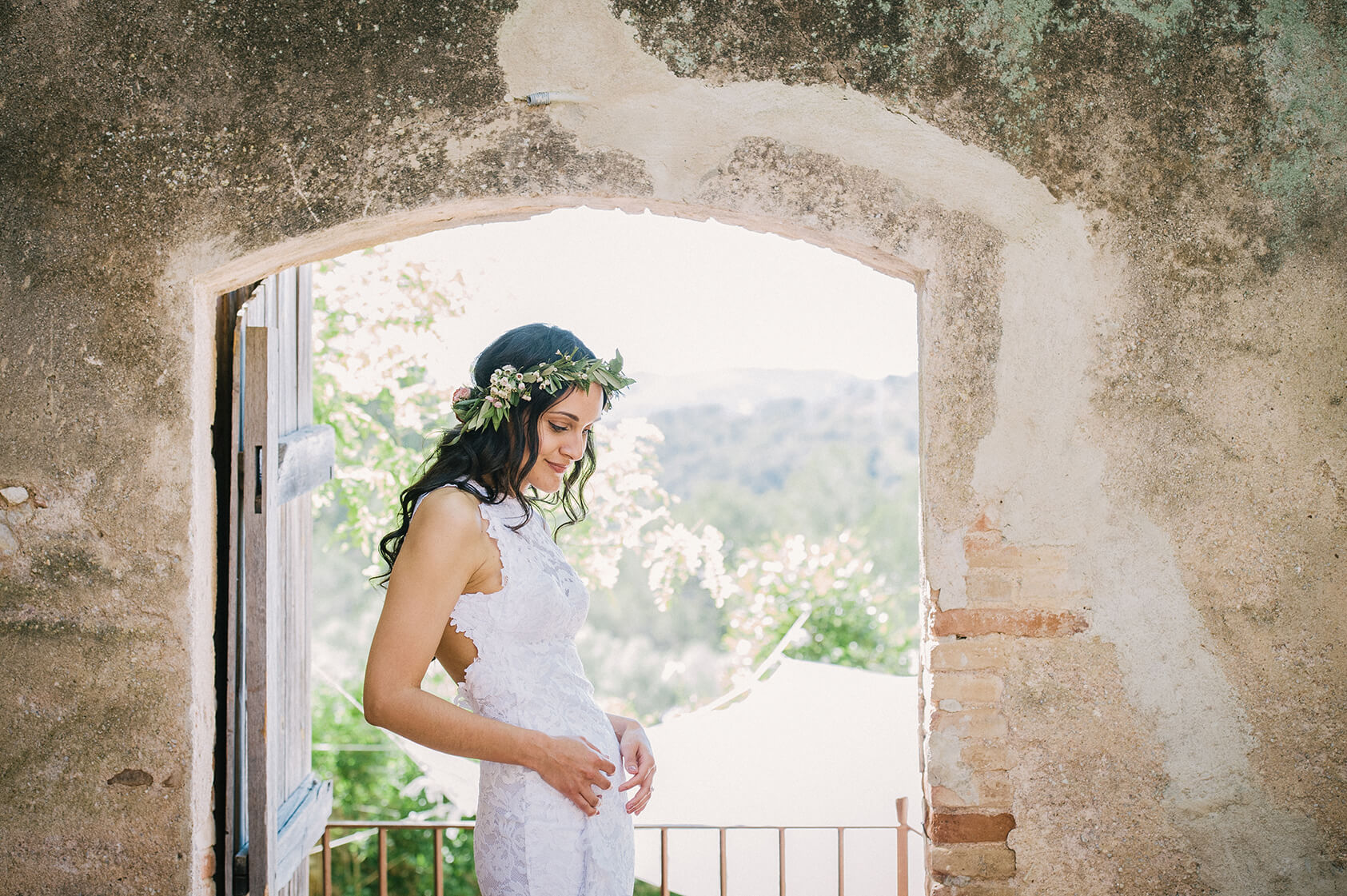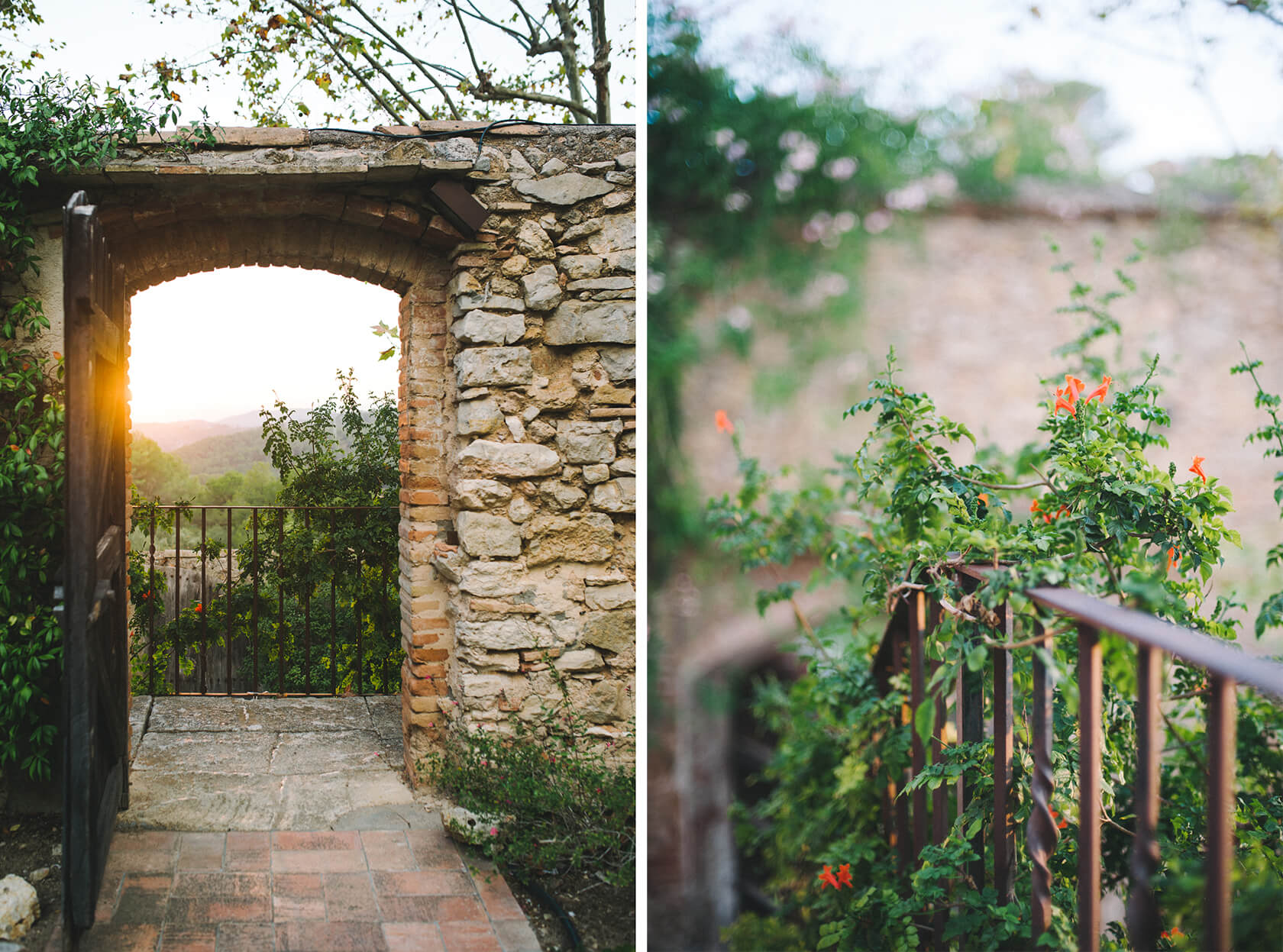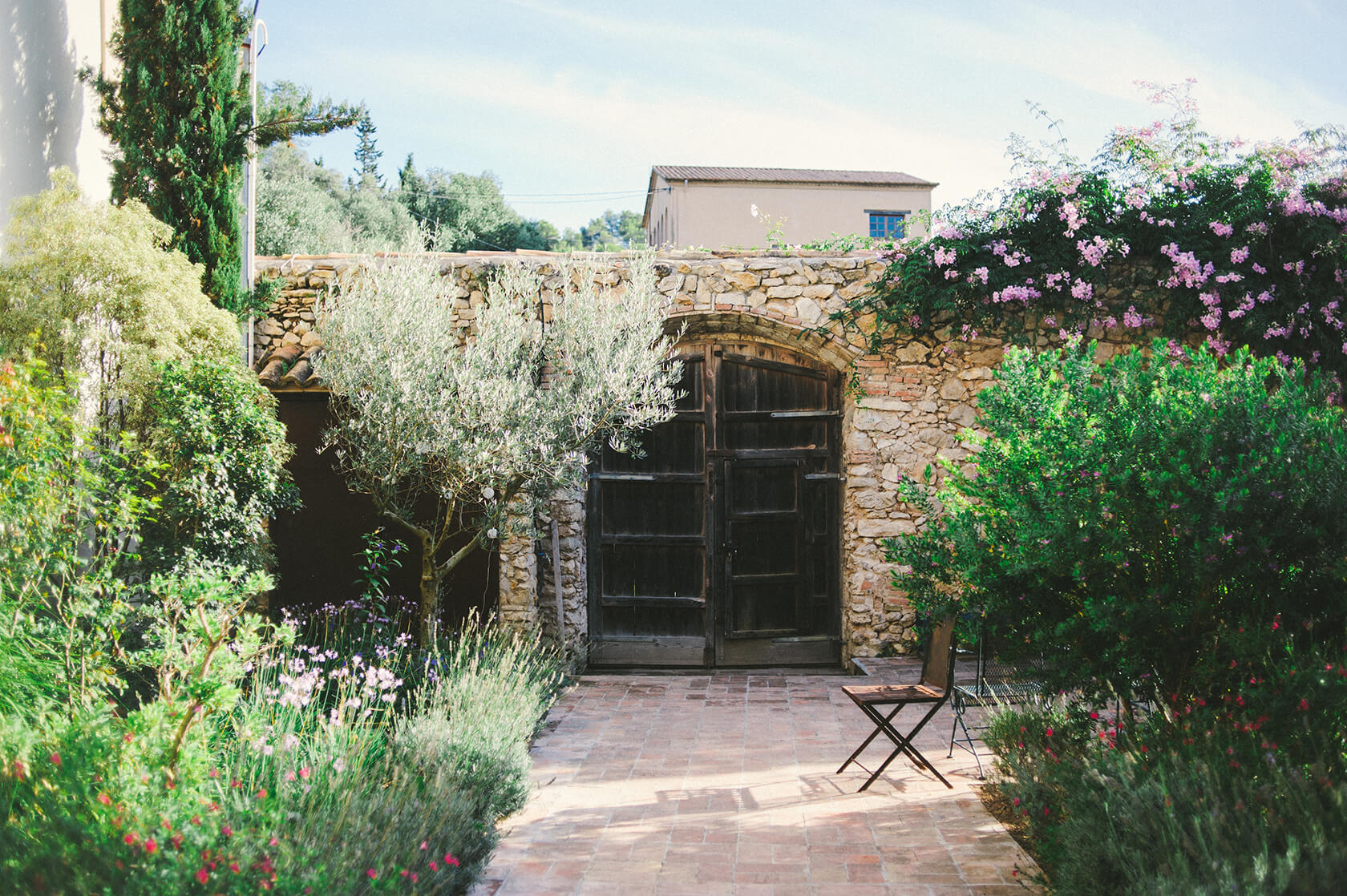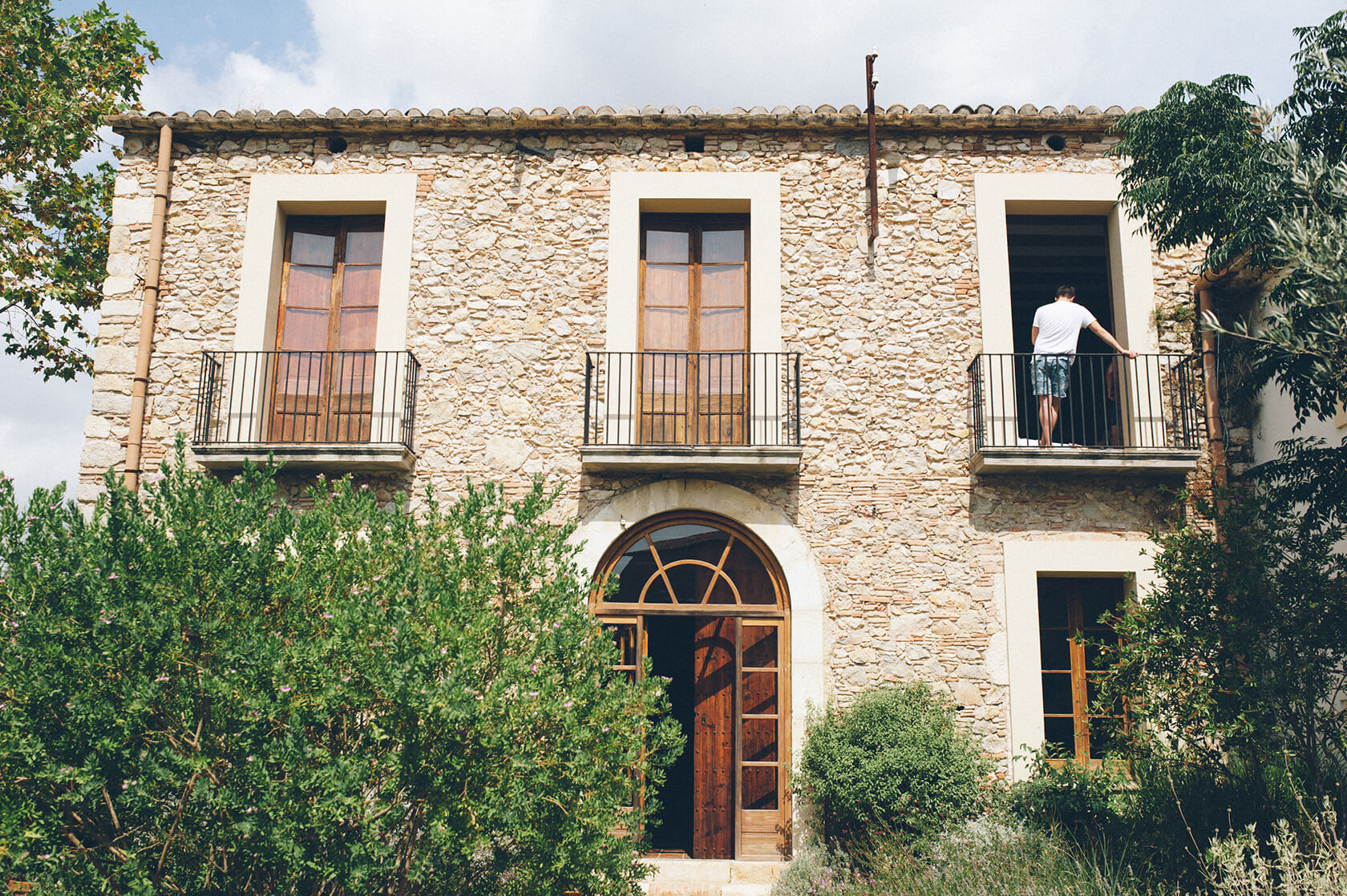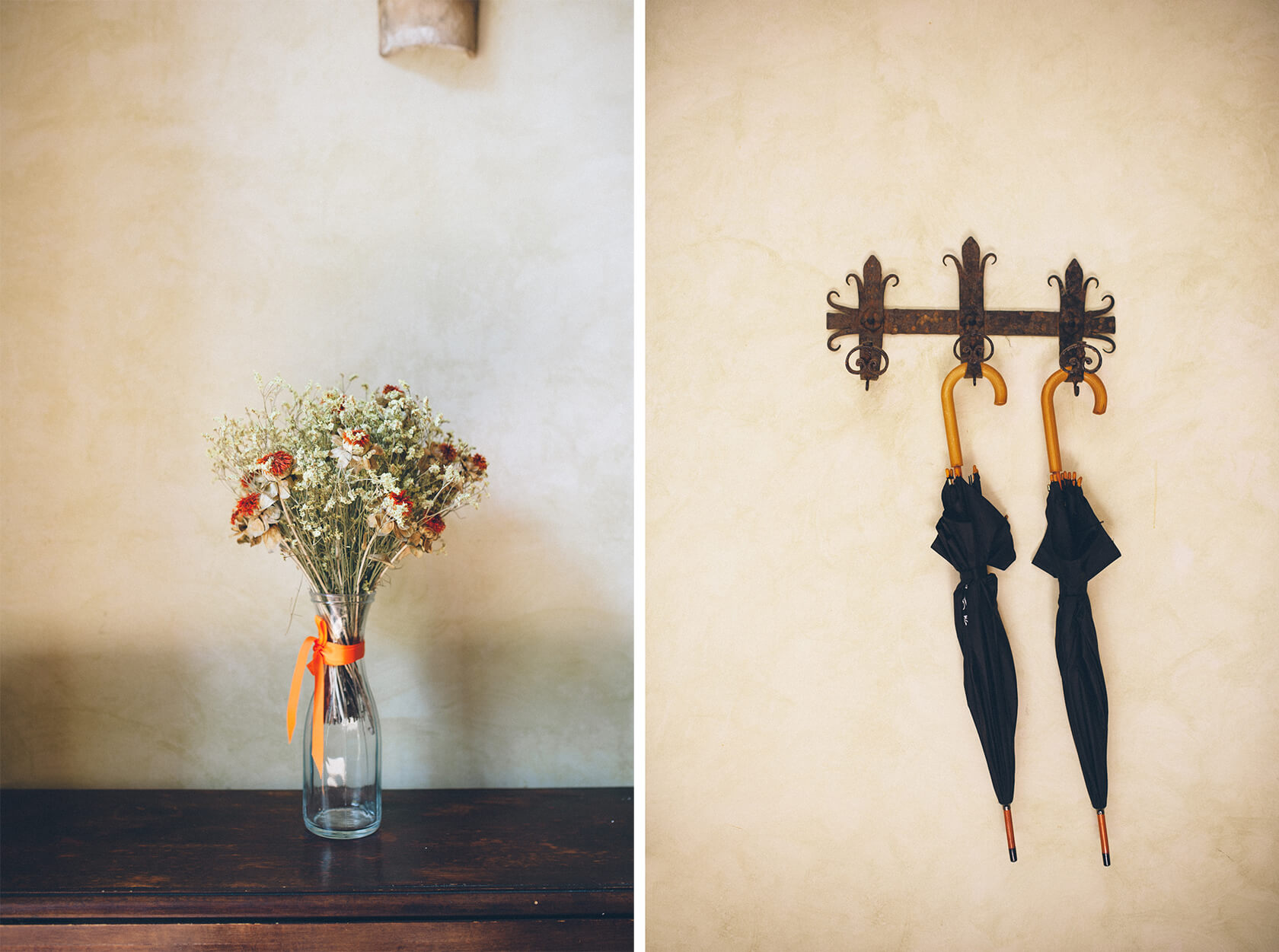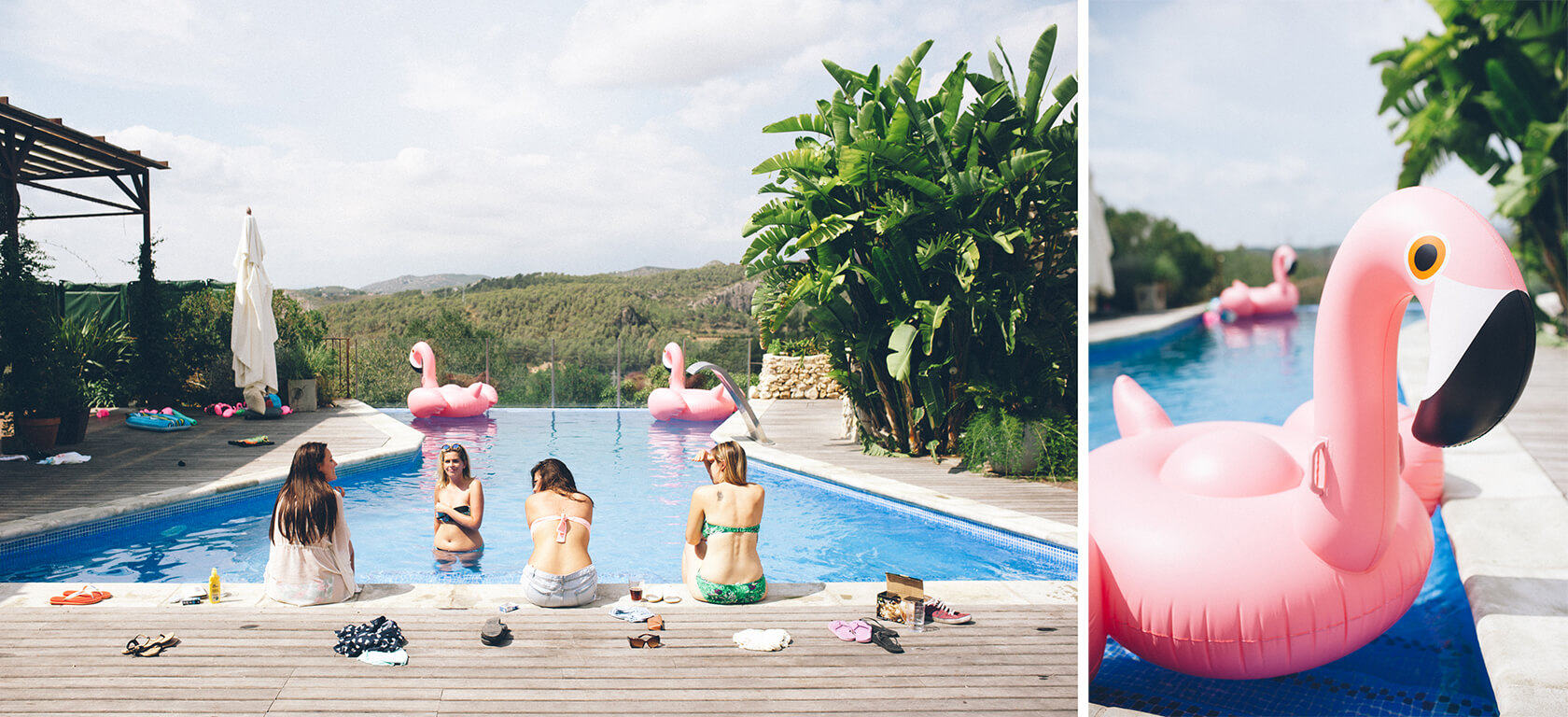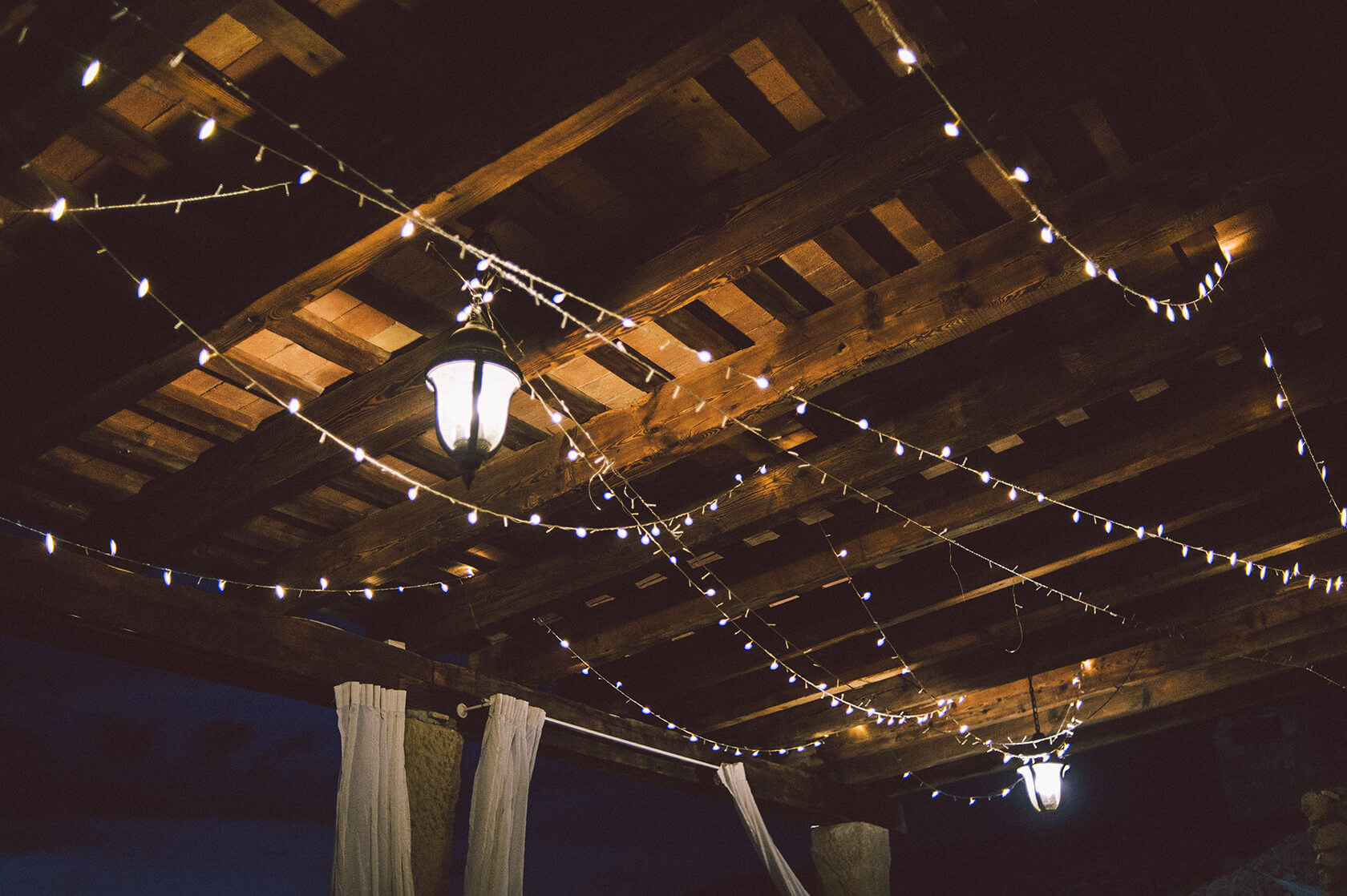 ---
Almirall de la Font
Almiral de la Font is quite a popular villa in Sitges. Also located 10 minutes away from Sitges town. It has a large wooden deck that is great for ceremonies. Taking the winding path down you get to a small vineyard and a beautiful field of trees that we love for a romantic photo session.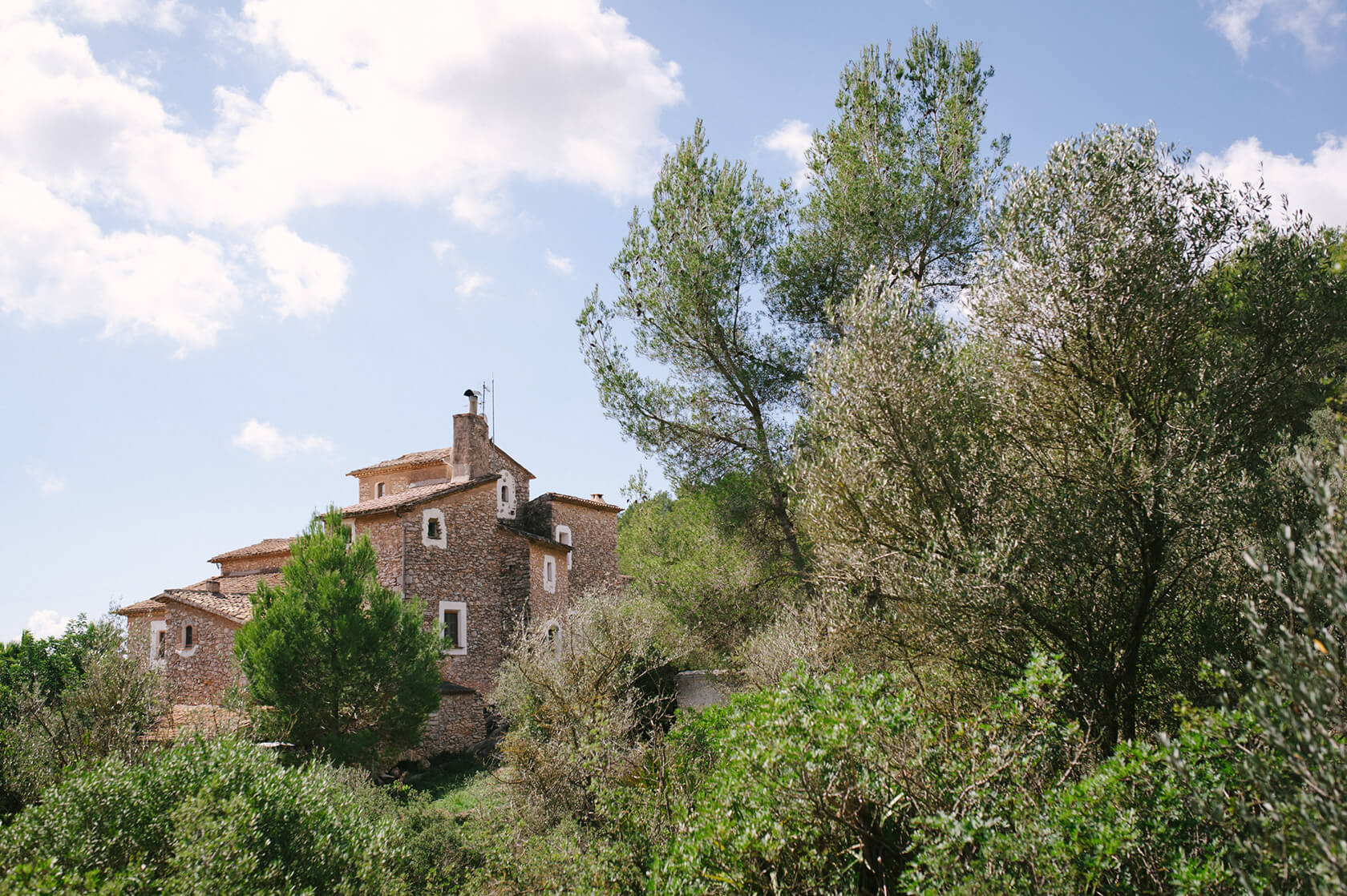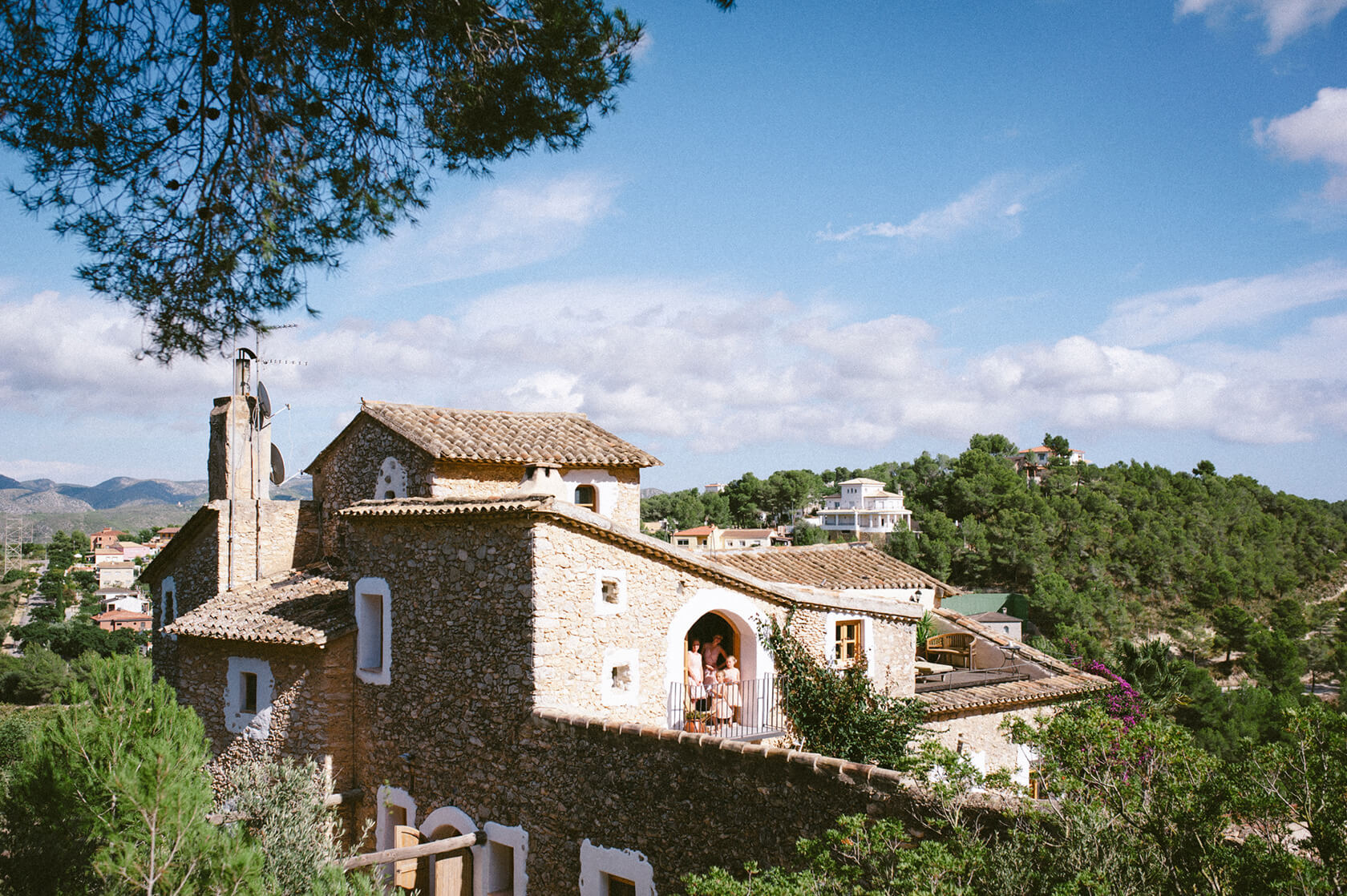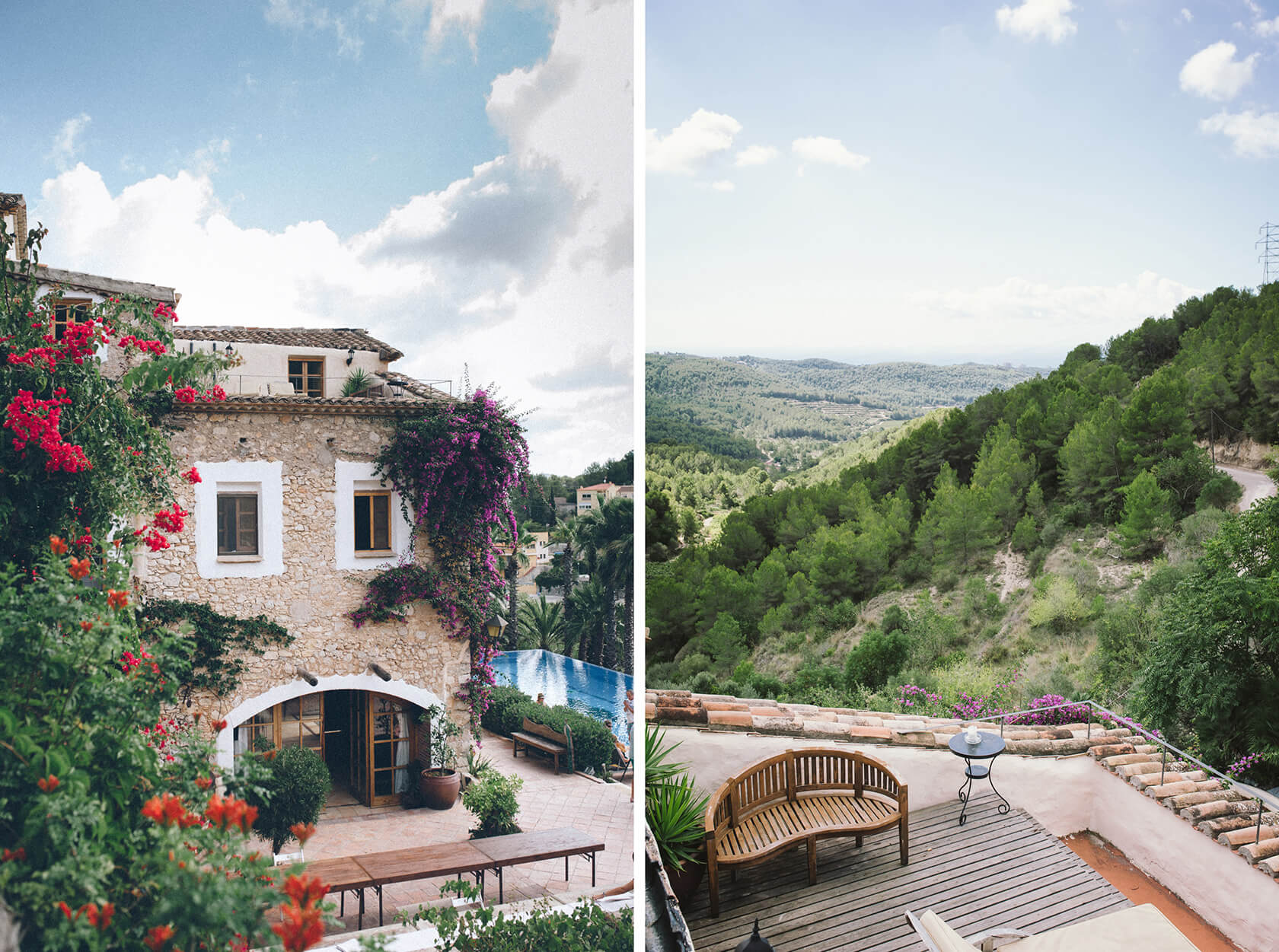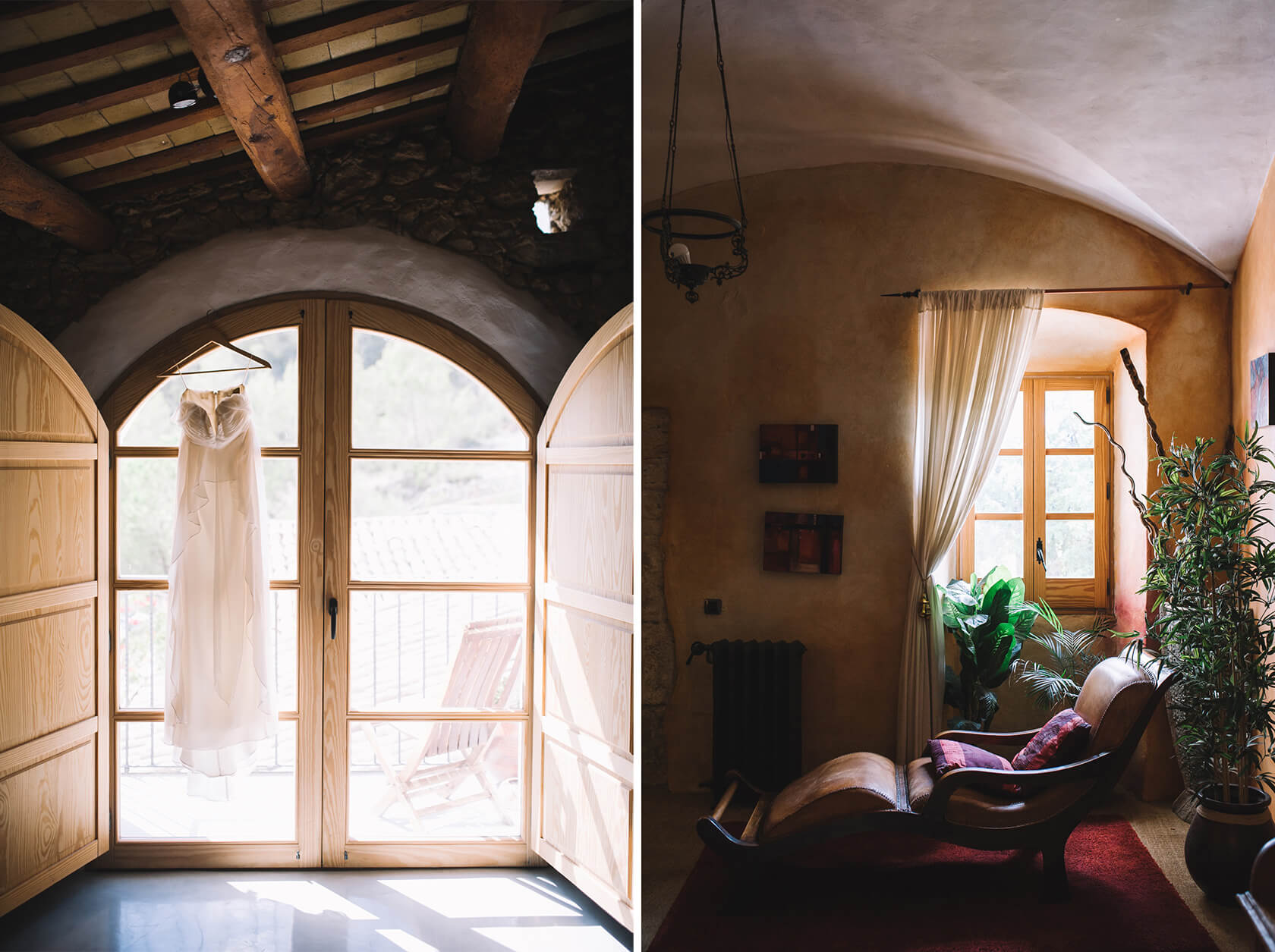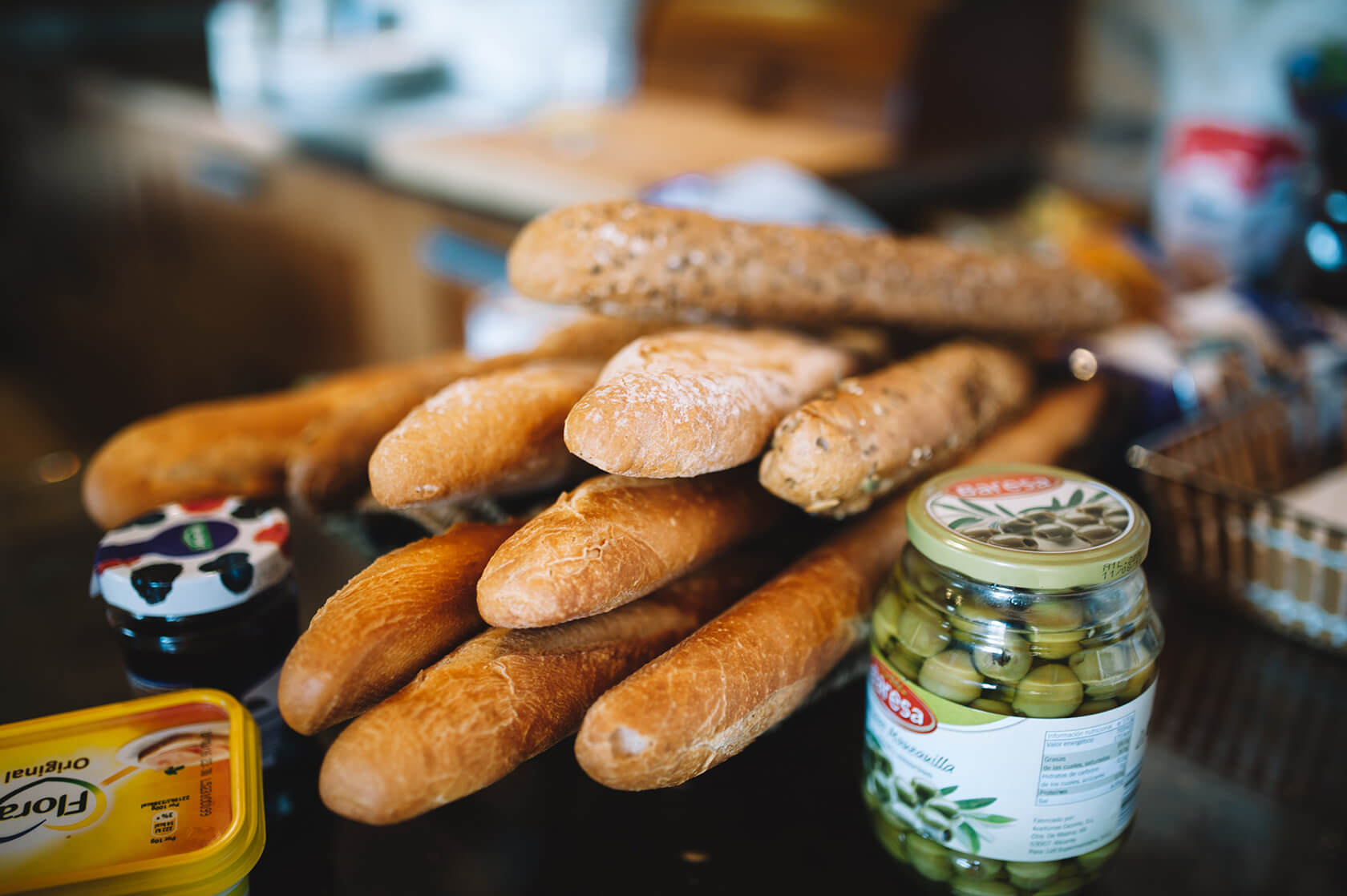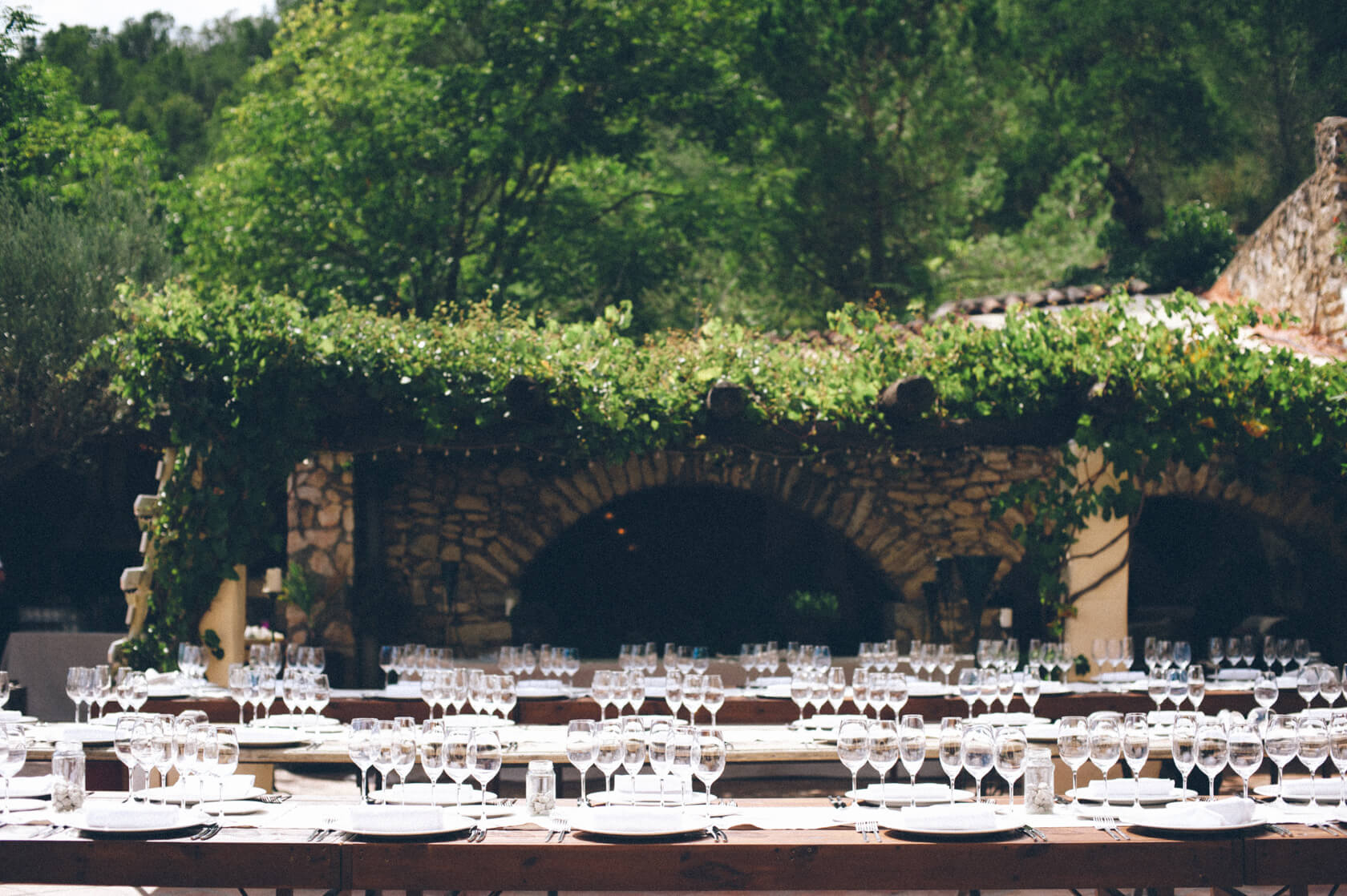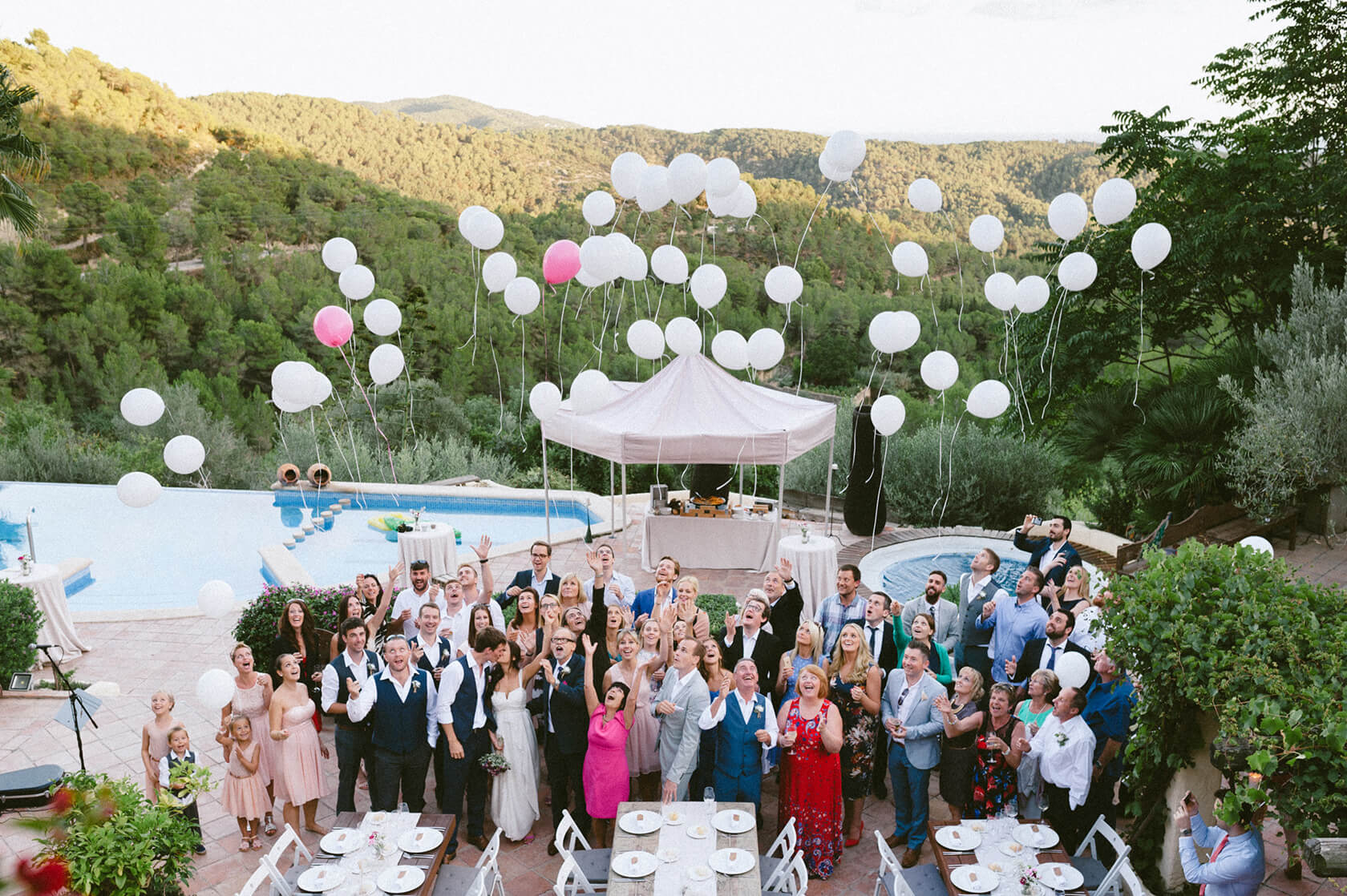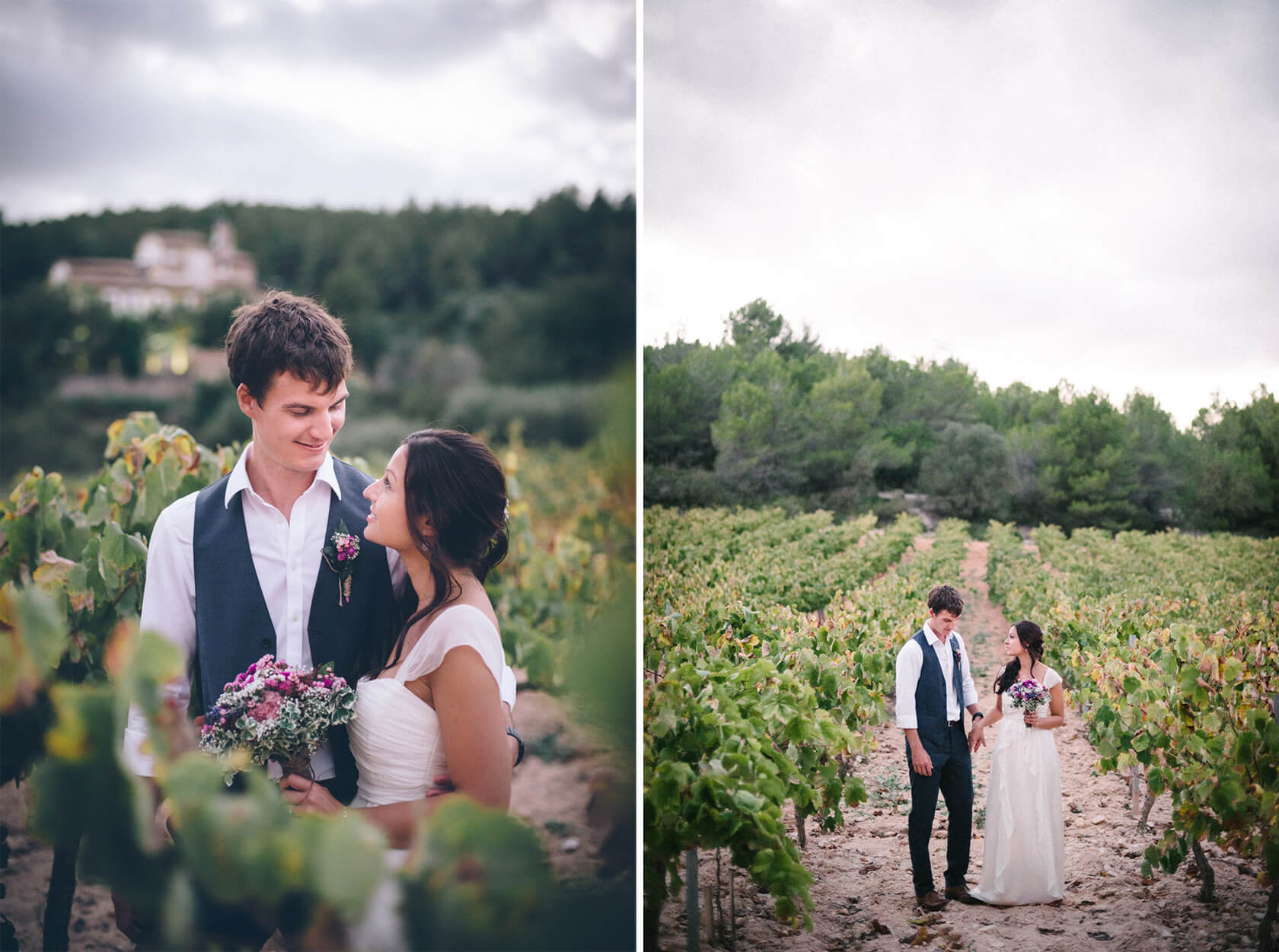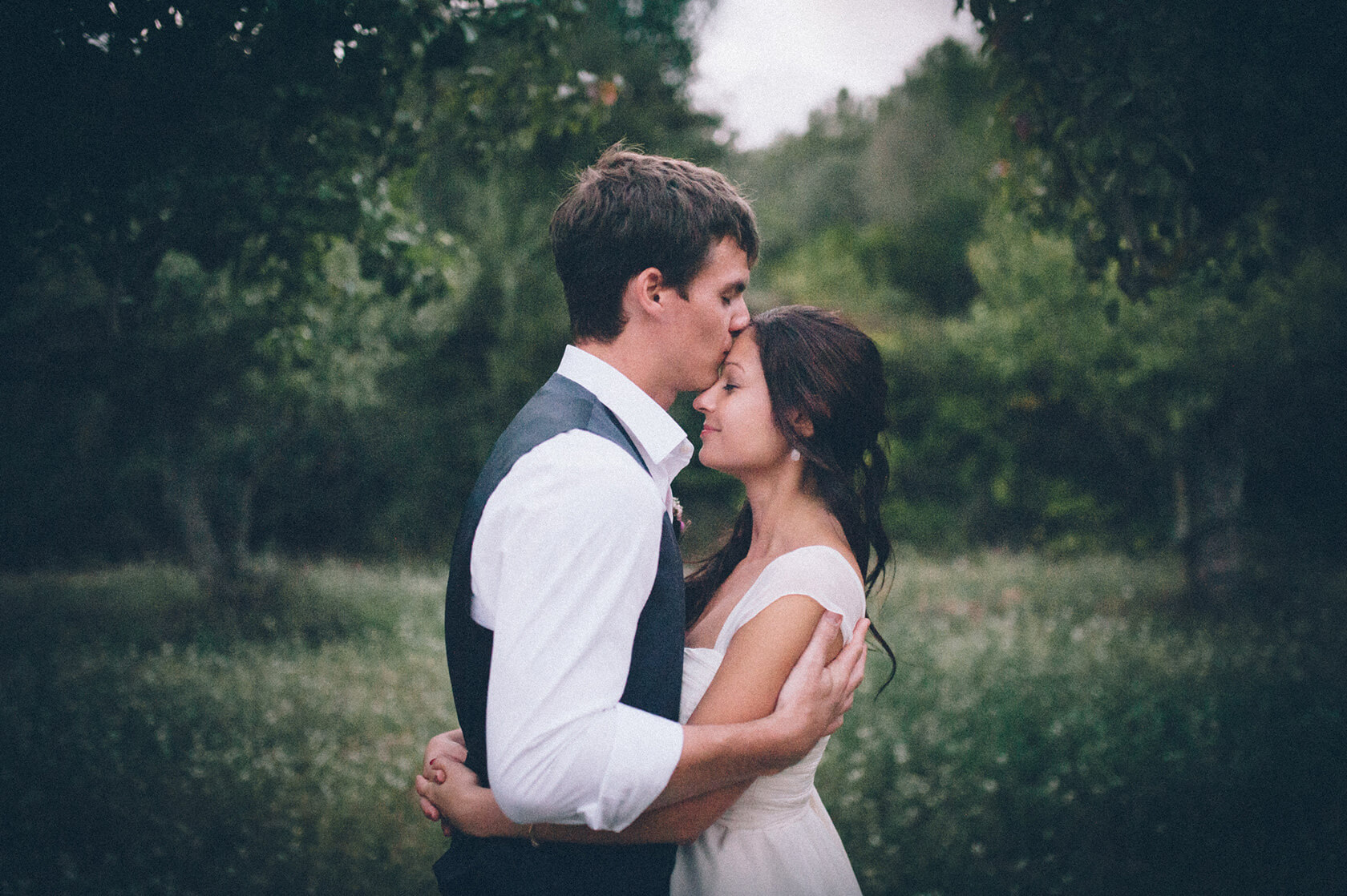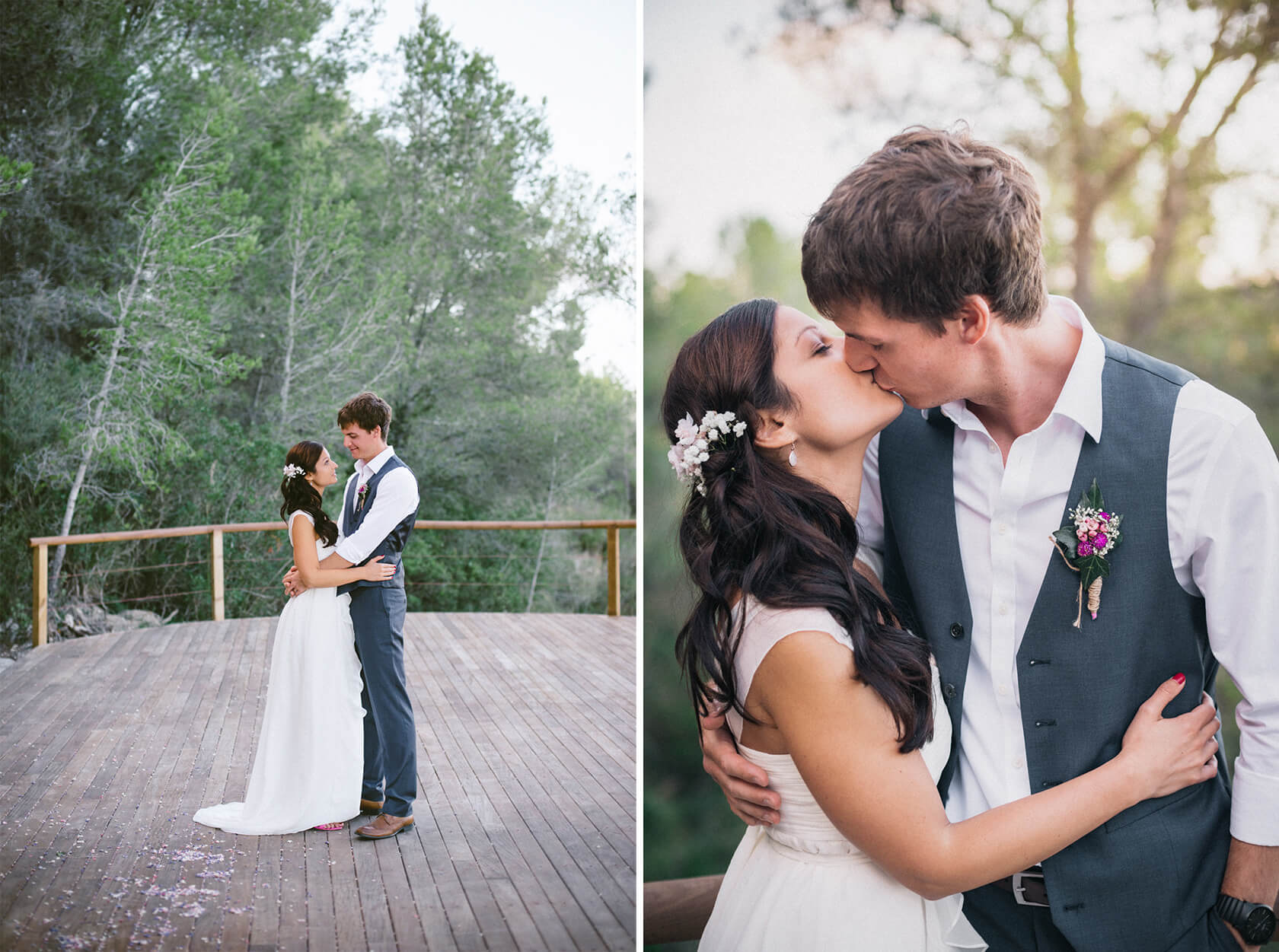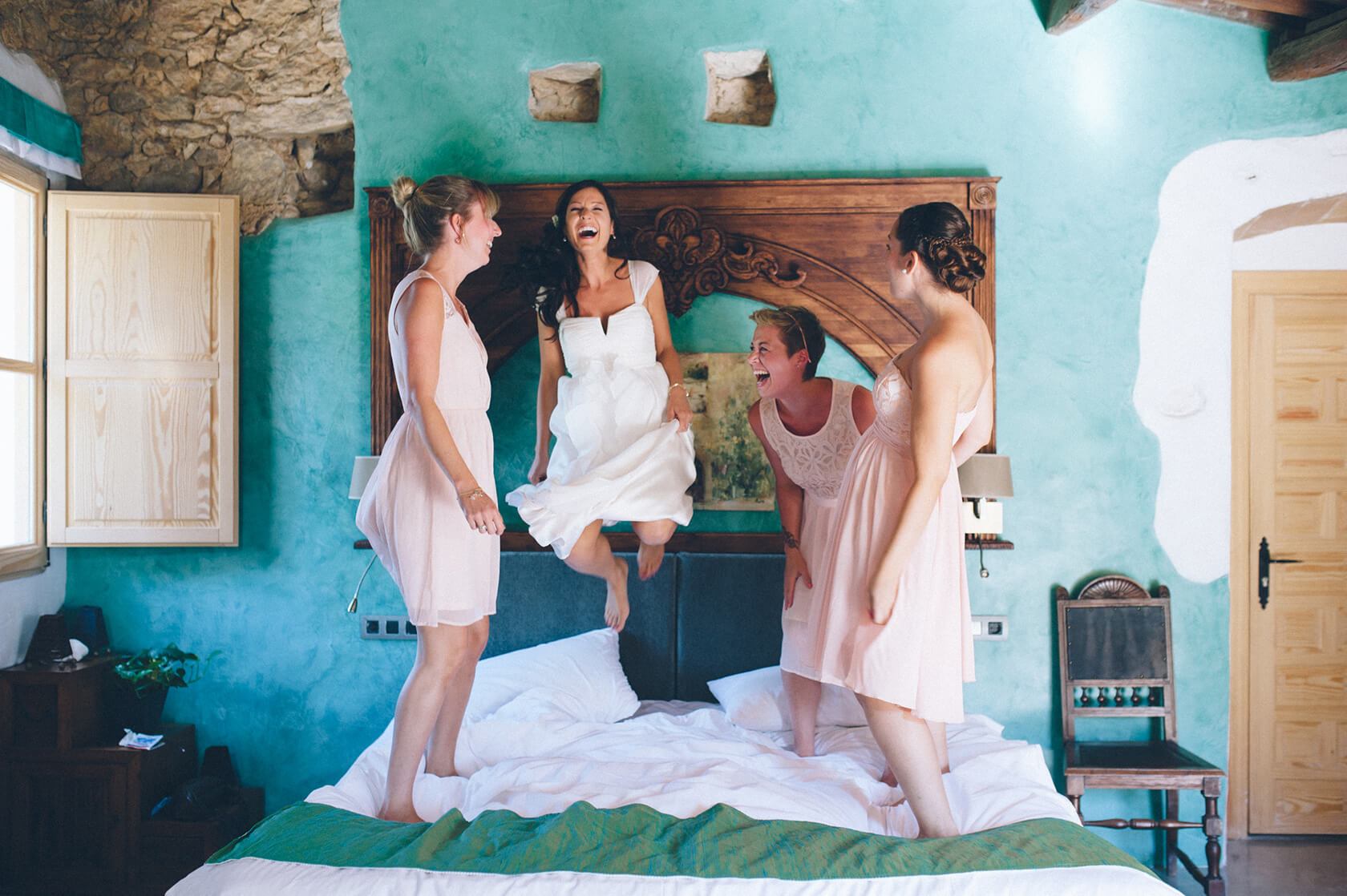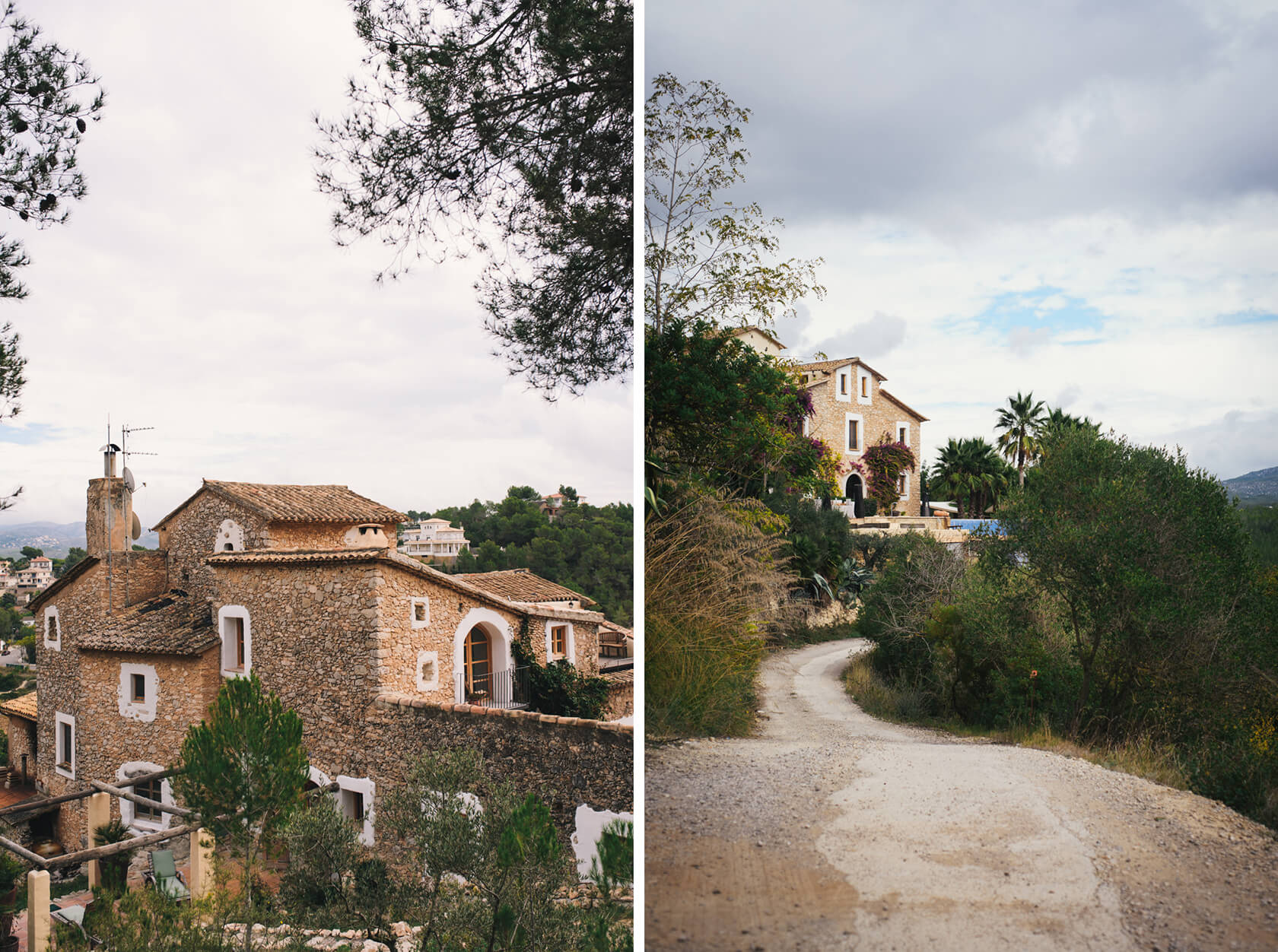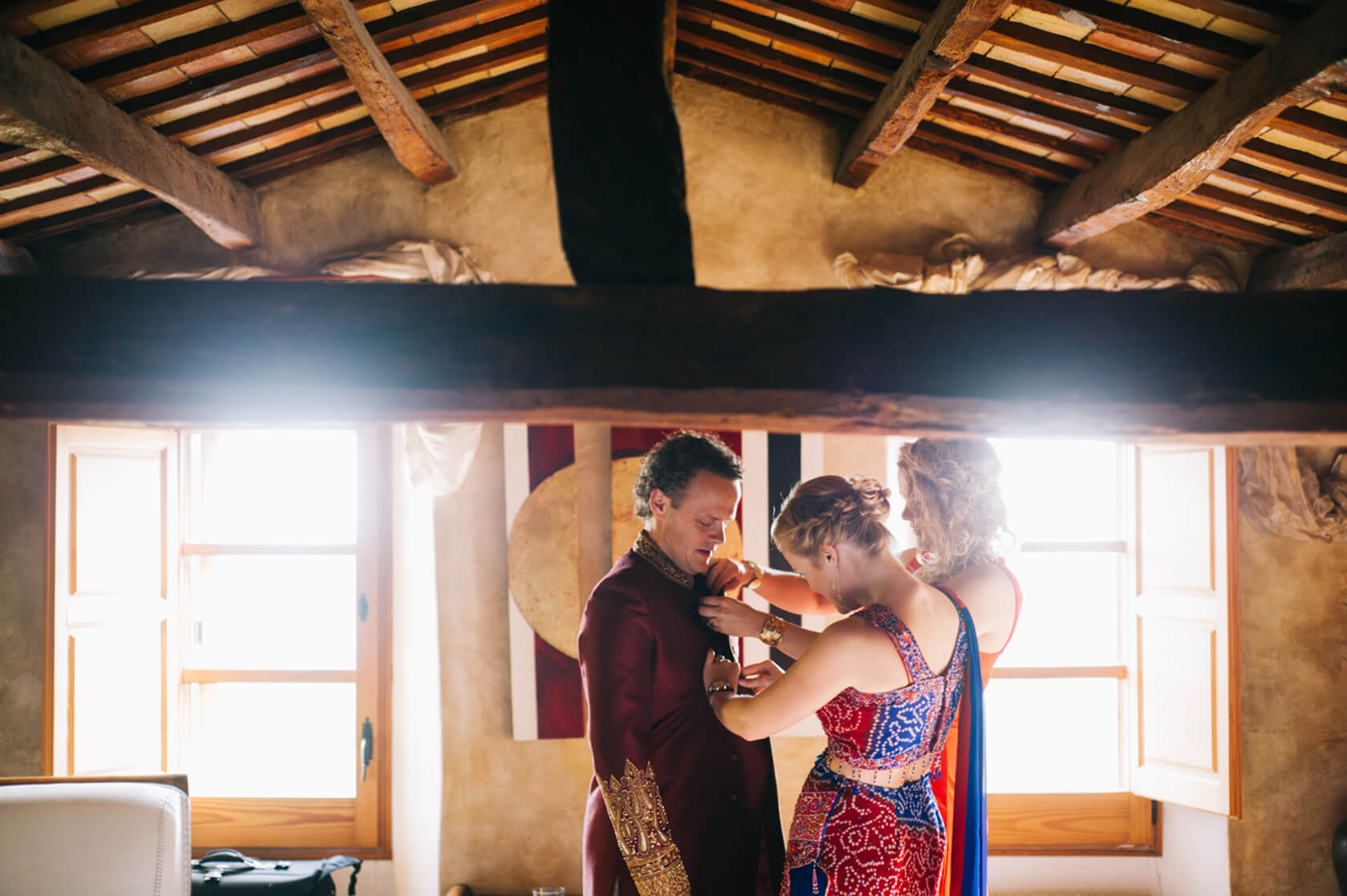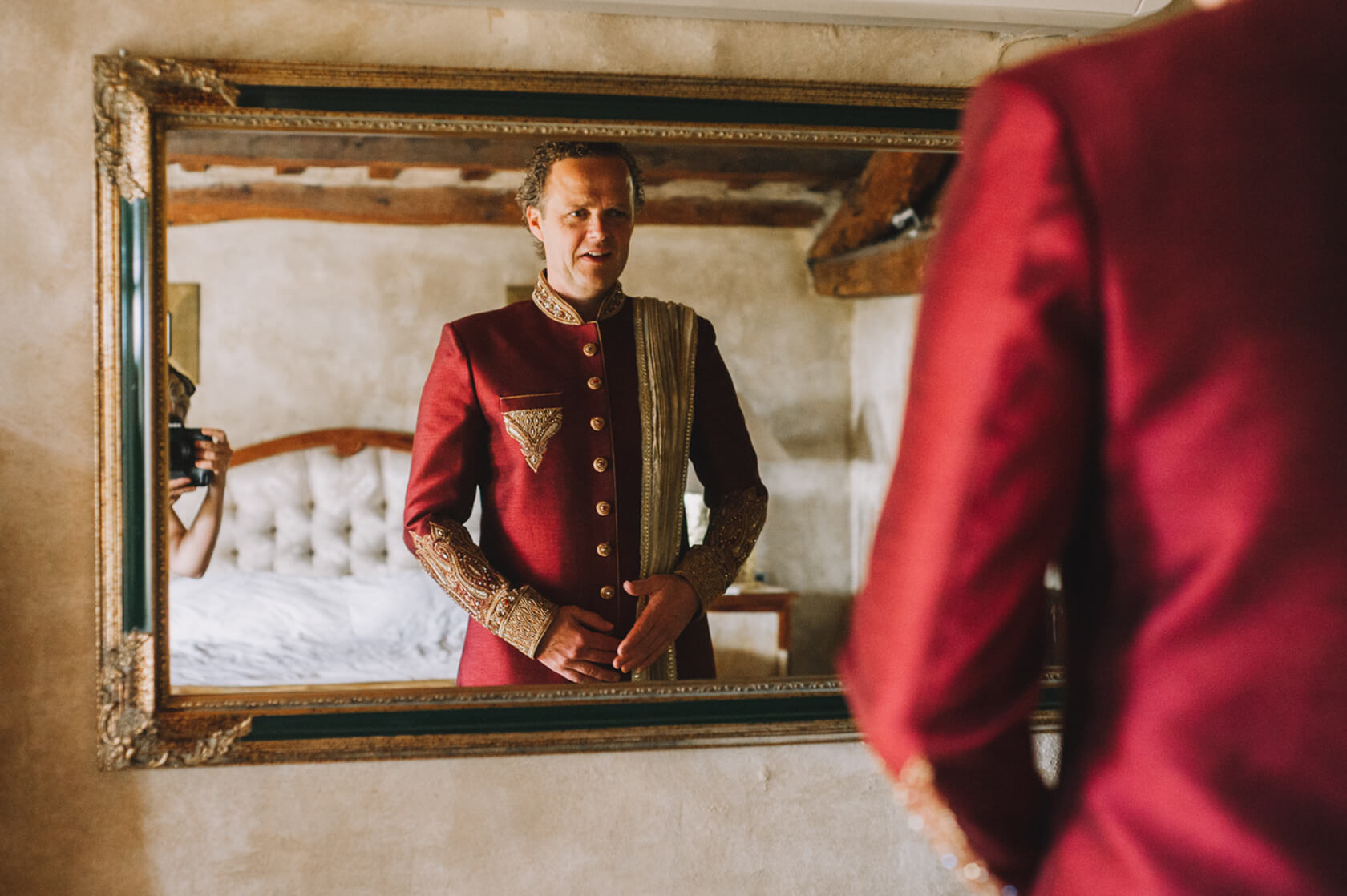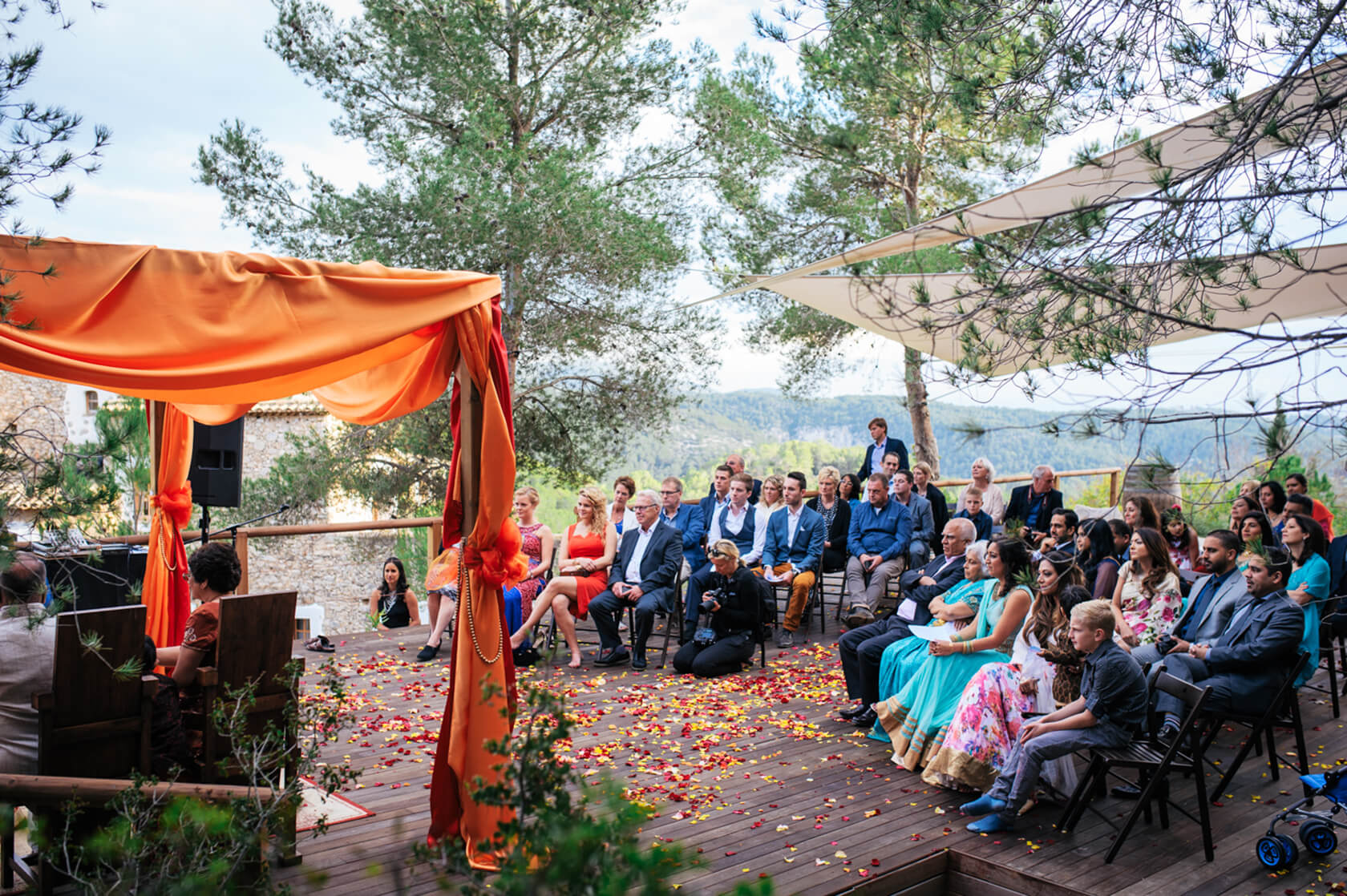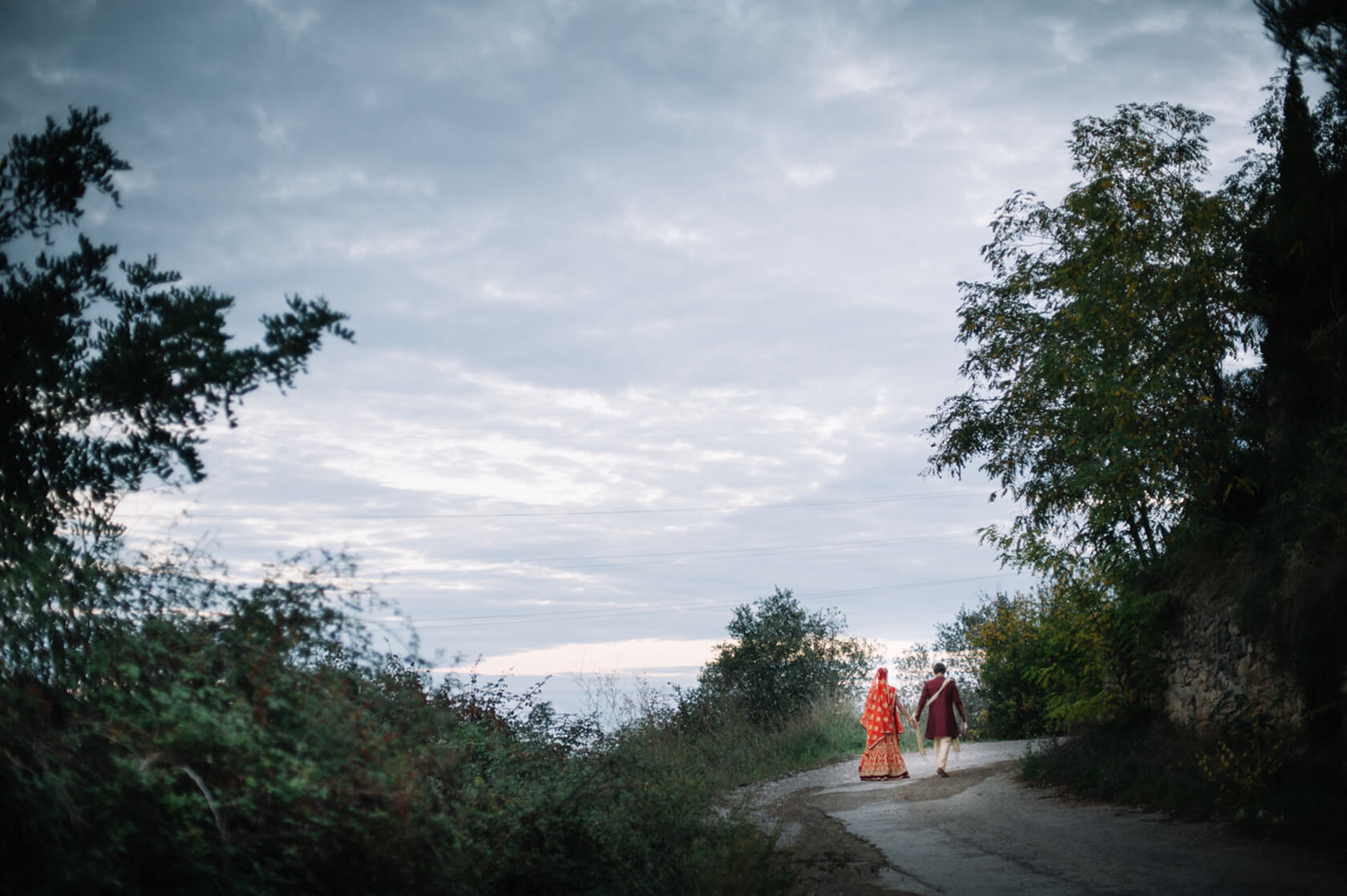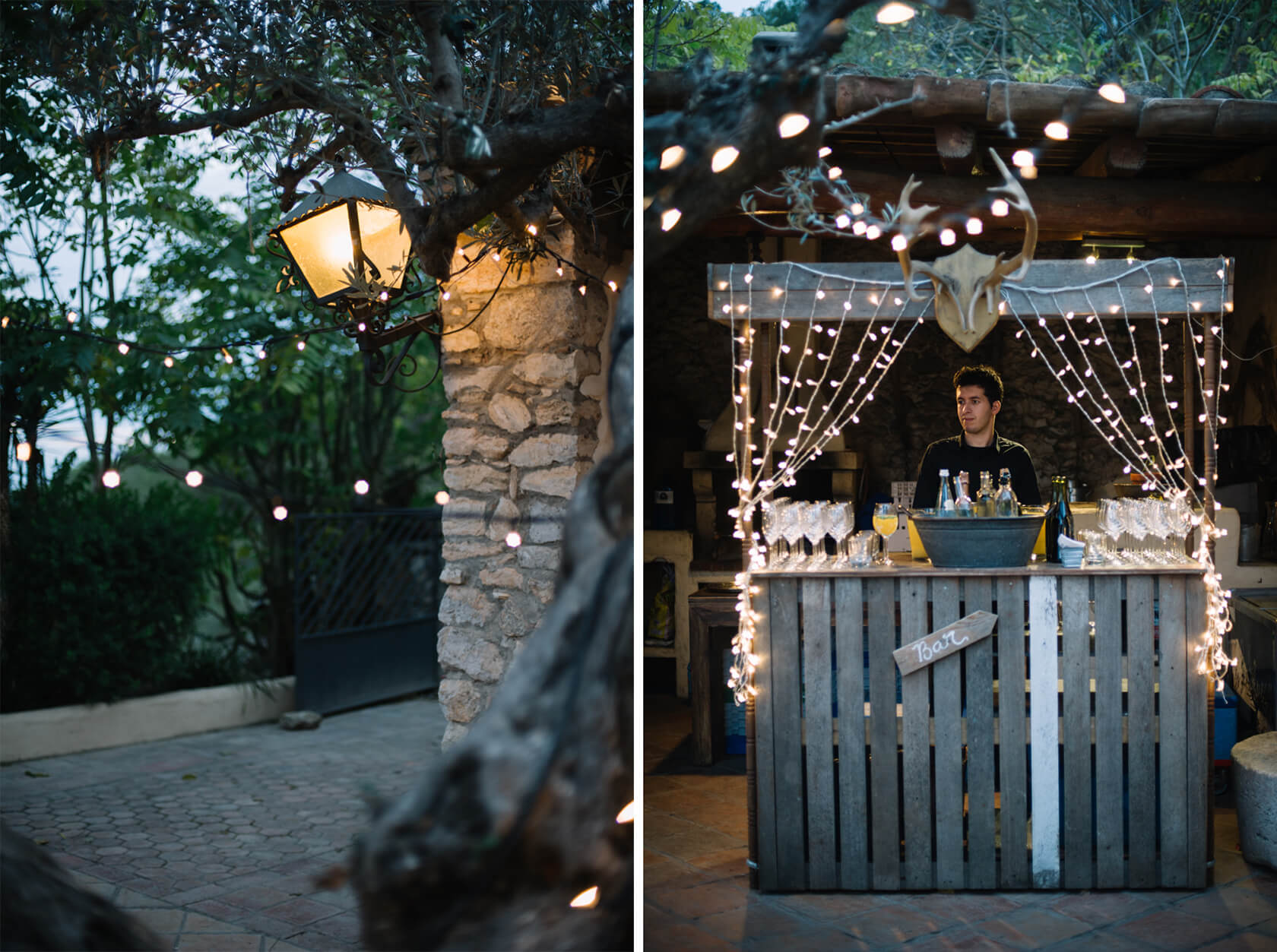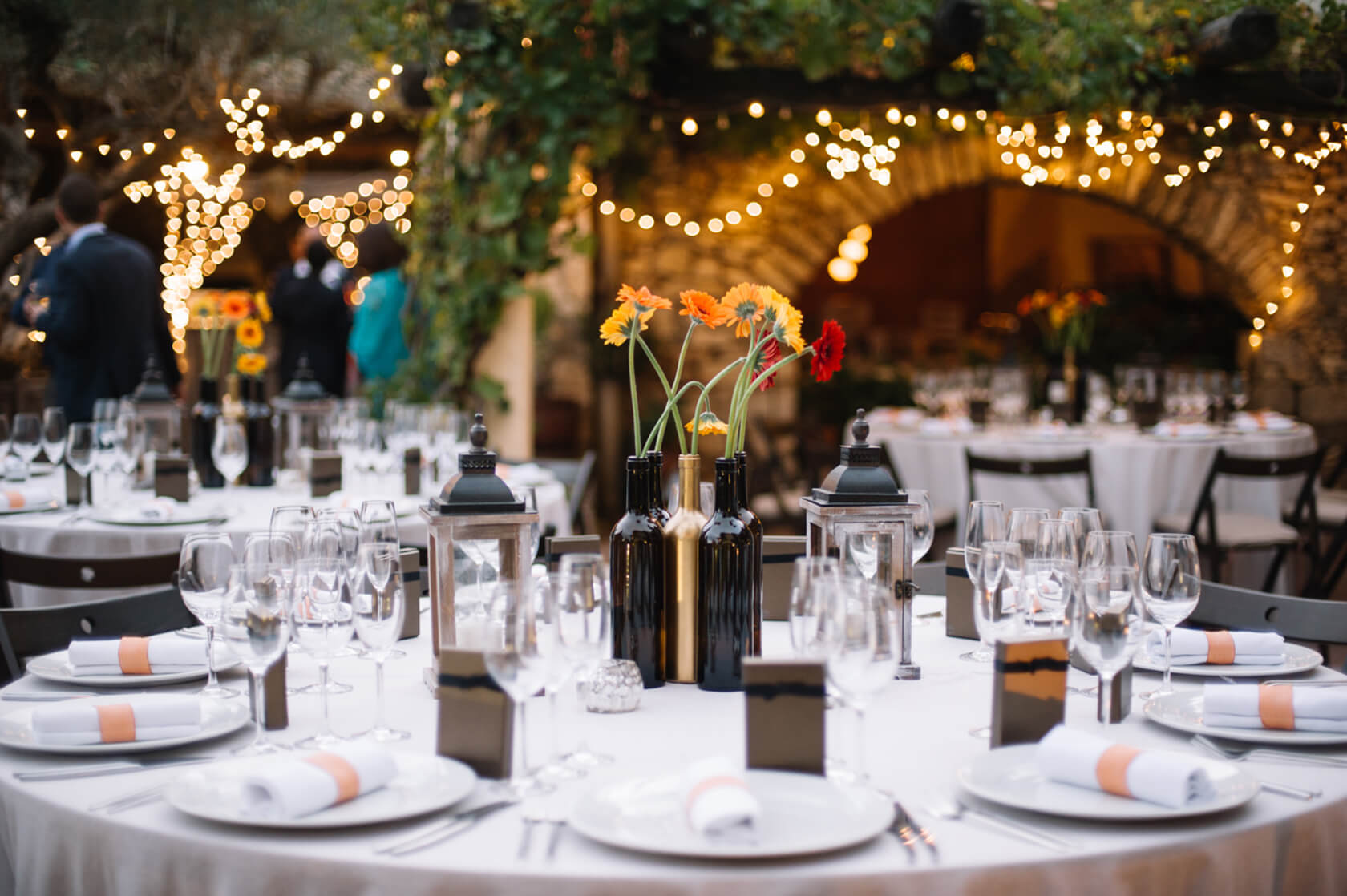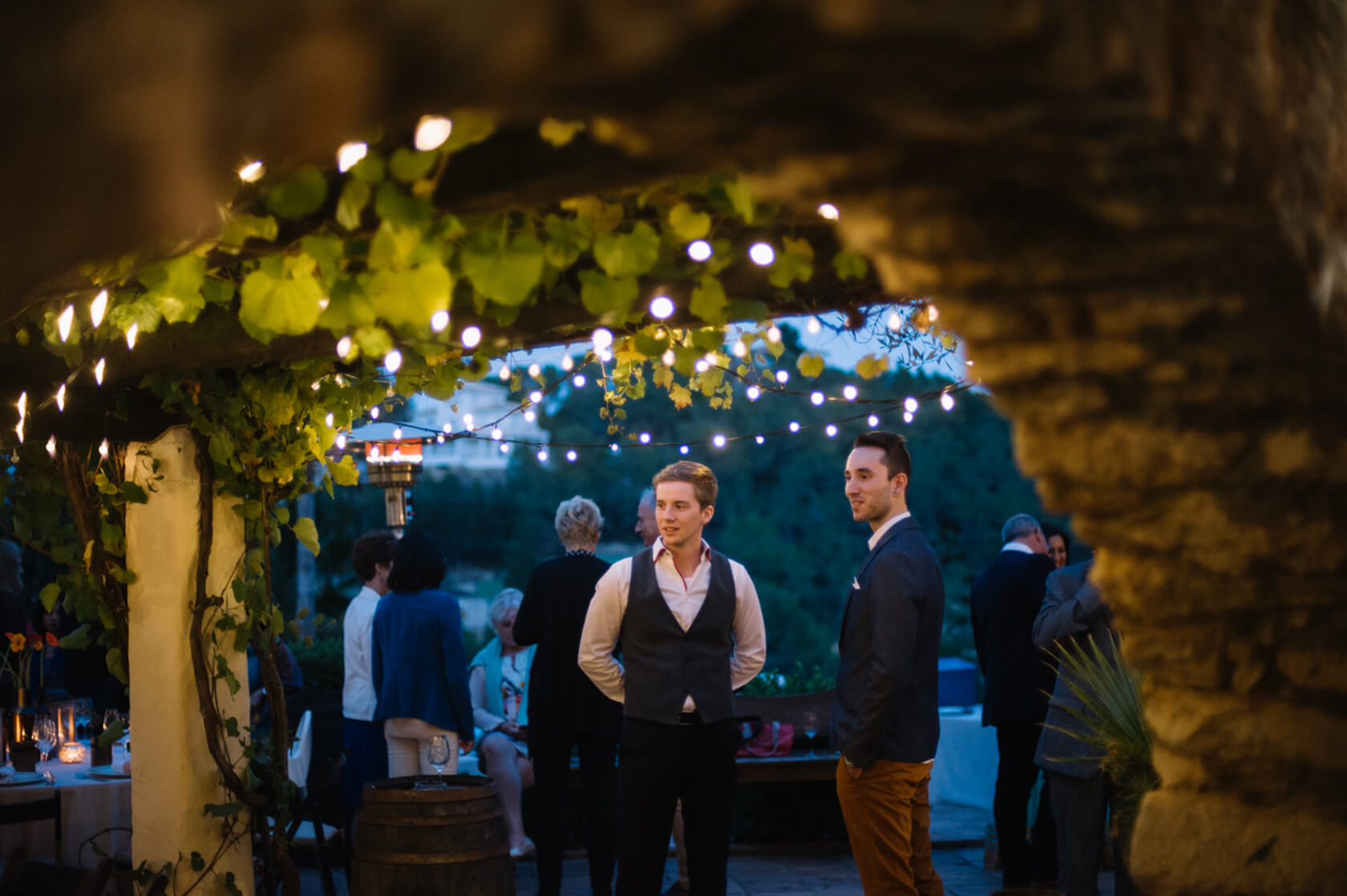 ---
Casa Nova Estate
Casa Nova Estate is probably the smaller of the five villas in Sitges. The road to the villa is a little rough but that's the price you pay to be right in the middle of a Natural Park. As a bonus, you can make as much noise as you want. No neighbors in the vicinity! We found a beautiful wheat field on our last visit that was fantastic for the photoshoot.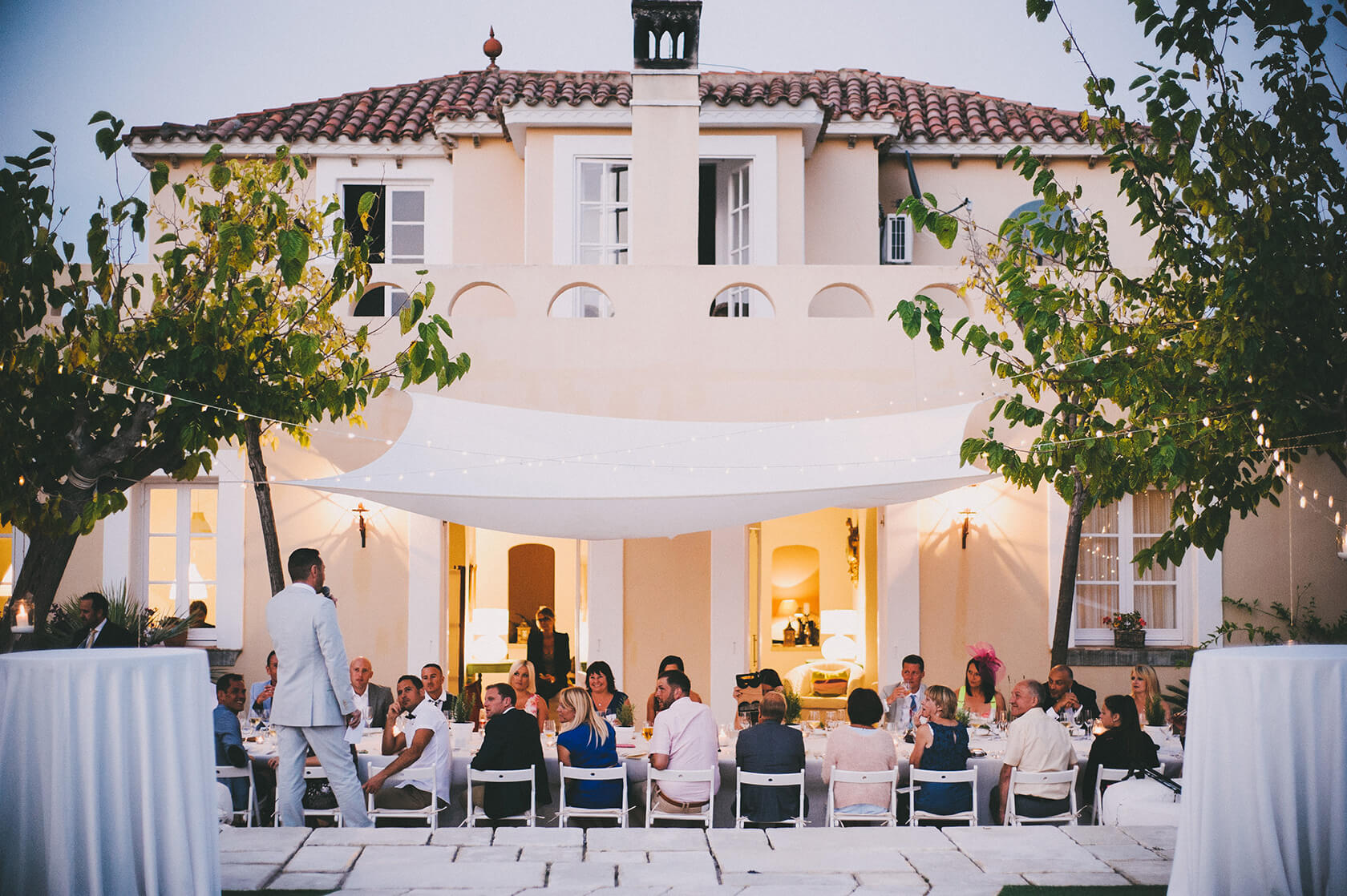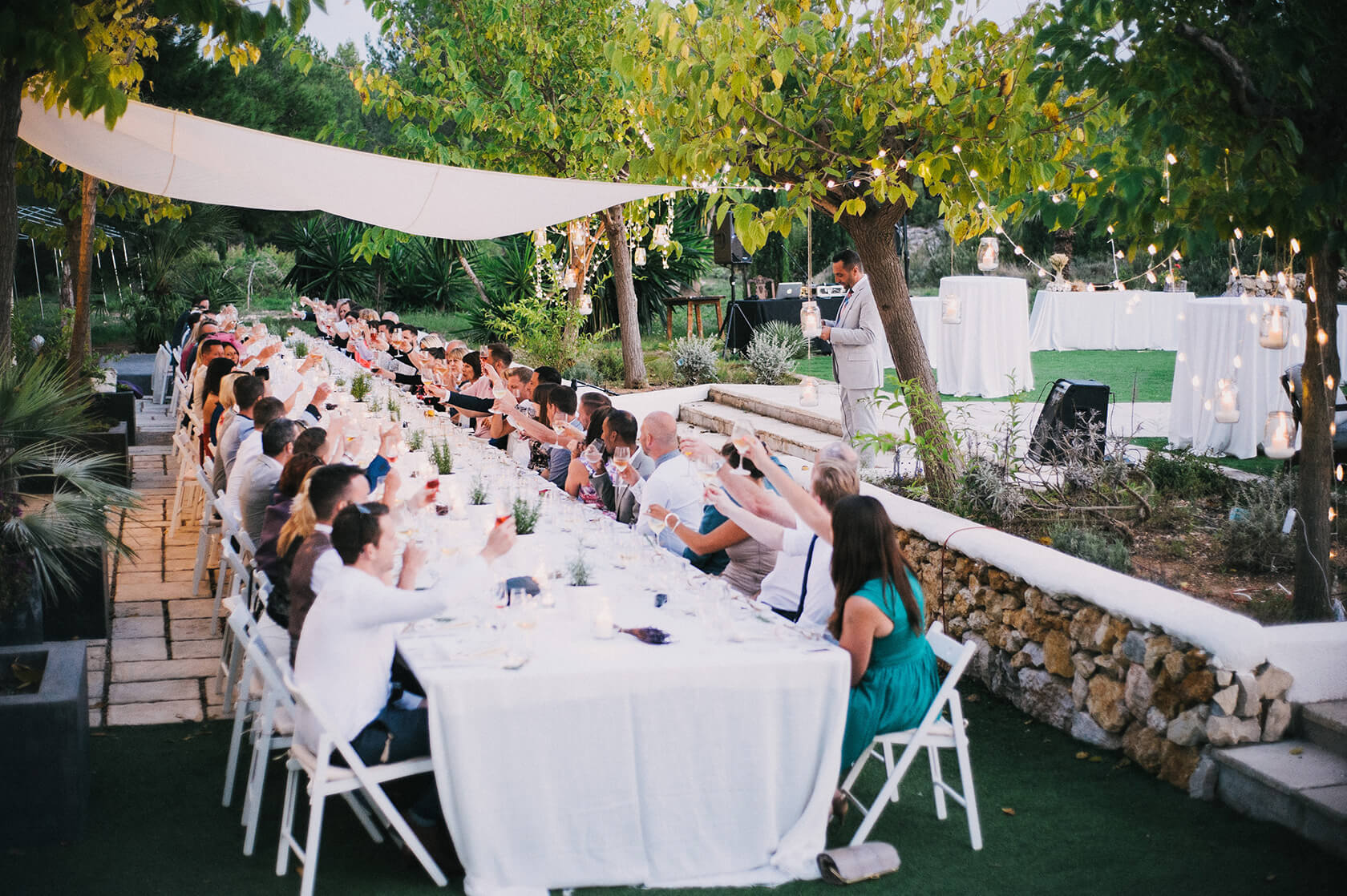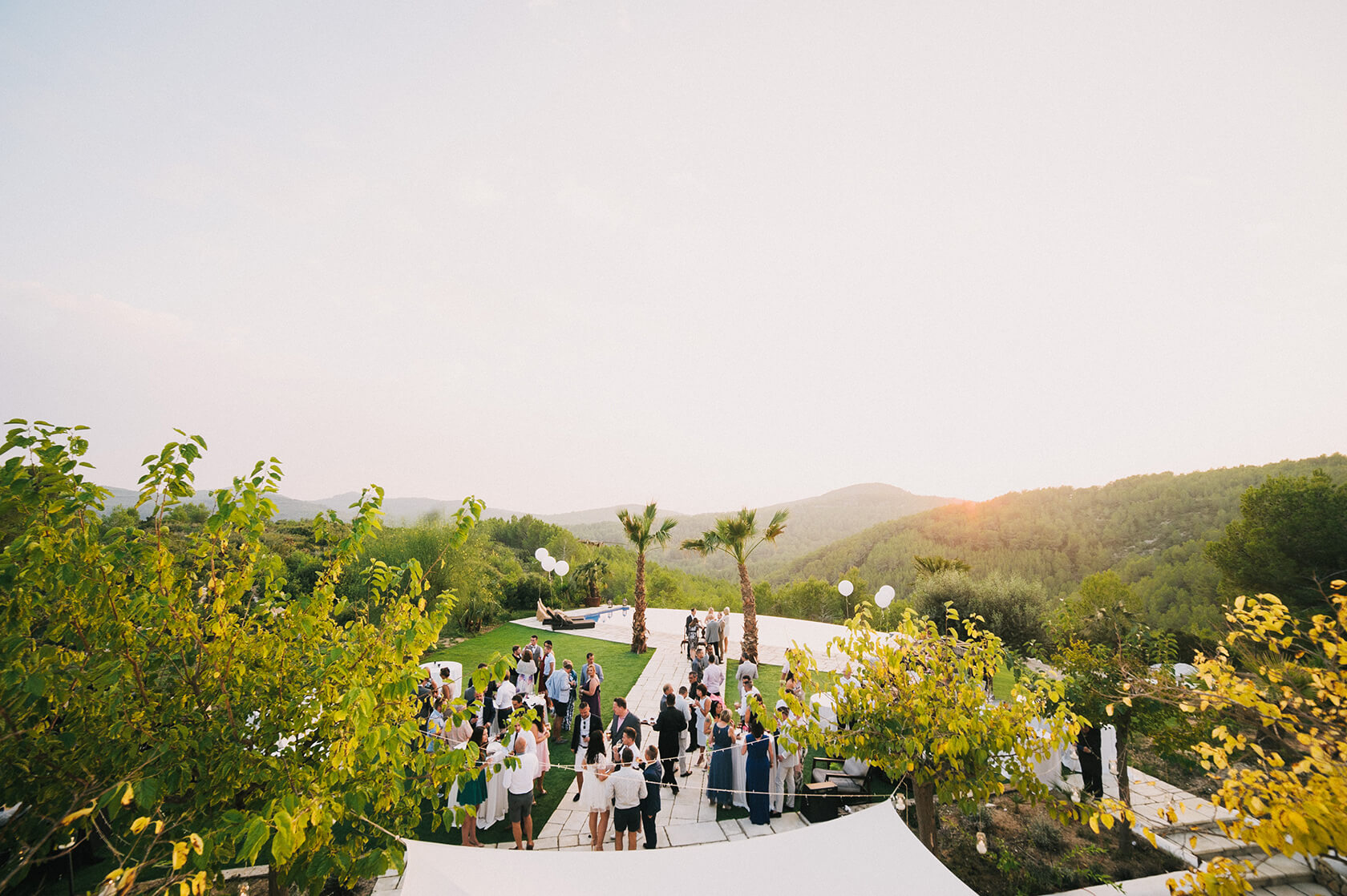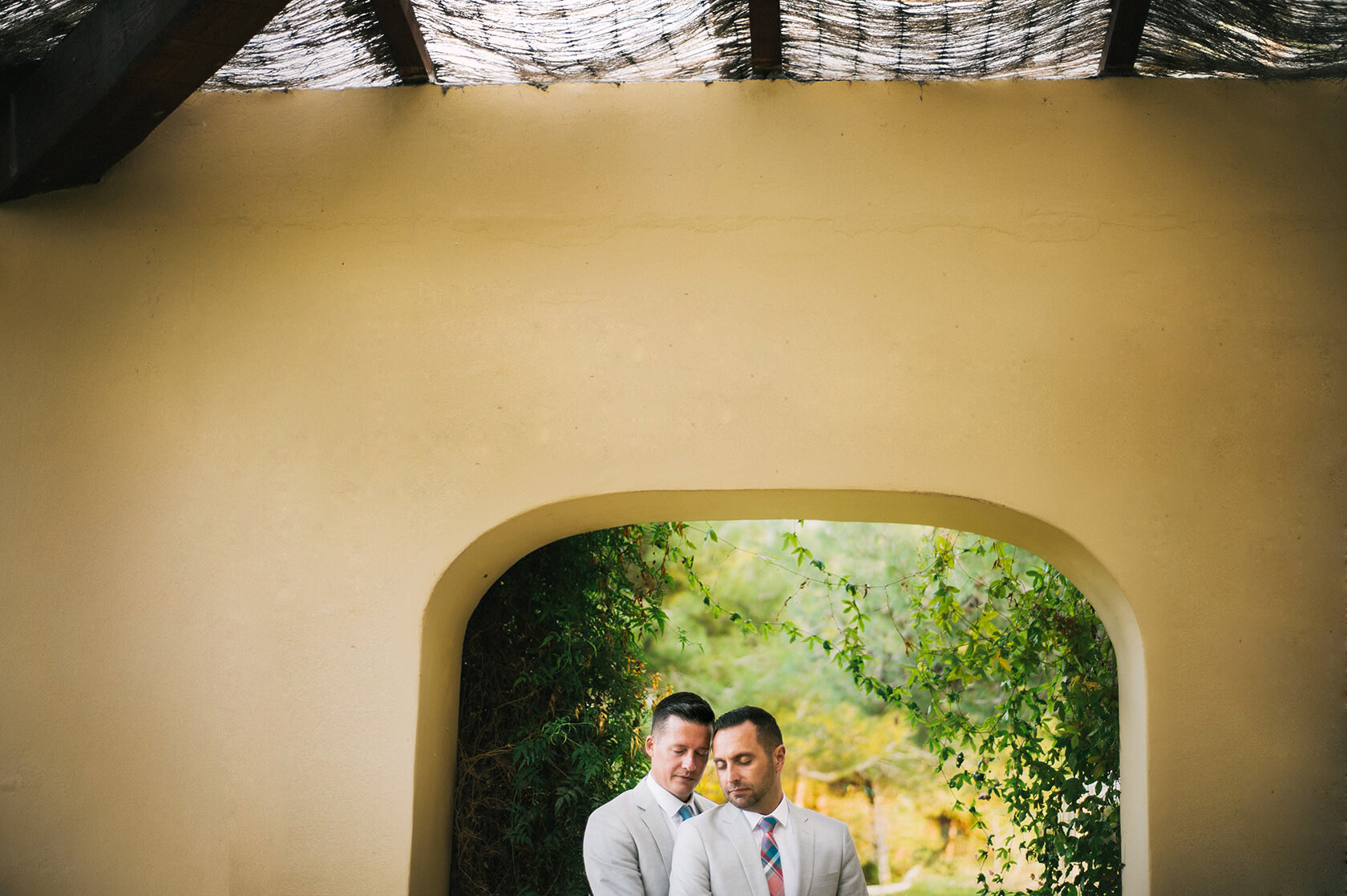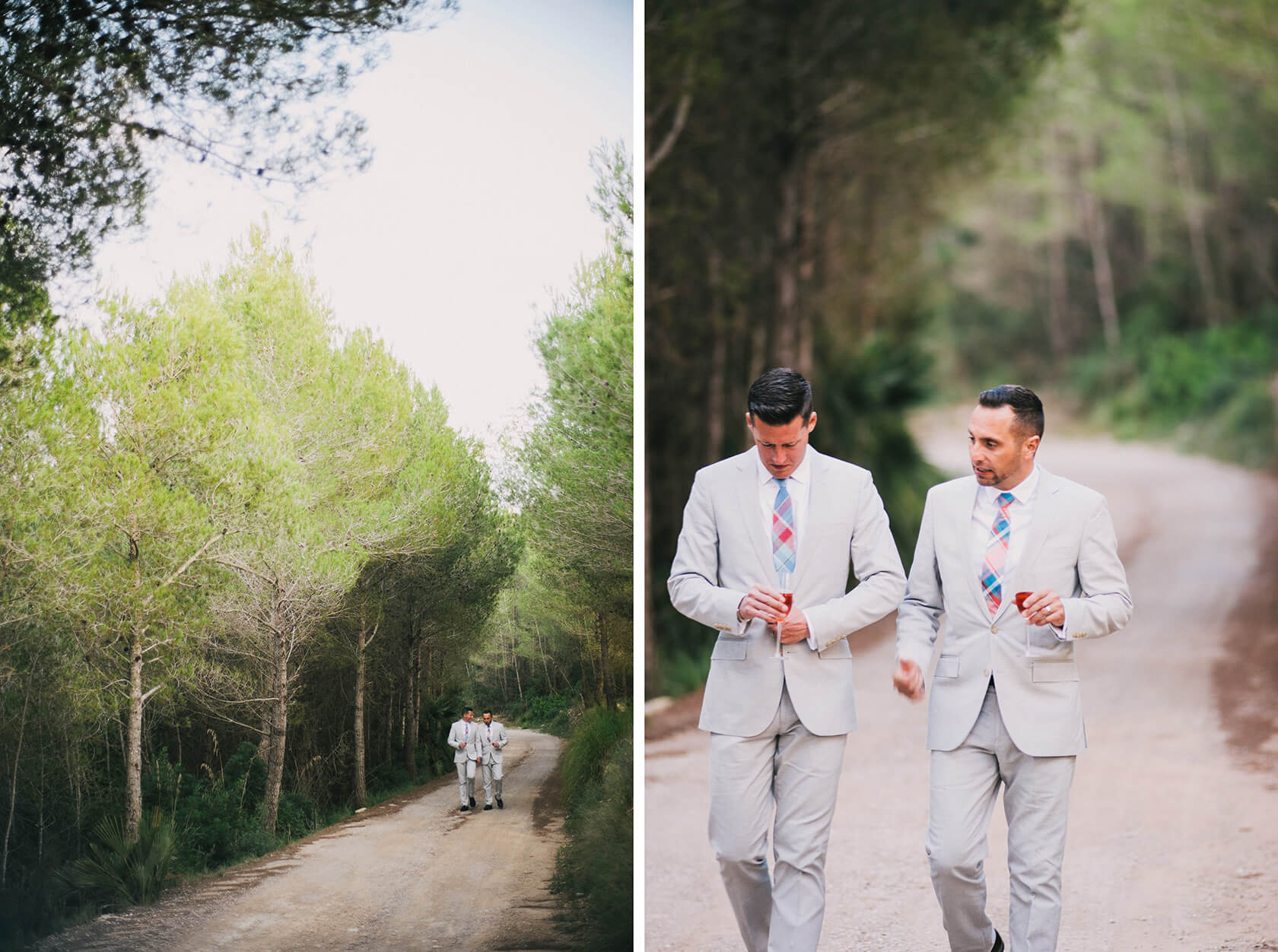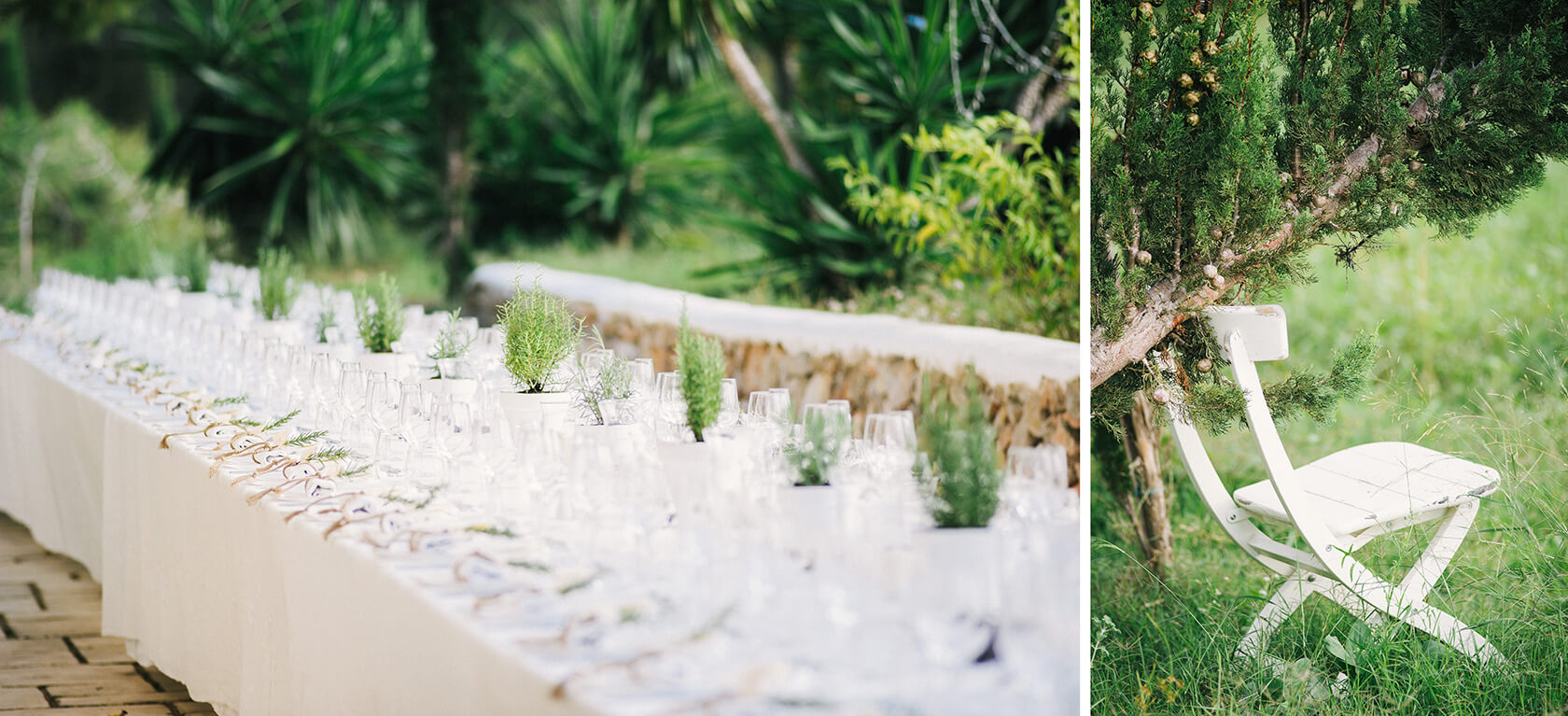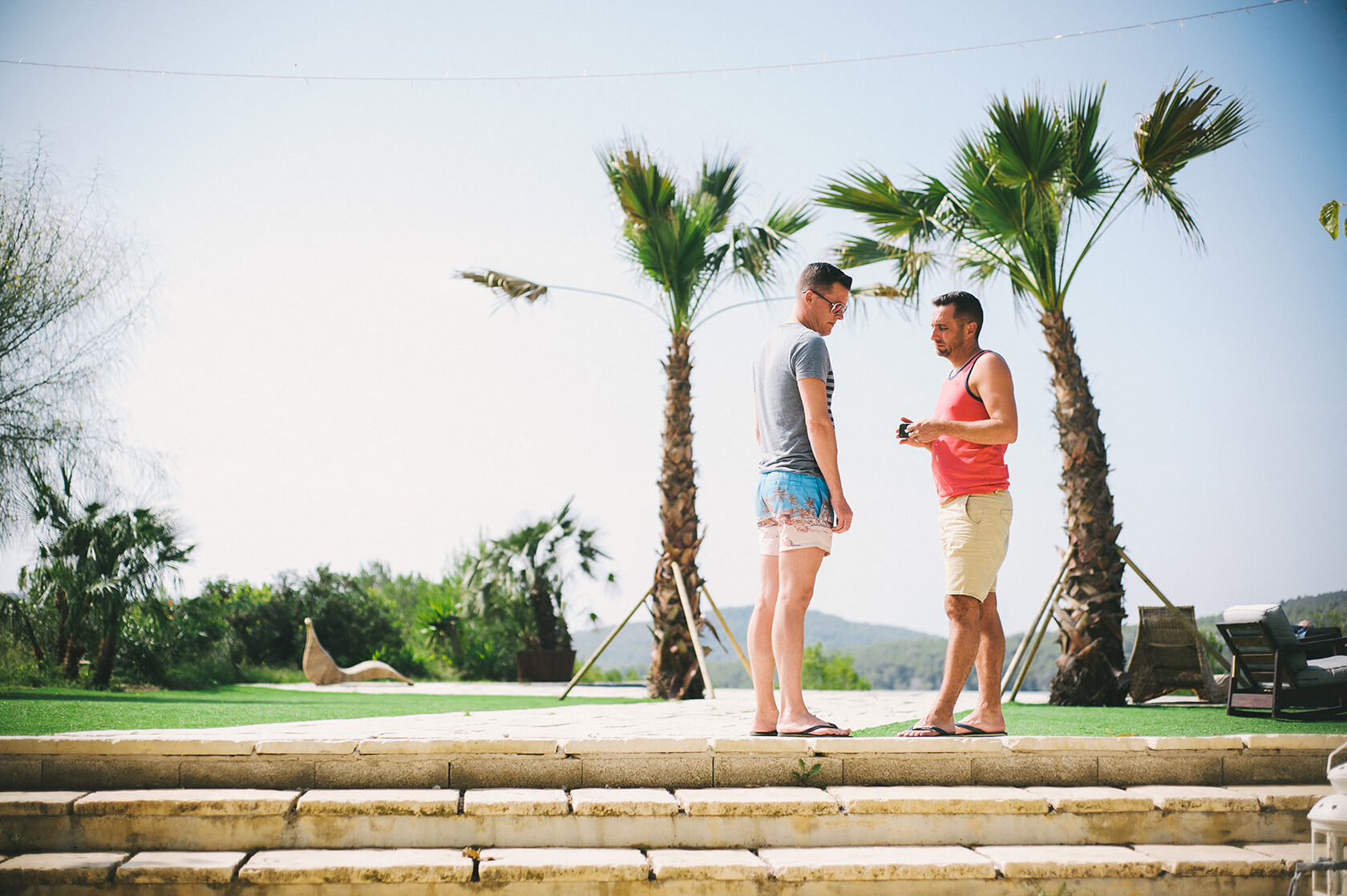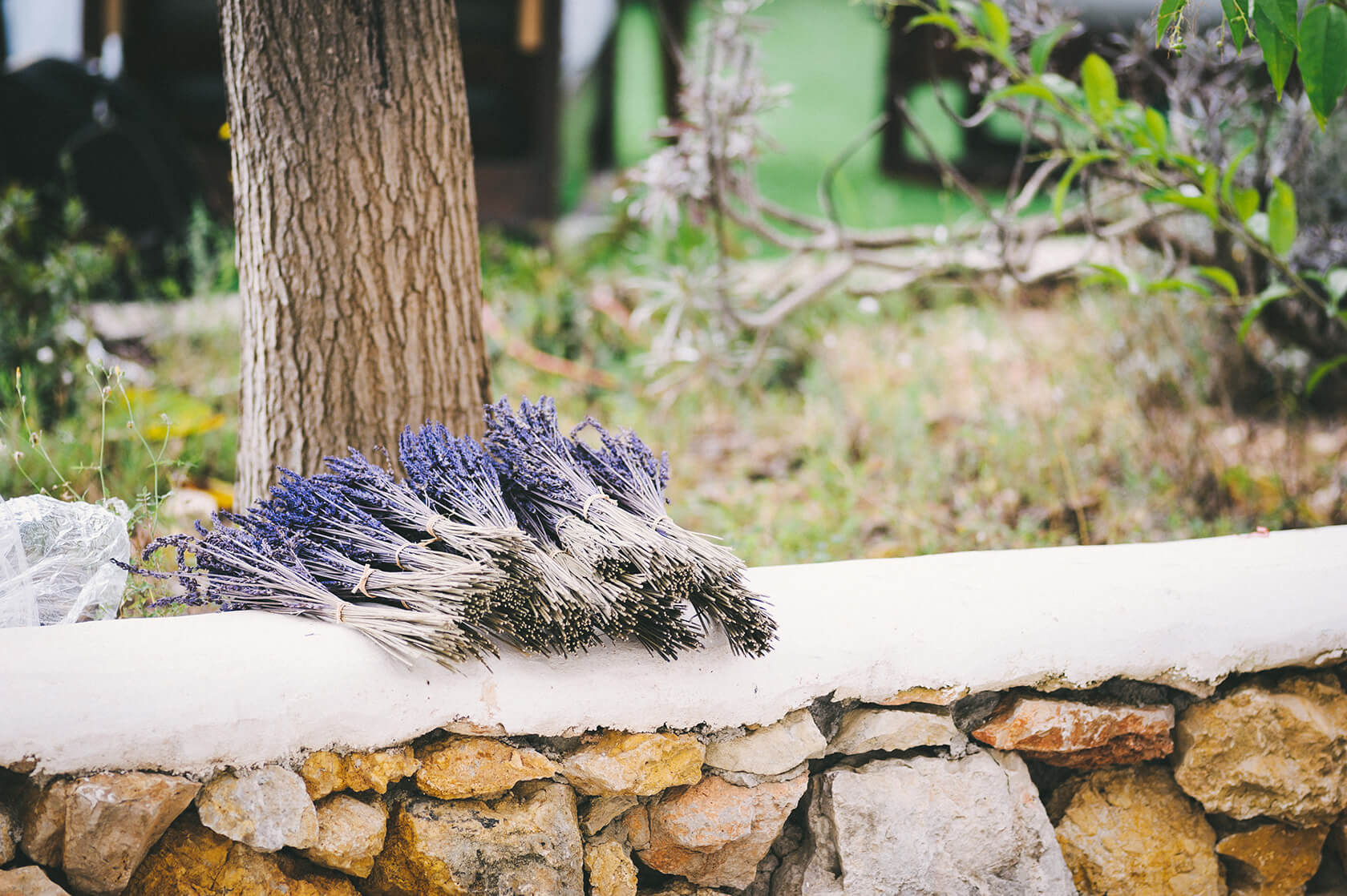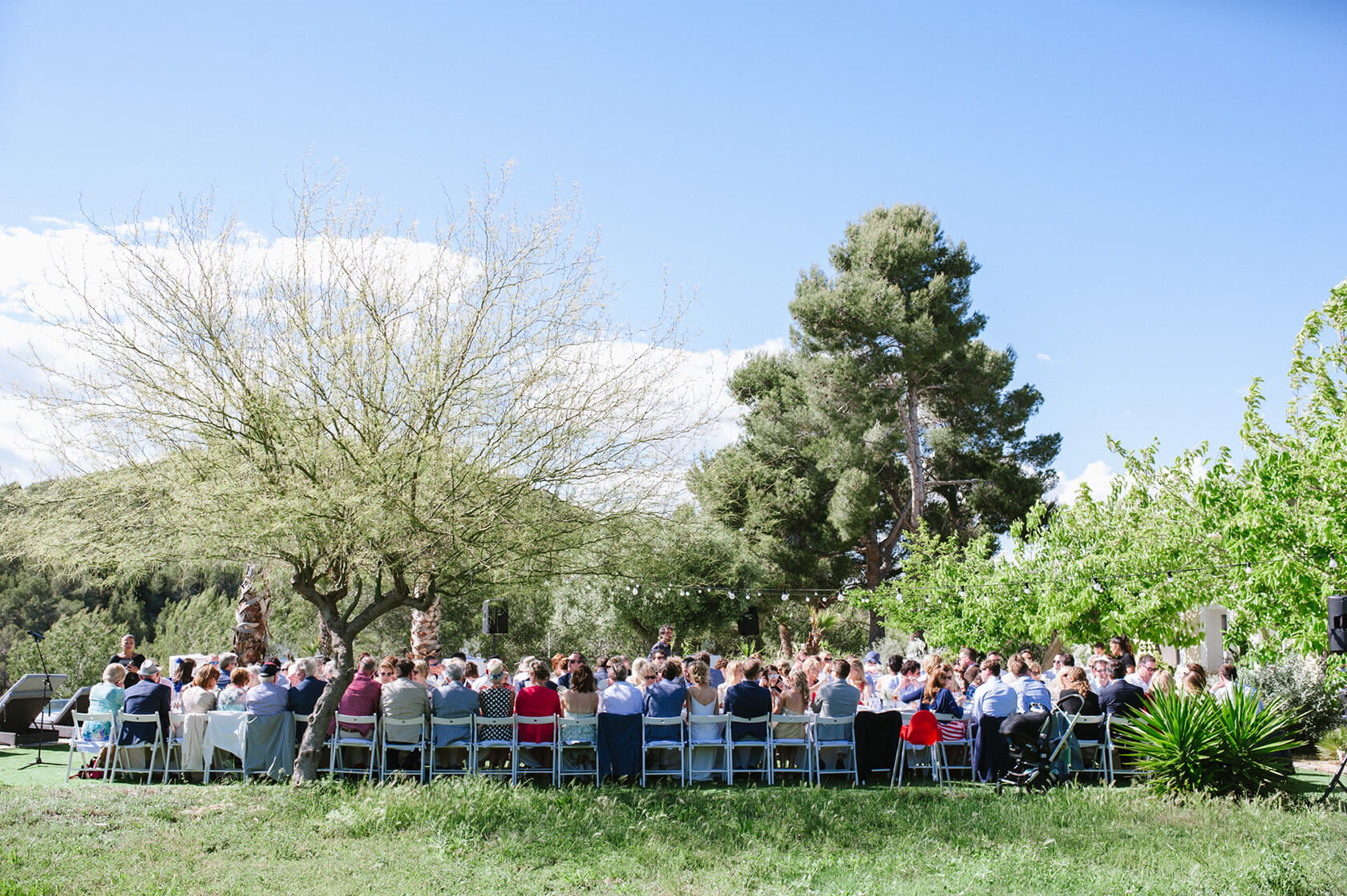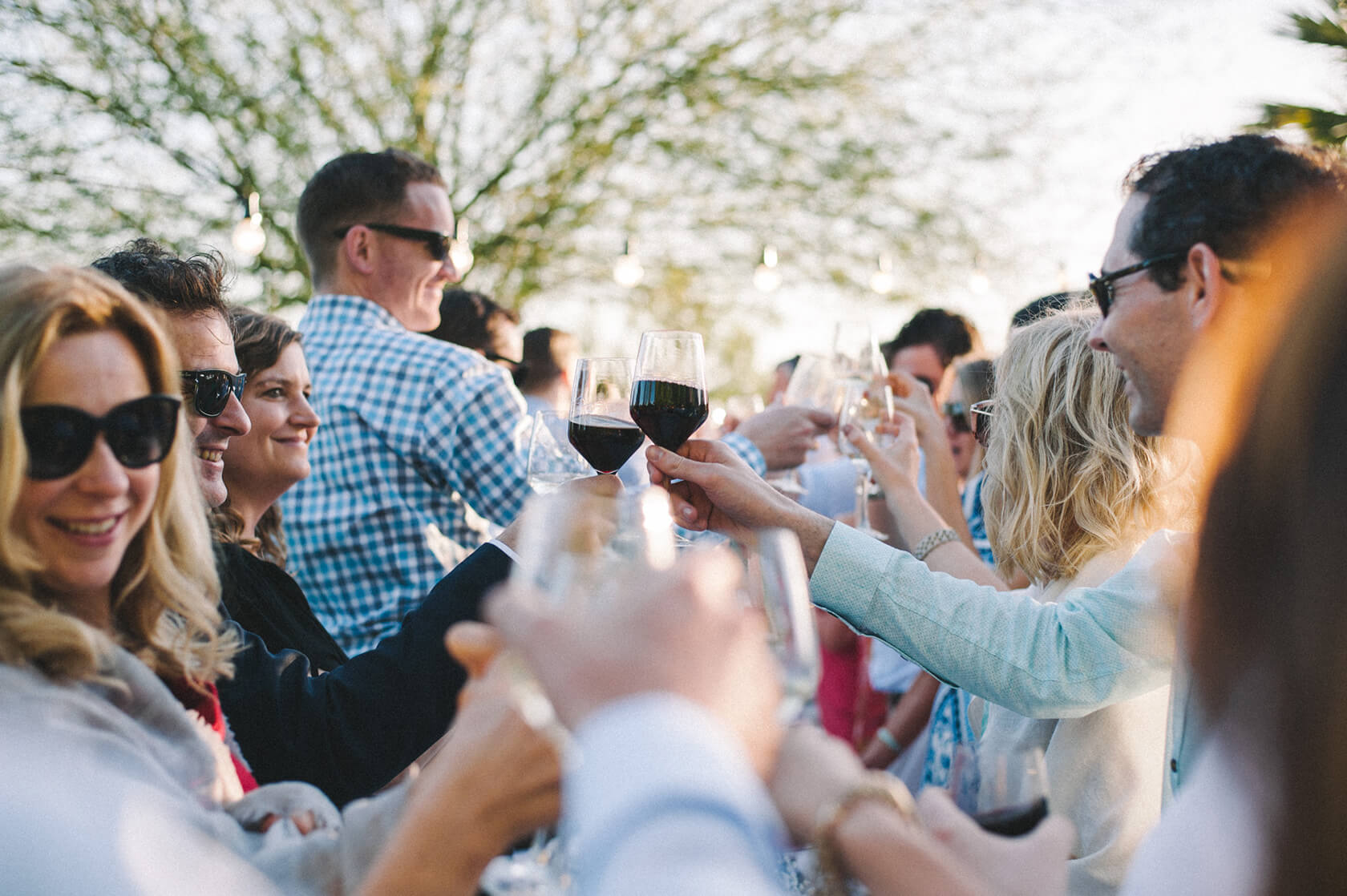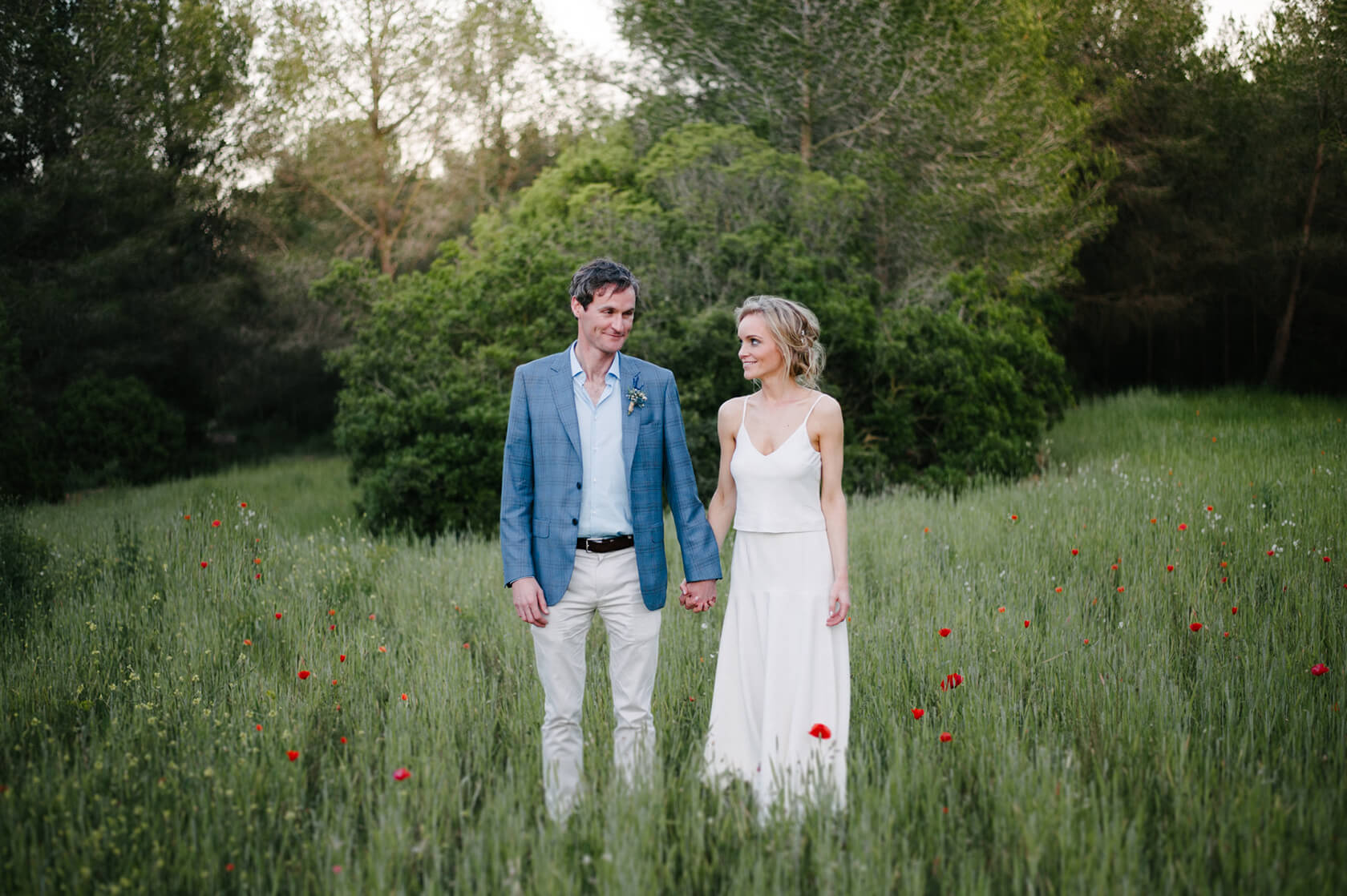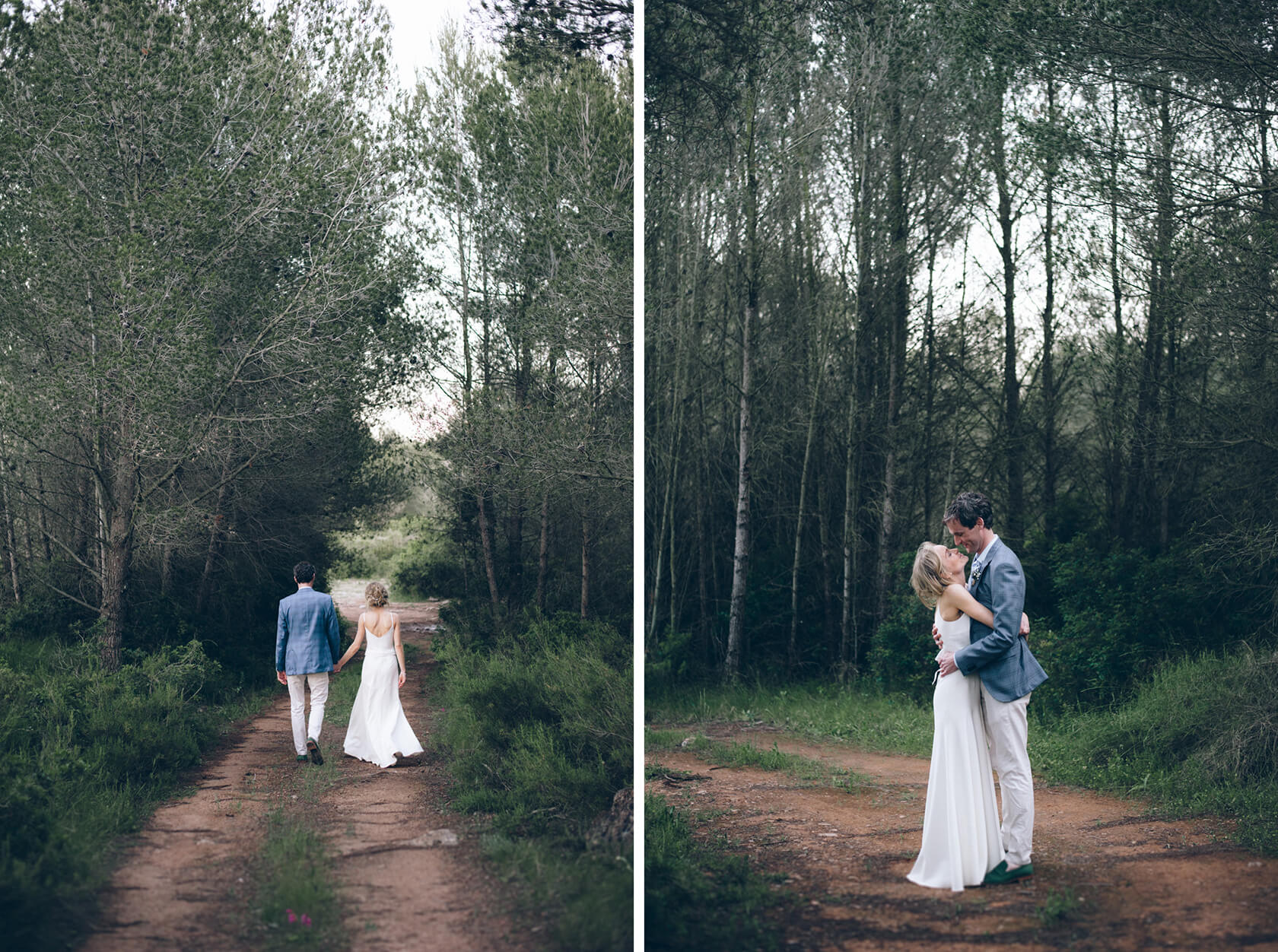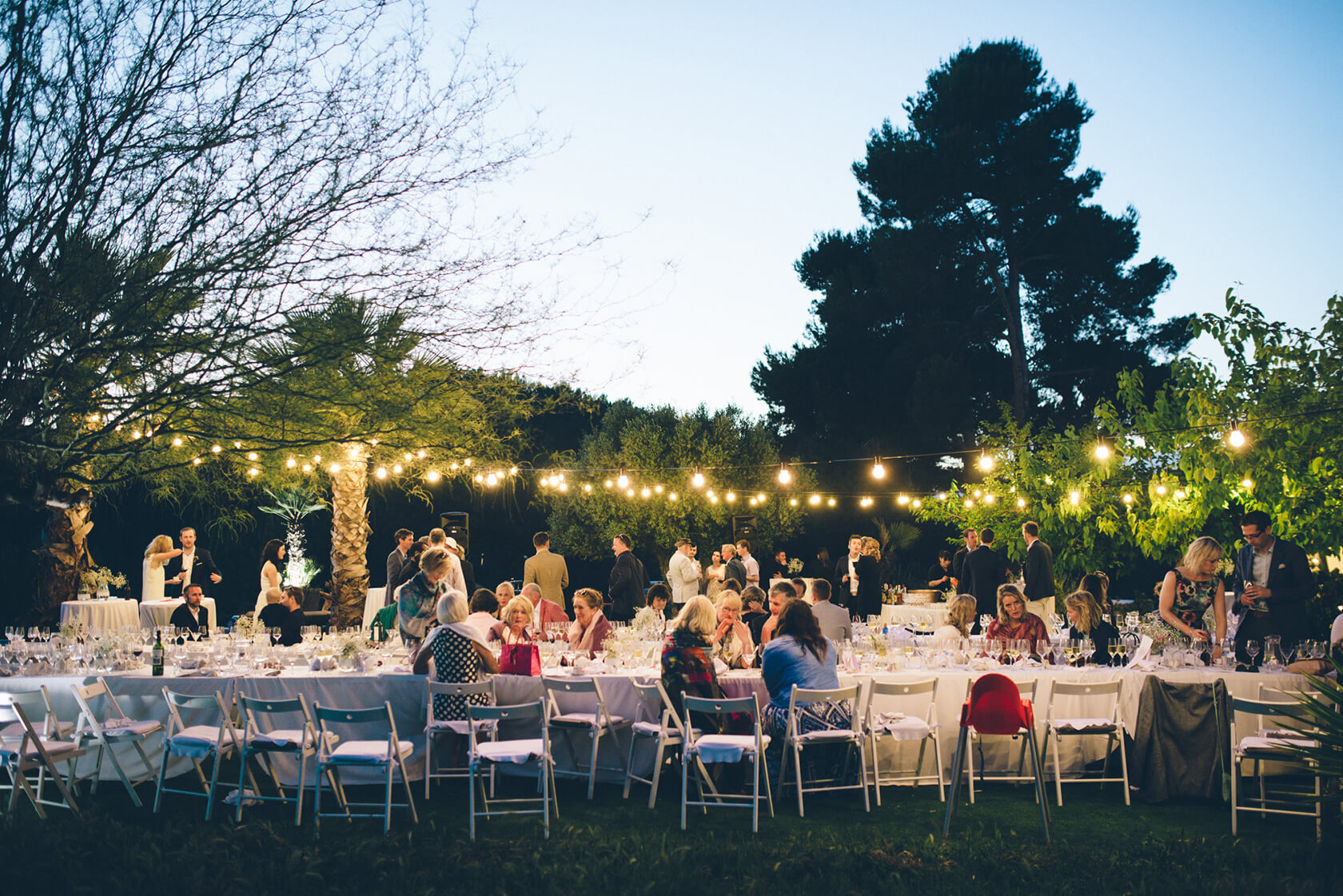 ---
Masia d'en Notari
We visited Masia d'en Notari long before it became a wedding venue, a lot has changed since. This villa is formed by separate rooms with individual entrances which make it very suitable for guests. The main building also has rooms along with a large kitchen.
The surrounding area is a bit industrial however the most beautiful Mediterranean forest is a few minutes' drive away. Make sure you take a look at Lisa and Dan's wedding in our portfolio section for a taste of this beautiful walk in the forest.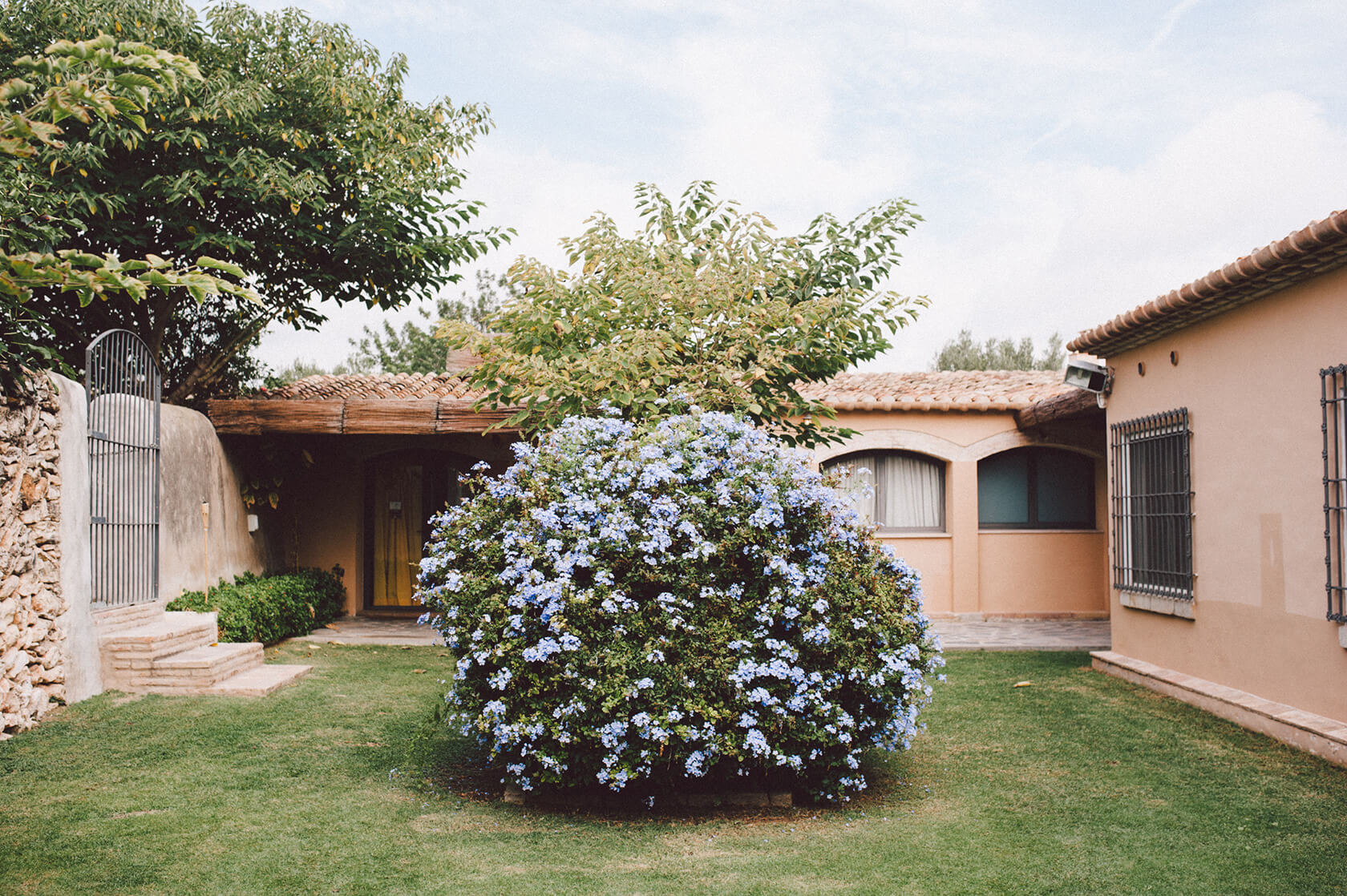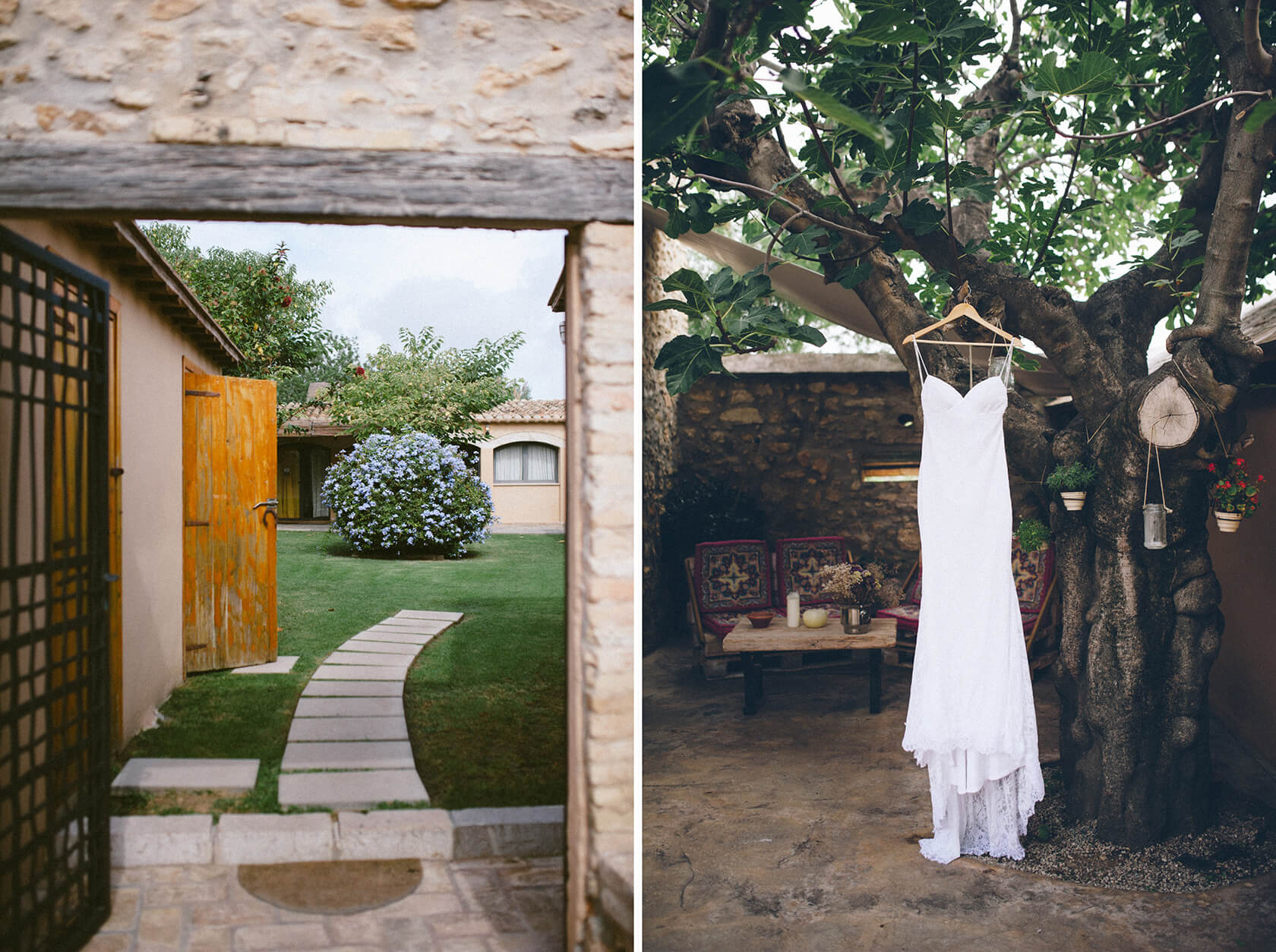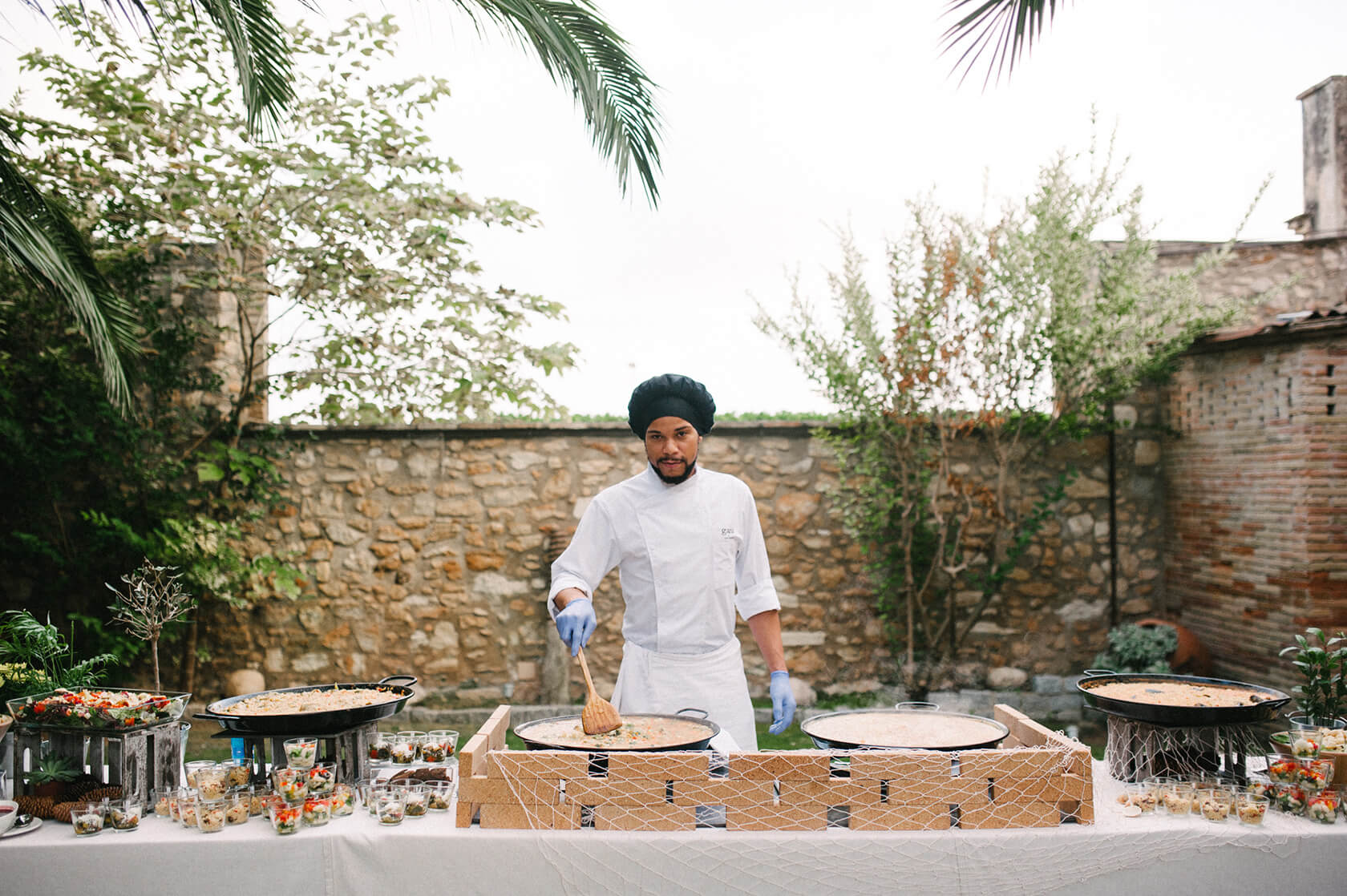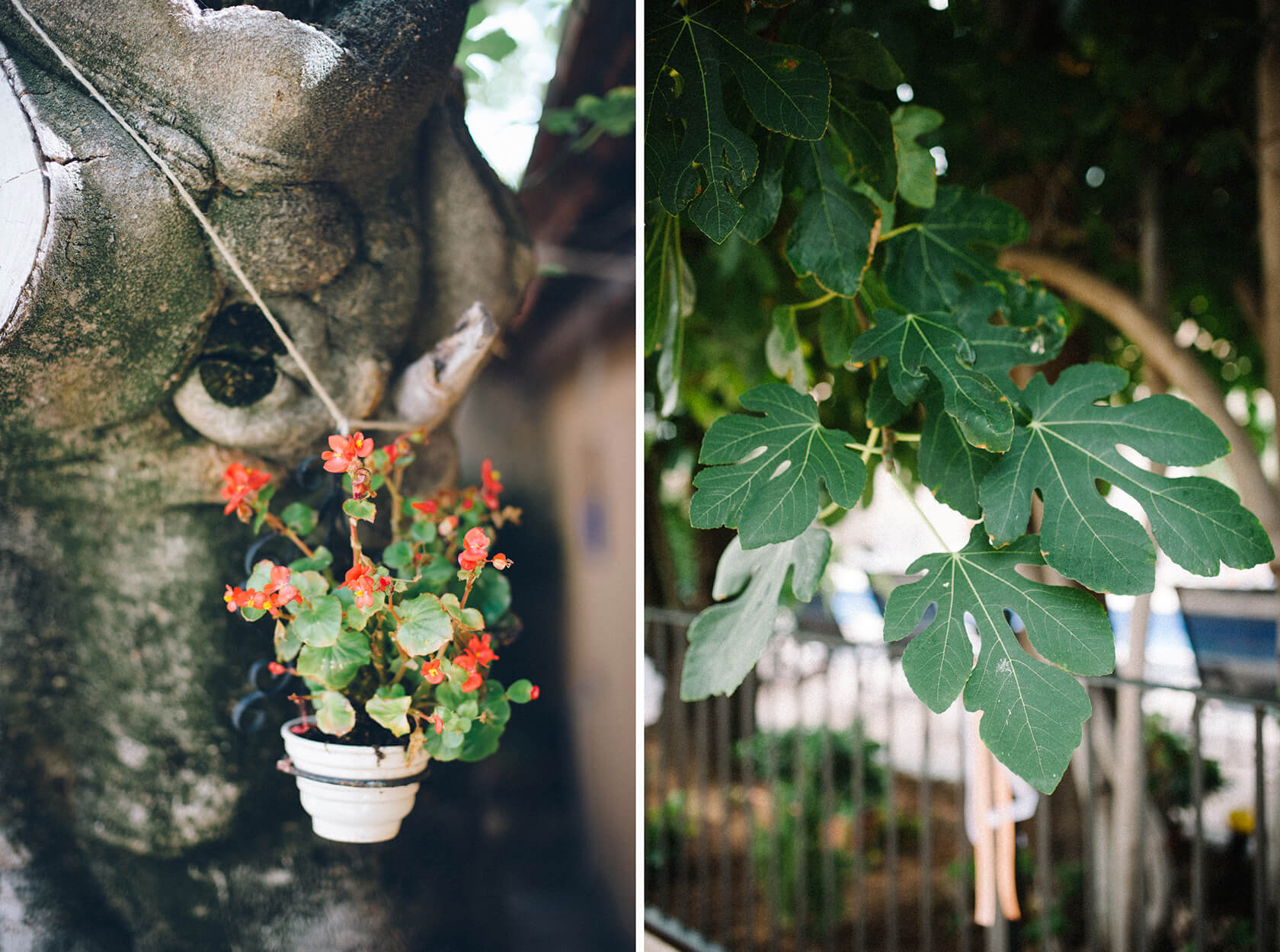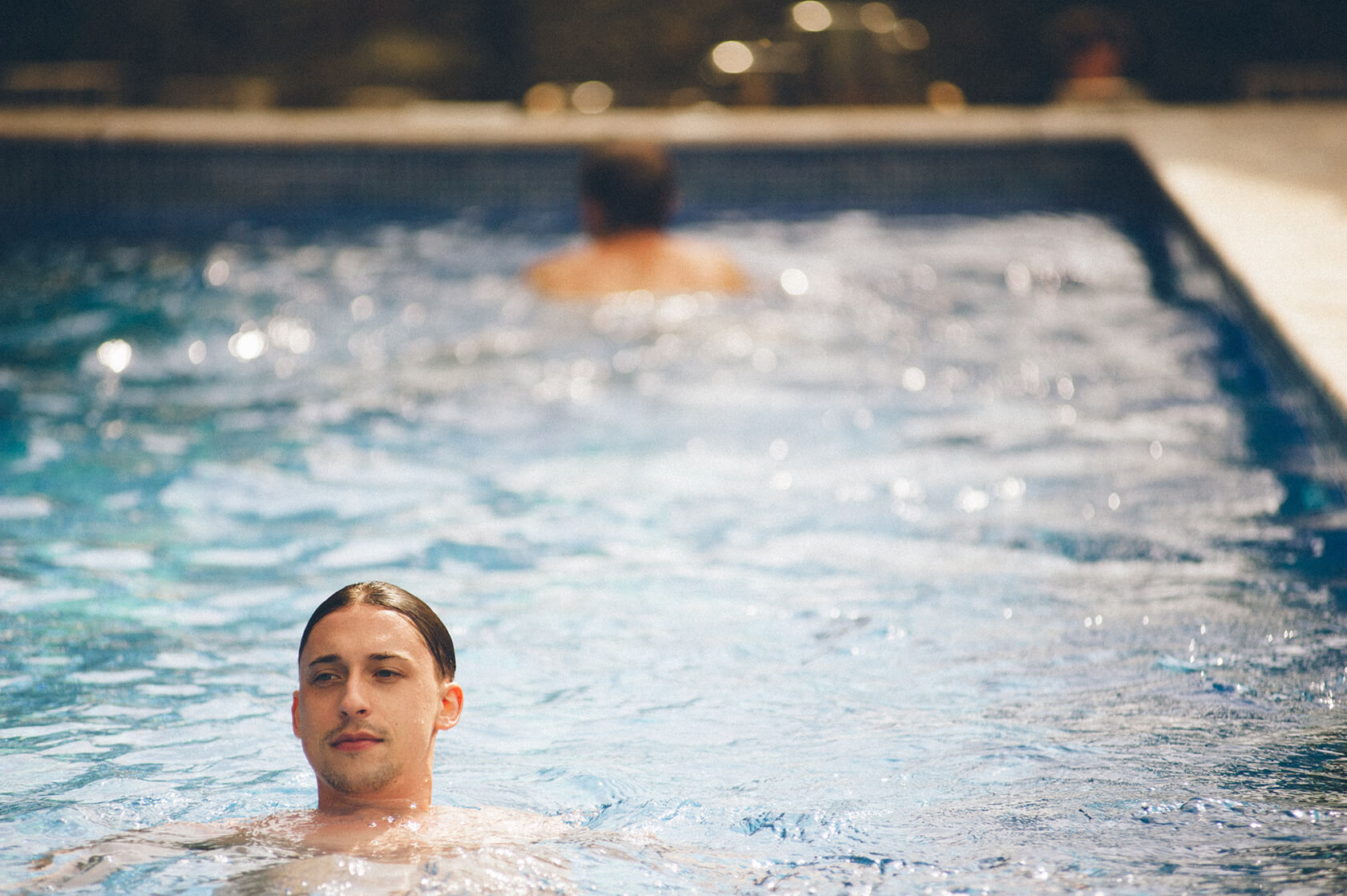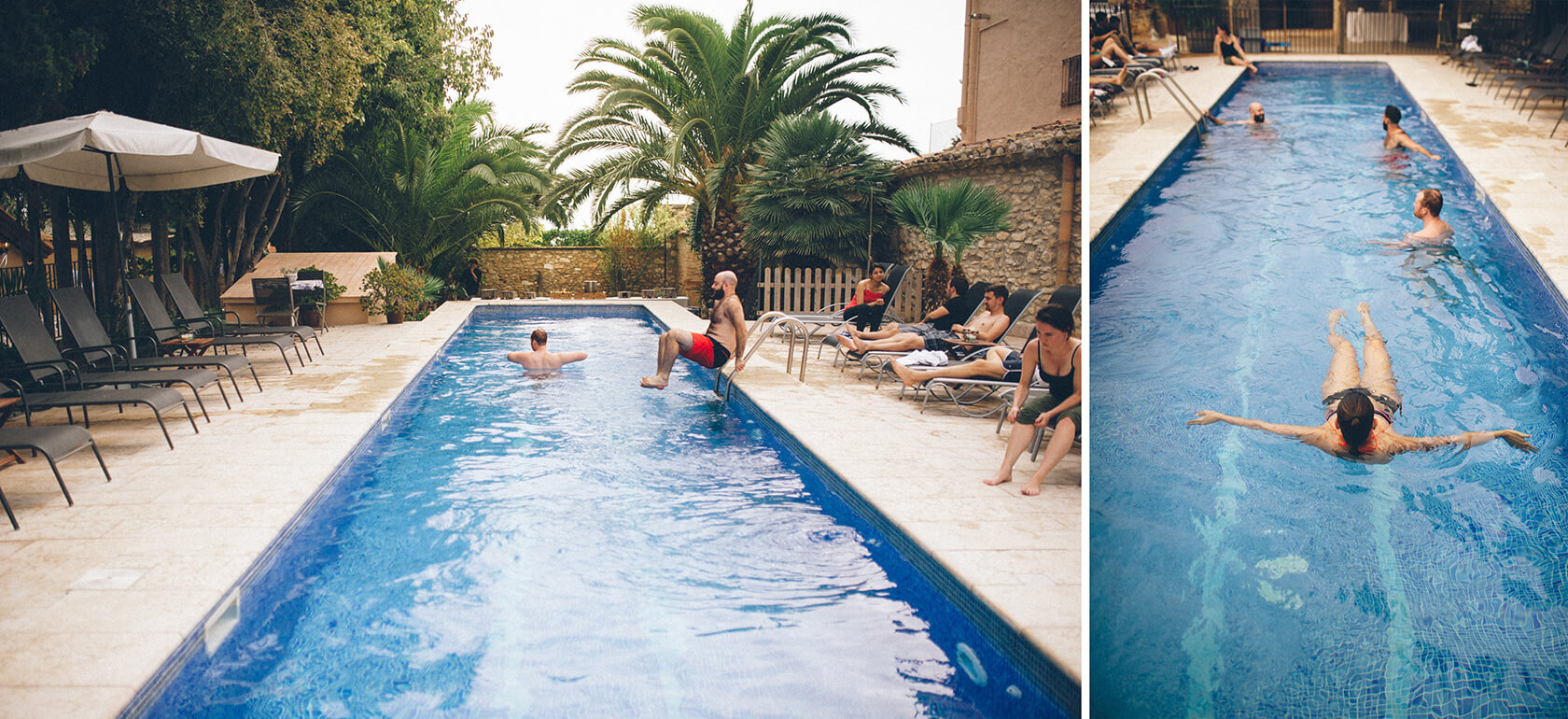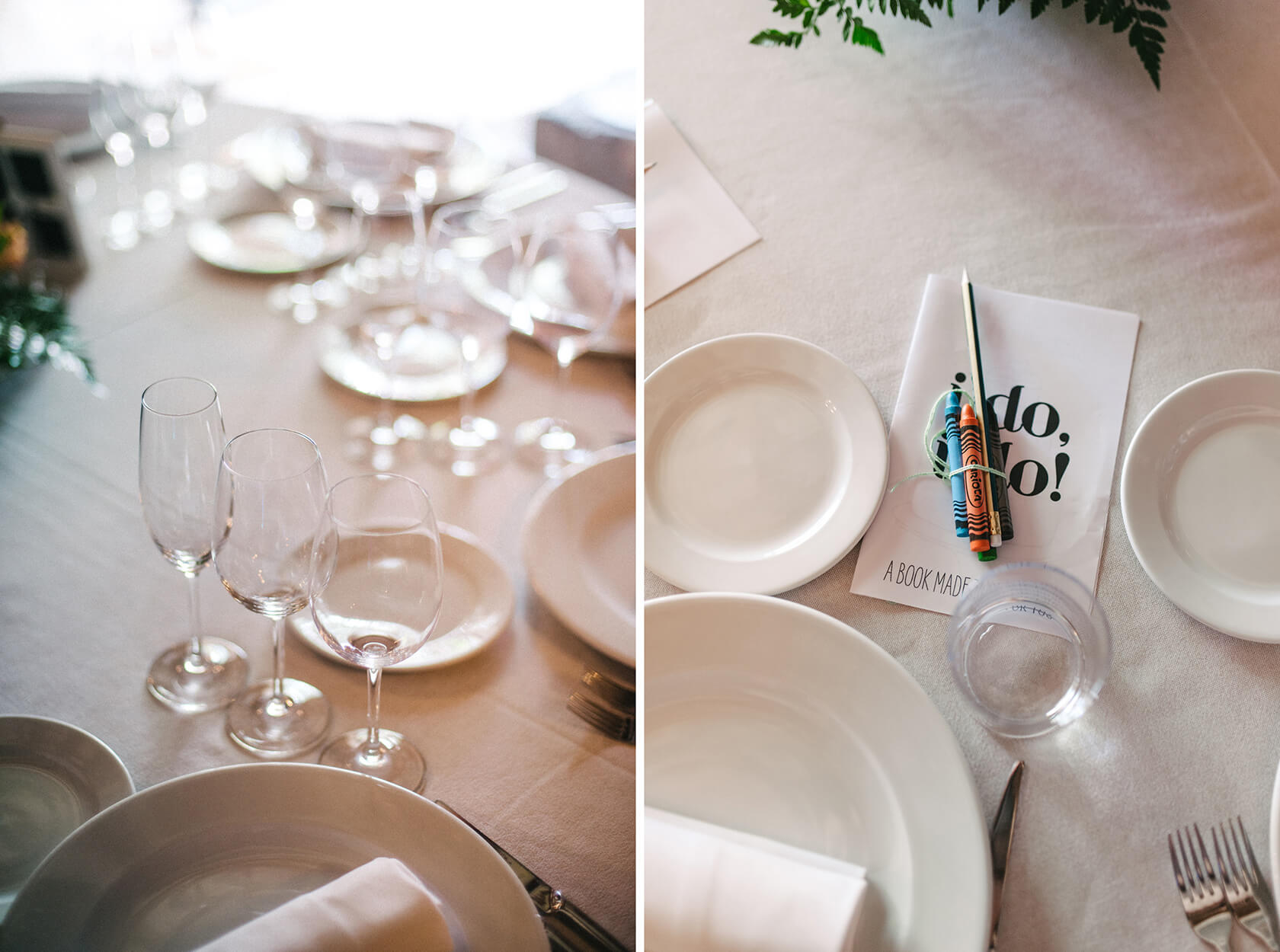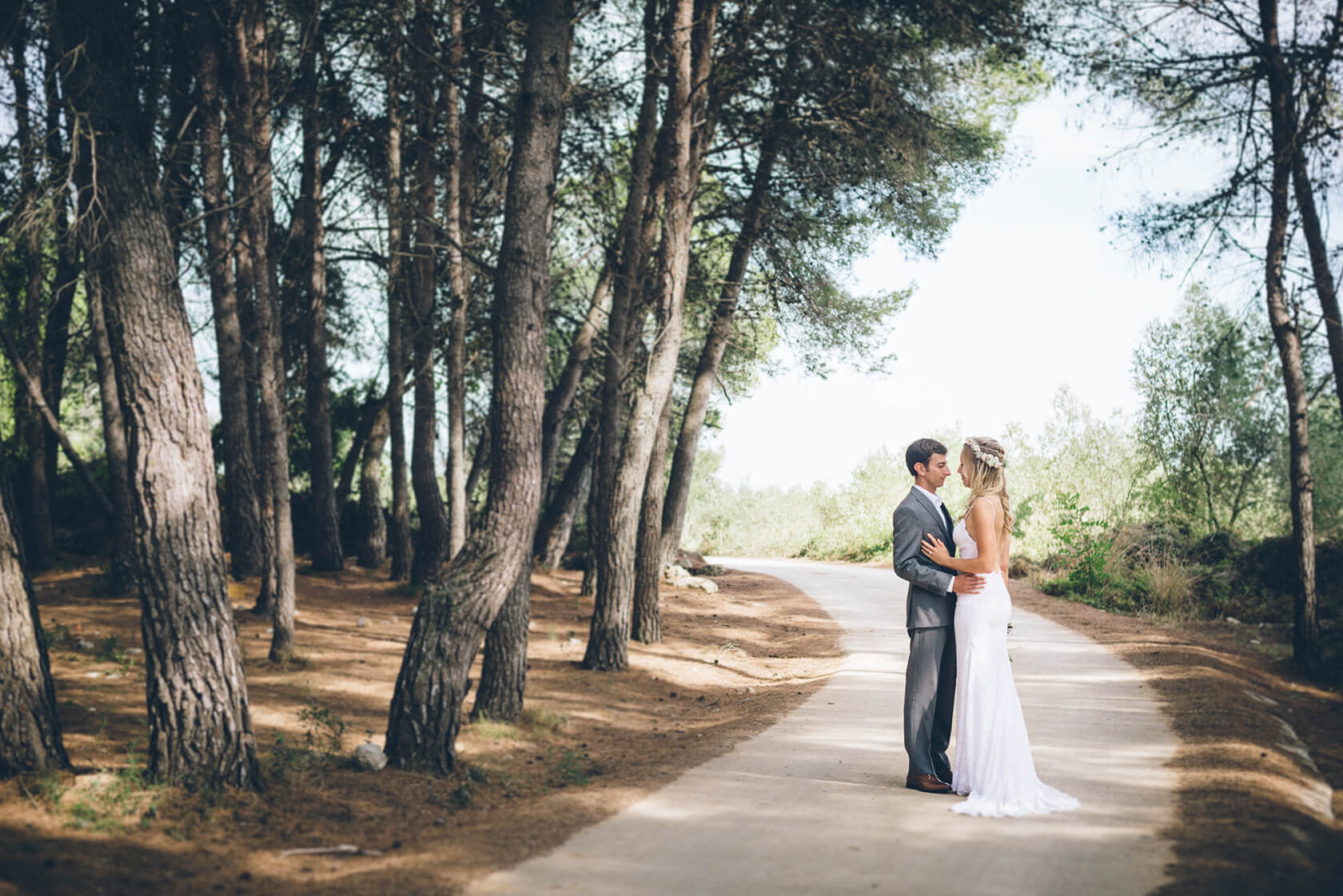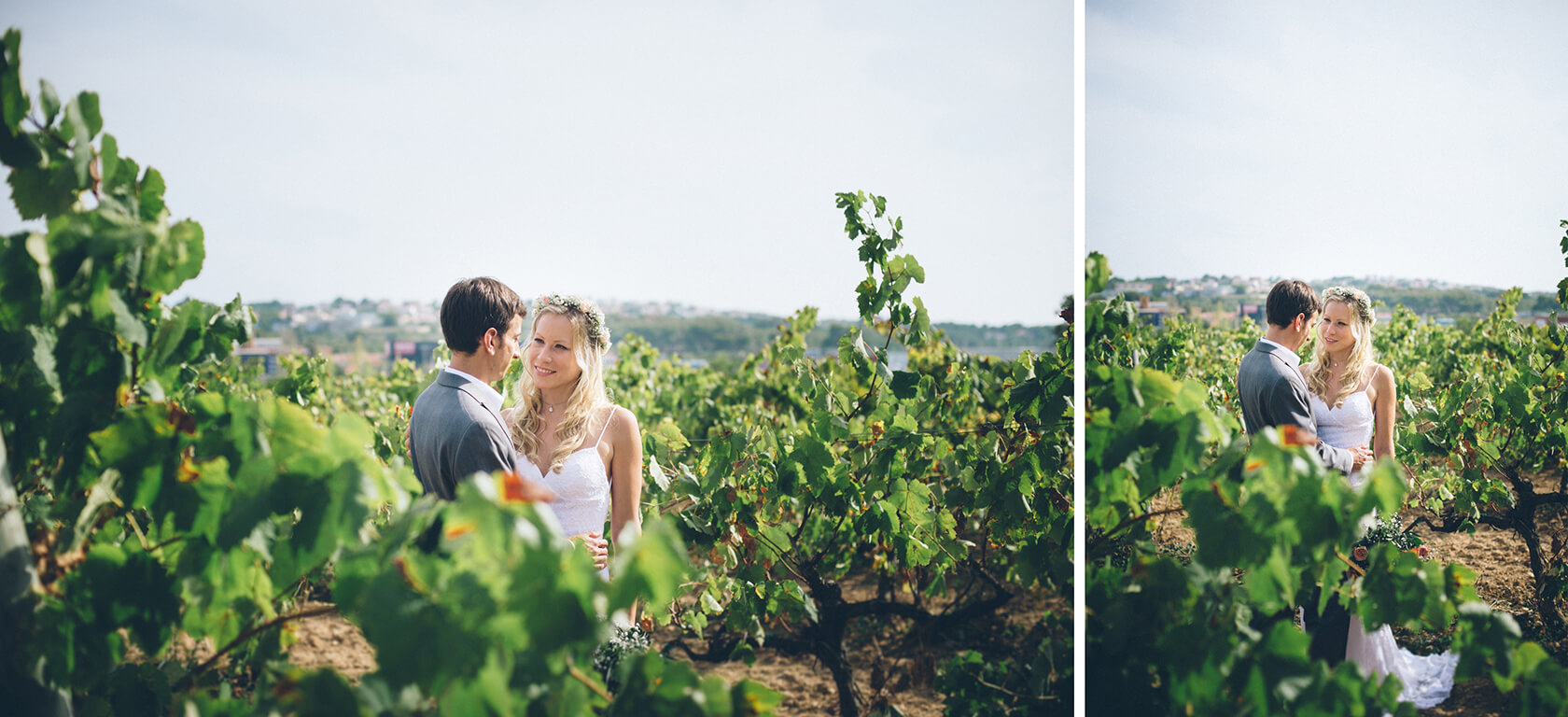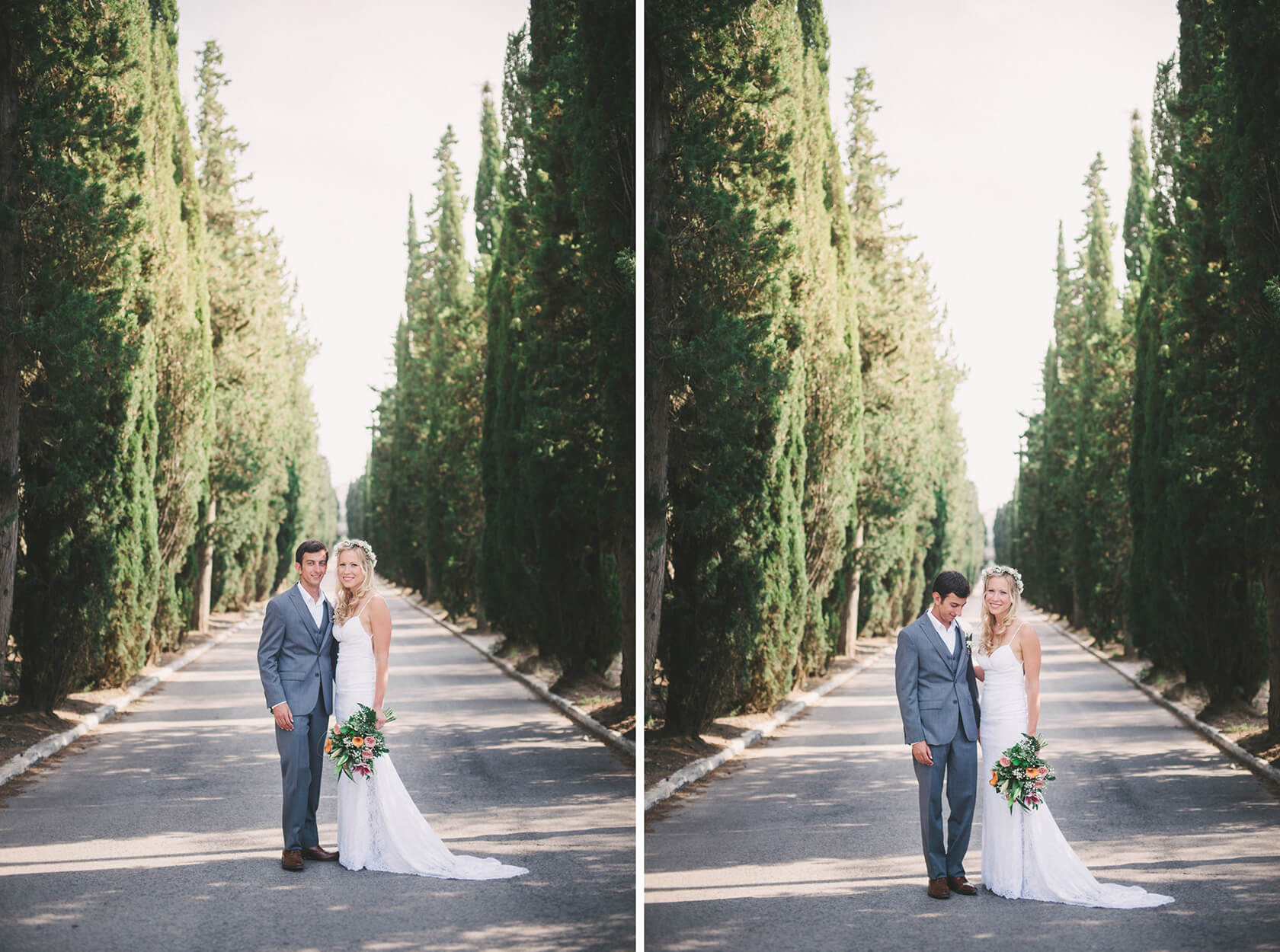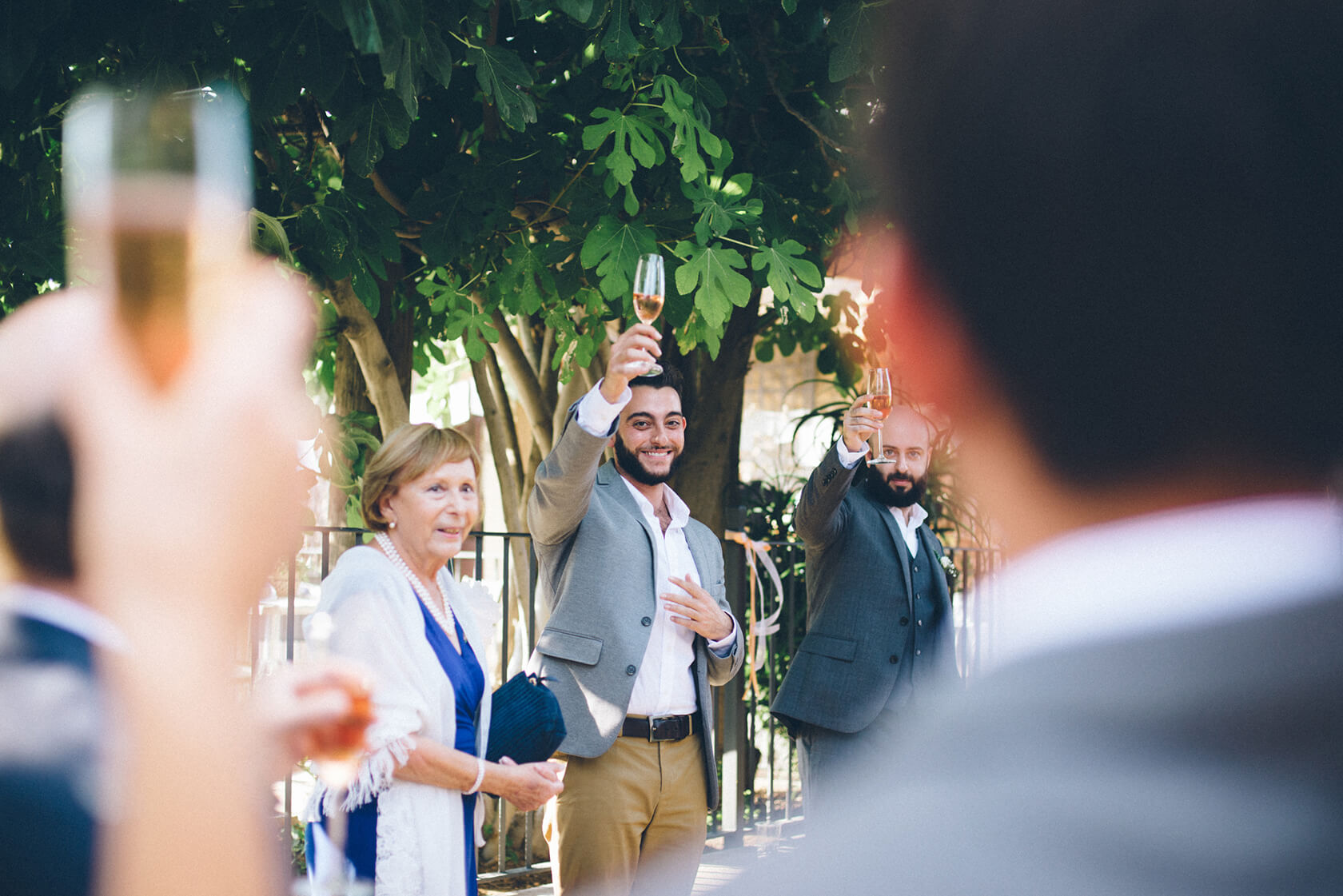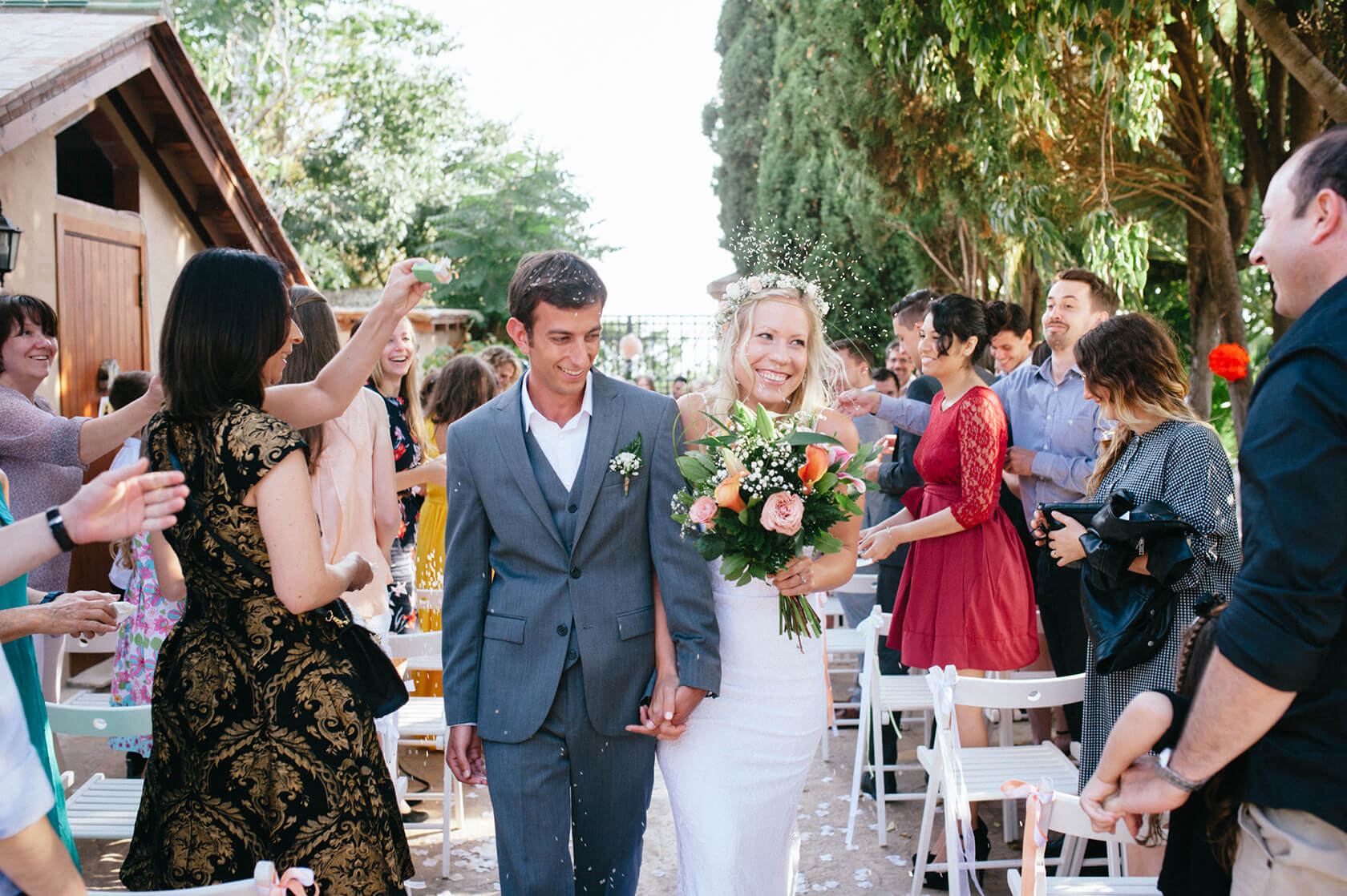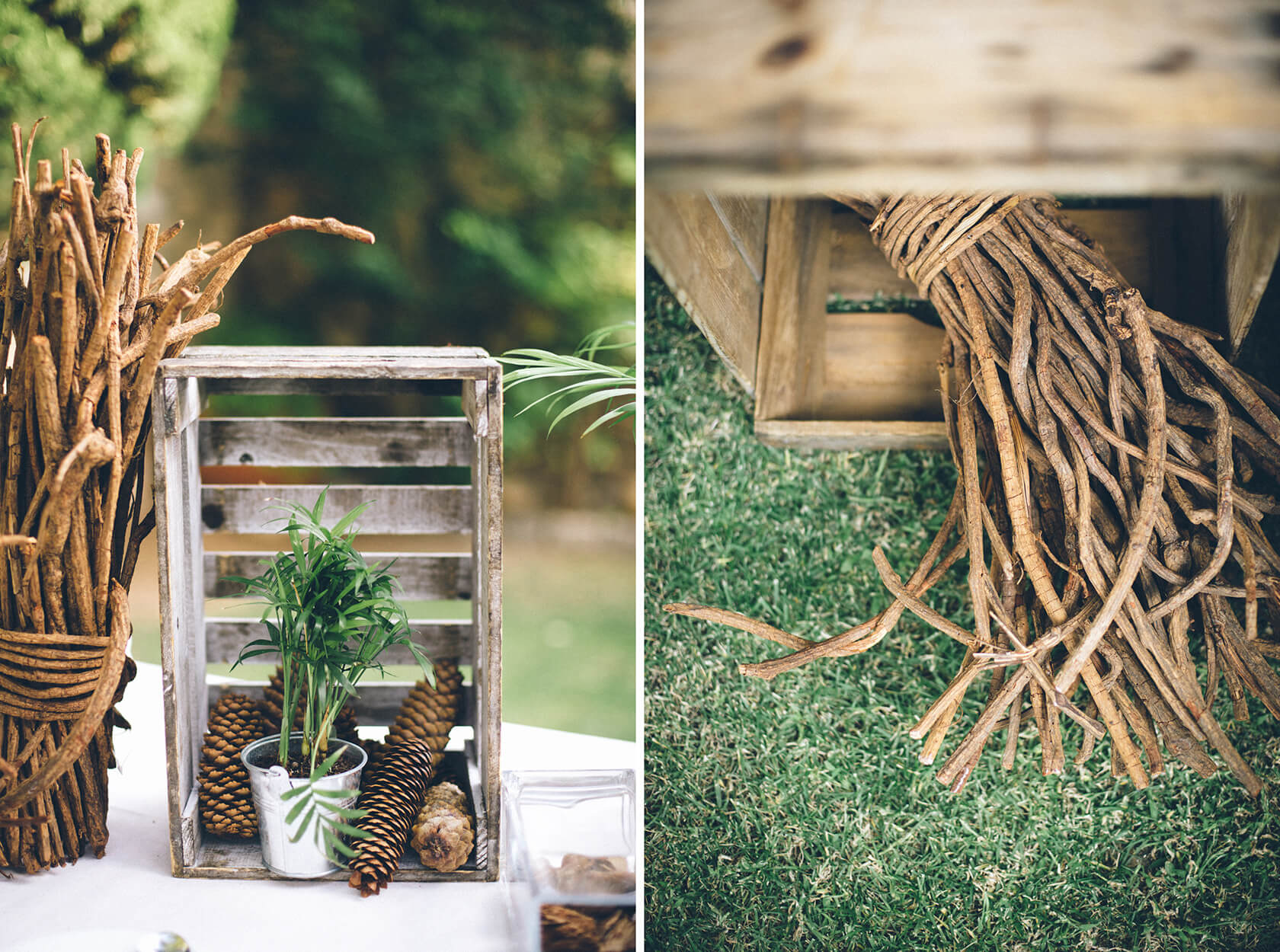 We hope this list has been helpful for you in choosing the right villa in Sitges. Do not hesitate to contact us for more information on these villas or others you may have planned on booking. We will be happy to assist you in more specific matters and details.
Barcelona Wedding Photographer | Wedding Photographer Barcelona | ©Fotografia Sitges | Destination Wedding Photographer | Wedding Photographer Spain | Villas in Sitges
---
You might also like